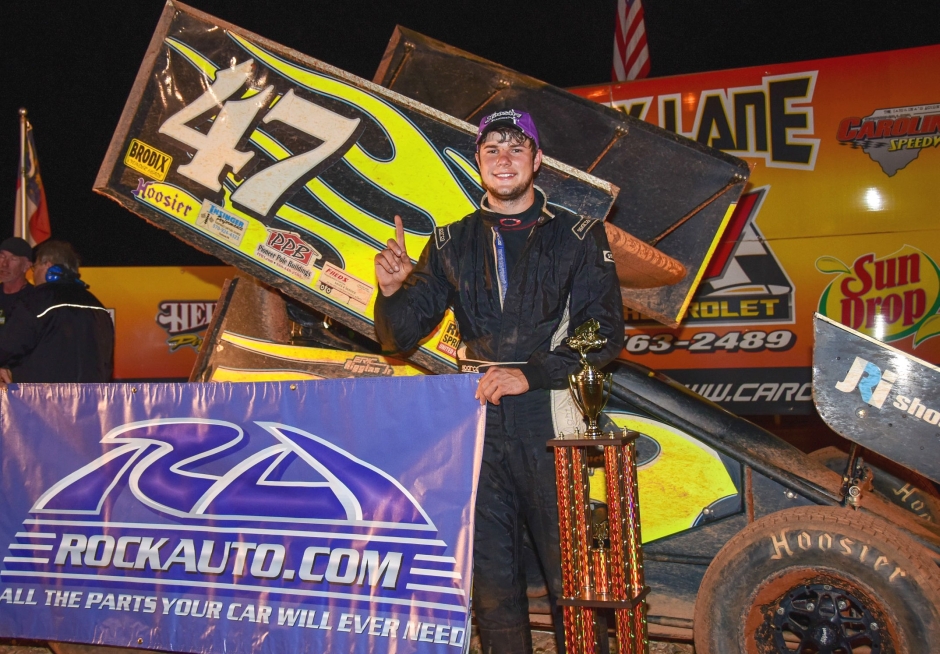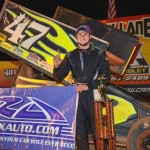 From Jacob Seelman
Gastonia, NC — (April 10, 2015) — For the fourth time in his United Sprint Car Series filtercharged by K&N career, the "Carolina Kid", Eric Riggins Jr. made Carolina Speedway his personal playground. Riggins, from Charlotte, N.C, blasted around 11-time USCS National champion Terry Gray on lap six of Friday night's 30-lap North/South Shootout opener at the newly-reconfigured four-tenths mile speed plant and laid a beating on the rest of the field, leaving only four cars on the lead lap en route to his ninth career USCS victory and first of the 2015 season.
The win not only moved Riggins into a tie for 11th on the all-time USCS wins list with Jeff Swindell, it was also his third victory in the last four races at his home race track. "This is what we needed here [tonight]," Riggins said in www.rockauto.com USCS Victory Lane. "I've been a little unsure of the track changes – they made it a lot wider in the corners – and I was so accustomed to the old track that I wasn't sure what we were going to be able to do tonight."
"But this Carolina Speedway crew did a great job – it was a little rough, but we made it through. Hats off to them, they did what they could here tonight and I think this track surface is going to be even better later in the year. I'm so thankful, it always means a lot to win here in front of the home crowd."
The lightning-quick feature was only slowed by caution once, when Johnny Petrozelle went for a spin in turn four after clipping one of the infield tires.
Female hotshoe and Cordova, Tenn. pilot Morgan Turpen worked through traffic to take second from her teammate Terry Gray inside of ten laps to go, but by then Riggins had run and hid in his own zip code – leaving Turpen no time to close the gap and mount a charge.
"We needed another caution ," Turpen said after the event. "I feel like we had the winning car – we definitely had the fastest car late because I could see [Eric], so I know I was catching him – we just lost too much ground early and it cost us. It's a track position game right now, because the competition is so high."
Gray, from Bartlett, Tenn., held on to complete the podium in third place . The 1998 USCS Rookie of the Year and defending event Champion of the spring Carolina stop, Johnny Bridges, from Cherryville, North Carolina finished fourth. Lake Wylie, South Carolina's Bobby Komisarski was the first car one lap down at the checkered flag, but still managed a career-best USCS finish of fifth to cap off the top five in the final results.
Mooresville, North Carolina.'s C.J. Miller – who started off the evening strong by going fastest in hot laps and winning his heat race faded to sixth at the finish, Miller was followed by Suwanee, Georgia sprint car veteran Joe Larkin in seventh place,
The 2014 National Sprint Car Hall of Fame 360 Rookie of the Year Dane Lorenc from Lancaster, New York looked to be a challenger for a spot on the podium before retiring due to motor problems with 12 laps to go. The talented 15-year-old from Lancaster, N.Y. was scored eighth in his first-career USCS start.
"The track was rough tonight – there were a couple bumps and ruts in the corners that tore up the car a little bit," Lorenc said following his exit. "I hate that the motor gave out; I know we had a car capable of being on the podium tonight, but we'll go put the backup motor in and go into tomorrow night with a clean slate and see what we can do."
Brandon McLain kicked off the evening's racing action by winning his first Hoosier Tire Speed Dash of the season, and C.J. Miller scored the win in the Engler Machine and Tool First Heat. Turpen rolled to the victory in the Butlerbuilt Second Heat.
Turpen was also the provisional pole-starter after scoring the most passing points in heat race action, until a four came up in the K&N Inversion Draw, This placed her teammate Terry Gray on the K&N Filters Pole position. Johnny Bridges passed the most cars in the A-main (four) to grab the Wilwood Disc Brakes Hard Charger Award.
The United Sprint Car Series filtercharged by K&N Filters continues their 2015 schedule on Saturday, April 11 with round two of the North/South Shootout at Lancaster Speedway in Lancaster, S.C. where the field is expected to en-large when four drivers from Florida and Georgia are additional entries for Saturday's events.
For information about Lancaster Super Speedway visit the track's official website at www.lancastersuperspeedway.com For rules and updated schedule information about the United Sprint Car Series Outlaw Thunder Tour, please visit www.uscsracing.com or call the series office at 770-460-7223 or 770-865-6097.
RESULTS: USCS Sprint Car Series "North/South Shootout"; Carolina Speedway; April 10, 2015:
Hoosier Tire Speed Dash: Brandon McLain, Johnny Bridges, Terry Gray, Eric Riggins Jr., Johnny Petrozelle, Joe Larkin.
Engler Machine and Tool First Heat: C.J. Miller, Terry Gray, Dane Lorenc, Johnny Bridges, Johnny Petrozelle, Joe Larkin, Brad Wickham (DNS).
Butlerbuilt Second Heat: Morgan Turpen, Eric Riggins Jr., Brandon McLain, Bobby Komisarski, Lance Moss, Nick Snyder.
USCS Sprint Car Series filtercharged by K&N North/South Shootout A-main: 30-laps
1. #47 – Eric Riggins Jr., Charlotte, NC
2. #10M – Morgan Turpen, Cordova, TN
3. #10 – Terry Gray, Bartlett, TN
4. #07 – Johnny Bridges, Cherryville, NC
5. #17 – Bobby Komisarski, Lake Wylie, SC
6. #9 – CJ Miller, Mooresville, NC
7. #33 – Joe Larkin, Suwanee, GA
8. #00 – Dane Lorenc, Lancaster, NY
9. #21B – Brandon McLain, Indian Trail, NC
10. #59III – Johnny Petrozelle, Denton, NC
11. #6T – Brad Wickham, Rutherfordton, NC
12. #116 – Nick Snyder, Marco Island, FL
13. #23 – Lance Moss, Cherryville, NC (DNS)
14. #5 – David Thorman, Greenville, SC
Feature: 1. 47 – Eric Riggins, Jr, 2. 10M – Morgan Turpen, 3. 10 – Terry Gray, 4. 07 – Johnny Bridges, 5. 17 – Bobby Komisarski, 6. 9 – C.J Miller, 7. 33 – Joe Larkin, 8. 00 – Dane Lorenc, 9. 21B – Brandon McLain, 10. 59 – Johnny Petrozelle, 11. 6T – Brad Wickham.