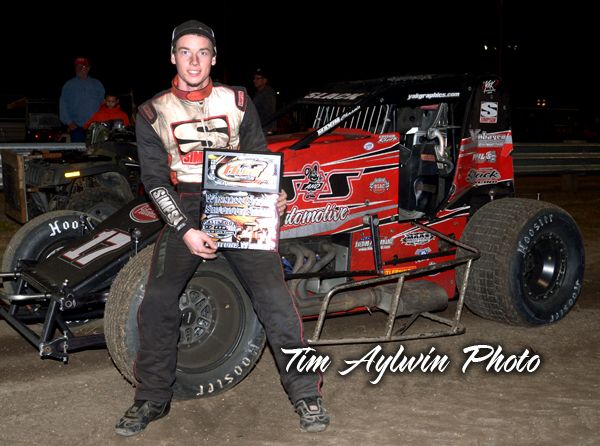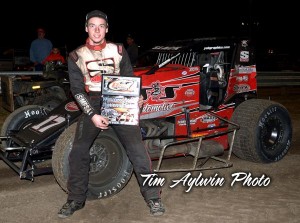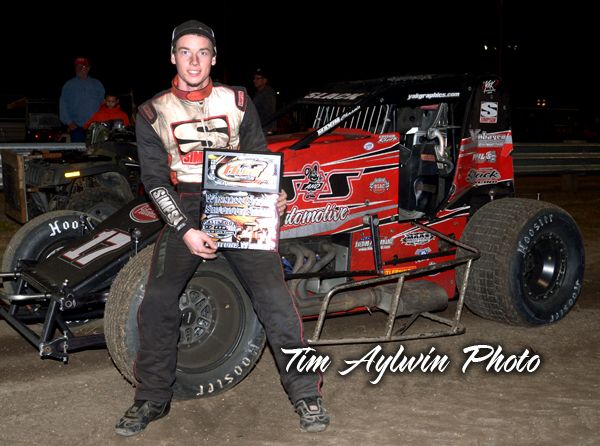 From Peterson Media
Calistoga, CA — (April 12, 2015) — Sunday night at the Calistoga Speedway, the Wingless Series presented by Joe Hunt Magnetos made their first ever appearance at the historic Calistoga Speedway, and when the dust settled from a very entertaining feature event, it was Colton Slack celebrating the historic victory.
With three-time series champion, Terry Schank, Jr, and Klint Simpson leading the field to green, it was the veteran driver, Schank, pulling out to an early lead, as he began to set sail on the rest of the field.
Behind Schank, Colton Slack also had a good start, and moved into the second spot, as Geoff Ensign settled into third, until mechanical woes would see him pull off the racing surface on the fourth lap.
Taking advantage of Ensign's misfortune, series point leader, Joe Stornetta, took over the third spot, and began pressuring Slack for the second position as the race neared the halfway point.
Out in front, Schank looked very strong as he got into traffic, and as traffic became a factor, Slack and Stornetta were able to erase a huge gap, as it became an entertaining three car battle for the top spot.
In traffic, Stornetta and Slack would make contact getting both cars out of shape, and even with Stornetta doing a 360, both drivers would gather their machines up without losing a spot, though it allowed Schank to pull away.
Reeling Schank back in, Slack was able find some forward drive out of turn two as he rocked into the lead on the 14th lap, with Stornetta following into the second spot on the 15th lap, before the race's lone caution waived on the 16th lap.
With just a four lap shootout standing between Slack and a historic victory, he was very strong in the closing laps, as he was able to fend of Stornetta who finished second, Klint Simpson who got third at the line, Schank who would finish fourth, as Gary Nelson would surge forward to round out the Top-Five.
"It is so cool to become the series' first winner at such an historic track," Slack said in victory lane. "It was a really exciting race with some hard racing between Terry Schank, Joe Stornetta and myself, and I am just happy we came out on top. We have some great people behind this team, and it is awesome to win this for all of them as well."
With 18 cars checking into the pit area for the series' debut at the speedway, Colton Slack set the standard in time trials as his lap of 23.045 seconds will go down as a series track record. During heat race action, wins went to Stornetta and Shane Myhre.