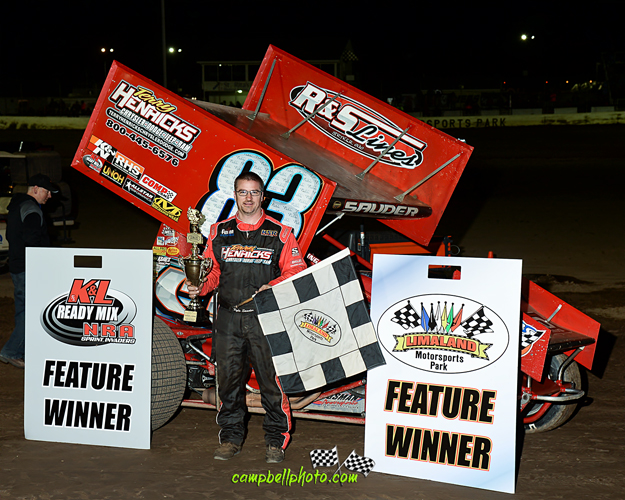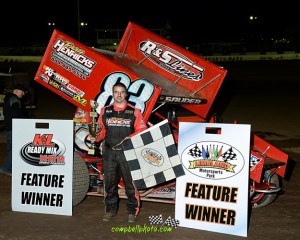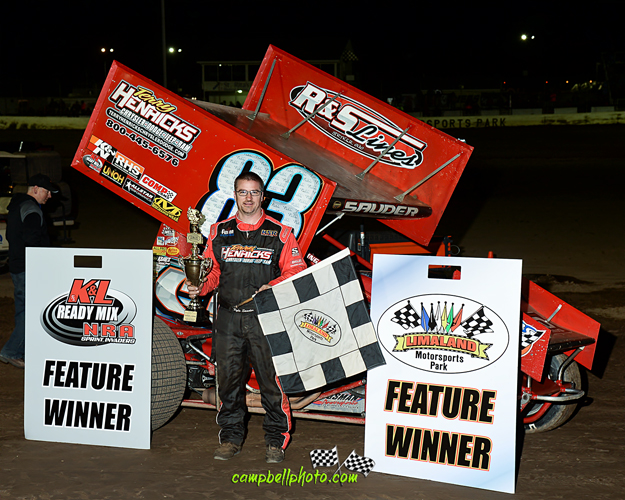 Lima, OH — (April 24, 2015) — A cool night for the Spring Fling at Limaland Motorsports Park produced some hot and fast action on the high-banked ¼-mile racing oval. A noticeably gripping surface was tailor-made for veteran competitor Kyle Sauder dominated the opposition.
The ever popular k & L Ready Mix NRA Sprint Invaders moved to center stage for their 25-lap tussle with veteran Kyle Sauder leading the field to the green flag.
Sauder was particularly dominant during the 2011-'12 time frame, winning the track championship in 2011 and the All-Stars feature during Ohio Sprint Speedweek that season.
On this night, the Archbold, Ohio veteran took full advantage of the pole starting position and roared to the front at the start of the race. The track may have been too fast for Sauder to hug the wall around the top as he has many times previous. He was however able to make a middle-to-high racing line work superbly. Sauder was also passing cars on the inside at times, an indication of how well his vehicle was handling.
Hud Horton and Jared Horstman followed the red colored #83 machine around with multiple car lengths separating each of the three front runners. The most competitive race action on the track was for the second position with Horstman peaking inside of Horton for numerous laps around. Finally the orange #17 of Horstman made a pass on lap 23 to secure an eventual runner-up finish to Sauder.
Sauder's triumph was his 14th career win at the track and first since 2012. "I have to thank God because with five laps to go I thought this car wasn't gonna make it," said a humble Sauder afterwards. "Fortunately, my guys had this thing hooked up pretty good tonight. I'm glad to be back on the front stretch (winner's circle) again as it has been awhile."
K&L Ready Mix NRA Sprint Invaders
Heat 1 – (8 Laps – Top 7 Transfer)
1. 28H-Hud Horton; 2. 8J-Jess Stiger; 3. 23-Devon Dobie; 4. 12-Kody Swanson; 5. 10X-Dustin Stroup; 6. 35-Ron Blair; 7. 12J-Tyler Moore
Heat 2 – (8 Laps – Top 7 Transfer)
1. 83-Kyle Sauder; 2. 6S-Jr Stewart; 3. 11-Tim Allison; 4. 49-Shawn Dancer; 5. 31N-Rod Henning; 6. 27R-Kyle Locke; 7. 16B-Dakota Busche
Heat 3 – (8 Laps – Top 7 Transfer)
1. 17-Jared Horstman; 2. 10-Mitch Brown; 3. 6M-Max Stambaugh; 4. 22H-Randy Hannagon; 5. 12R-Nick Roberts; 6. 22R-Kevin Roberts
A-Main – (25 Laps) [#]-Starting Position
1. 83-Kyle Sauder[1]; 2. 17-Jared Horstman[3]; 3. 28H-Hud Horton[2]; 4. 6S-Jr Stewart[5]; 5. 22H-Randy Hannagon[12]; 6. 8J-Jess Stiger[4]; 7. 10-Mitch Brown[6]; 8. 6M-Max Stambaugh[9]; 9. 23-Devon Dobie[7]; 10. 10X-Dustin Stroup[13]; 11. 11-Tim Allison[8]; 12. 12-Kody Swanson[10]; 13. 49-Shawn Dancer[11]; 14. 31N-Rod Henning[14]; 15. 12J-Tyler Moore[19]; 16. 16B-Dakota Busche[20]; 17. 12R-Nick Roberts[15]; 18. 27R-Kyle Locke[17]; 19. 22R-Kevin Roberts[18]