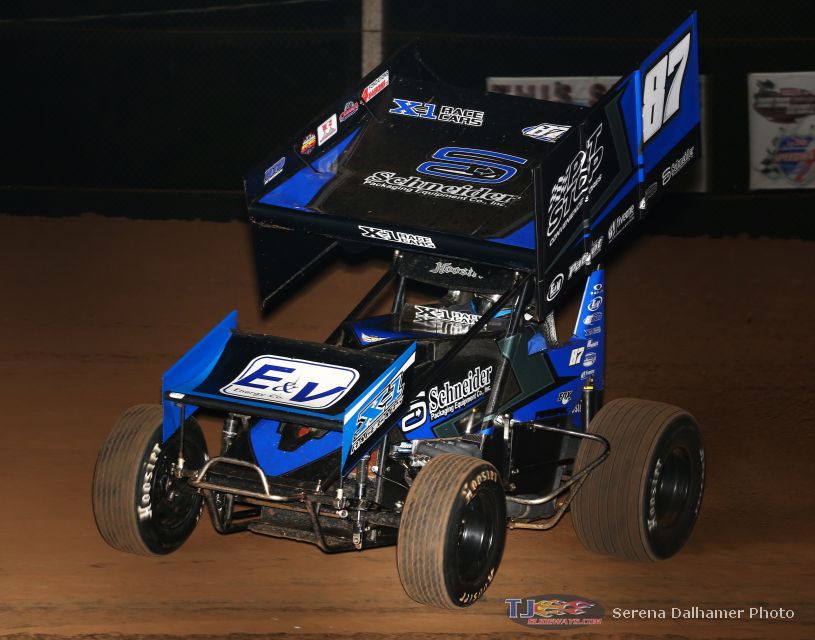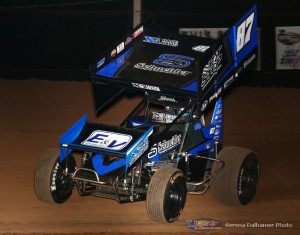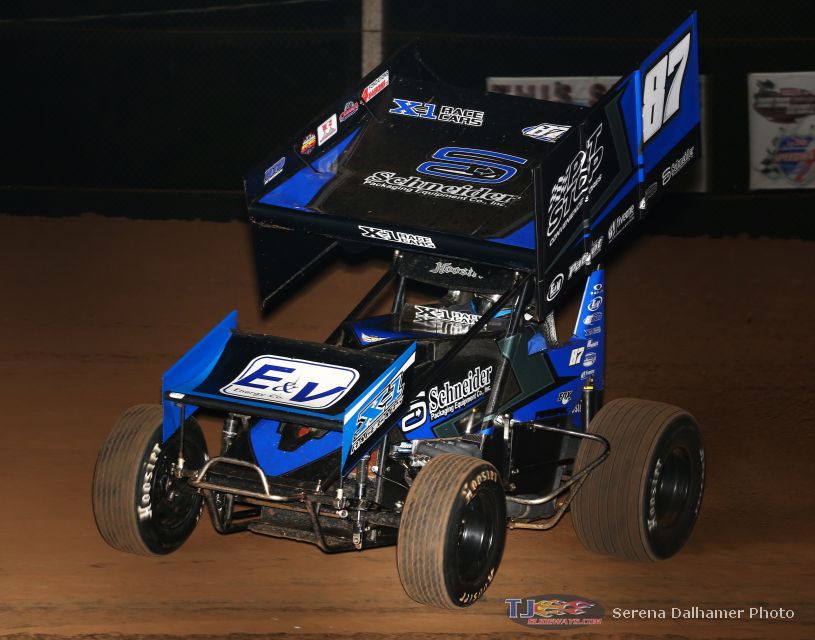 Thorold, ON — (April 25, 2015) — Heading in to Merrittville, a cool forecast didn't appear to bother Jason Barney, who was confident that the track conditions would play right in to his hands by the end of the night.
Barney, 35, of Brewerton, NY, passed Jeff Cook for the lead on lap 10 and never looked back as he scored the win in the 25-lap Spring Sizzler at Merrittville Speedway, kicking off the 2015 Patriot Sprint Tour Canada Season.
"What a great race car and what a great race team," exclaimed Barney in Victory Lane. "I knew we had a great car when we got it out of the truck. We didn't get too excited because we knew we had a good car we went through our routine."
After driving from a fifth place starting spot to win heat race 3, "Racin Jason" drew the sixth starting spot for the feature. He quickly moved to fourth place and was working on Sammy Reakes IV and Jim Huppunen for second and third on lap three when the race was halted due to a major flip involving Alain Bergeron and Chris Steele. Steele's throttle stuck heading in to turn one and collected Bergeron, who flipped hard over the wall. While under the red flag, Barney closed his eyes, got some rest, and knew after that it was go time.
After one more caution on lap four, Barney made a nifty move to get by Huppunen for third on lap six, then took the runner-up position away from Reakes two laps later. The Schneider Packaging/ Patriot Tank Lines No. 87 began to reel in polesitter Jeff Cook in lapped traffic, and took the top spot away on lap 10 when Cook pushed over the berm in turn four.
The race's final caution flag waved on lap 15 and after that restart, Barney's nose wing shifted, which noticeably altered the handling on his car. Cook began to reel him in and was setting up a run at taking the lead back when he once again pushed over the turn four berm attempting to pass a lapped car, allowing Barney to cruise to the win.
"When that wing came down I was just holding on," admitted Barney after the race. "I can't believe it held on for the win."
The win was the eighth Patriot win for the 10-year sprint car shoe, his third in Canada. Barney has always performed well in Canada, with three podium finishes in the Canadian Nationals. By the end of the night, the crisp cool air was definitely reminiscent of the mid-September event.
Jeff Cook, another driver with a solid career resume North of the Border, was pleased with his runner-up showing. Cook was driving in to turn three extremely hard in the closing laps, allowing him to close back in on Barney for the lead.
Mitch Brown had an uneventful drive forward to finish in third. Despite starting in 10th, the Brantford, Ontario driver was rarely mired in a traffic or battle for more than a lap.
Glenn Styres got his car moving forward on the top of the track late in the race to finish in fourth. Defending PST Champion Jared Zimbardi won the Evingham Site Excavation Four Laps of Fame Dash and followed Styres up through to round out the top five.
Jim Huppunen was in the top five most of the race until three laps remaining and settled for sixth. Sophomore sprint shoe Cory Turner was as far back as 18th but had the proper setup in his No. 19 and drove up to finish seventh, just ahead of Matt Tanner who came home eighth. Jamie Turner was ninth, holding off his son Ryan, who won the B-Main and rounded out the top 10 in his first career sprint car start.
A total of 25 sprint cars were in the pits on a clear but cool evening. The track was in perfect condition all night long to produce great racing. Along with the duel flip of Steele and Bergeron, Jim Porter lightly tipped over in a lap one incident and was done for the night.
For more information, visit www.PatriotSprintTour.com.
Patriot Sprint Tour Canada Series Results: 4/25/15, Merrittville Speedway, Thorold, Ontario, CANADA .
A-Main (25 Laps)- 1. Jason Barney (87), 2. Jeff Cook (10c), 3. Mitch Brown (10B), 4. Glenn Styres (0), 5. Jared Zimbardi (35), 6. Jim Huppunen (14H), 7. Cory Turner (19), 8. Matt Turner (90), 9. Jamie Turner (11), 10. Ryan Turner (91), 11. Sammy Reakes IV (17), 12. Tommy Wickham (75), 13. Justin Martin (7m), 14. Keith Dempster (5), 15. Jake Muench (14), 16. Dane Lorenc (00), 17. Shawn Sliter (71s), 18. Todd Hoddick (49), 19. Alain Bergeron (8B), 20. Chris Steele (80), 21. Paulie Colagiovanni (10), 22. Chris Jones (11J), 23. Jim Porter (22).
Lap Leaders- Cook 1-9, Barney 10-25.
Buy-In Provisional Starter: Jones
B-Main (8 Laps, Top 4 Transfer to A)- 1. Ryan Turner (91), 2. Paulie Colagiovanni (10), 3. Chris Steele (80), 4. Jim Porter (22), 5. Chris Jones (11J), 6. Lee Winger (2), 7. James Thompson (22T).
Evingham Site Excavation Four Laps of Fame (4 Laps)- 1. Jared Zimbardi (35), 2. Mitch Brown (10B), 3. Shawn Sliter (71s), 4. Dane Lorenc (00), 5. Alain Bergeron (8B), 6. Matt Turner (90).
Heats (8 Laps Each, Top 6 Transfer to A)-
Race 1: J. Turner, Cook, Styres, Bergeron, R. Turner, Lorenc, Colagiovanni, Porter, Winger.
Race 2: T. Wickham, Dempster, Sliter, Brown, Tanner, Muench, Thompson, Steele (DNS).
Race 3: Barney, Huppunen, Zimbardi, Reakes, Hoddick, J. Martin, R. Turner, Jones.
Hoosier Tire Canada/ Mike Emhof Motorsports Recipient: Barney
Patriot Sprint Tour Canada Series Point Standings (Top 10)- Barney 150, Cook 145, Brown 141, Styres 138, Zimbardi 135, Huppunen 132, C. Turner 129, Tanner 126, J. Turner 123, R. Turner 120.
Evingham Site Excavation Four Laps of Fame Dash Series Standings (Top Five)- Zimbardi 6, Brown 5, Sliter 4, Lorenc 3, Bergeron 2.
Patriot Tank Lines Hard Charger of the Season Standings (Top Five)- C. Turner 9, R. Turner 8, Brown 7, Martin and Tanner 6.