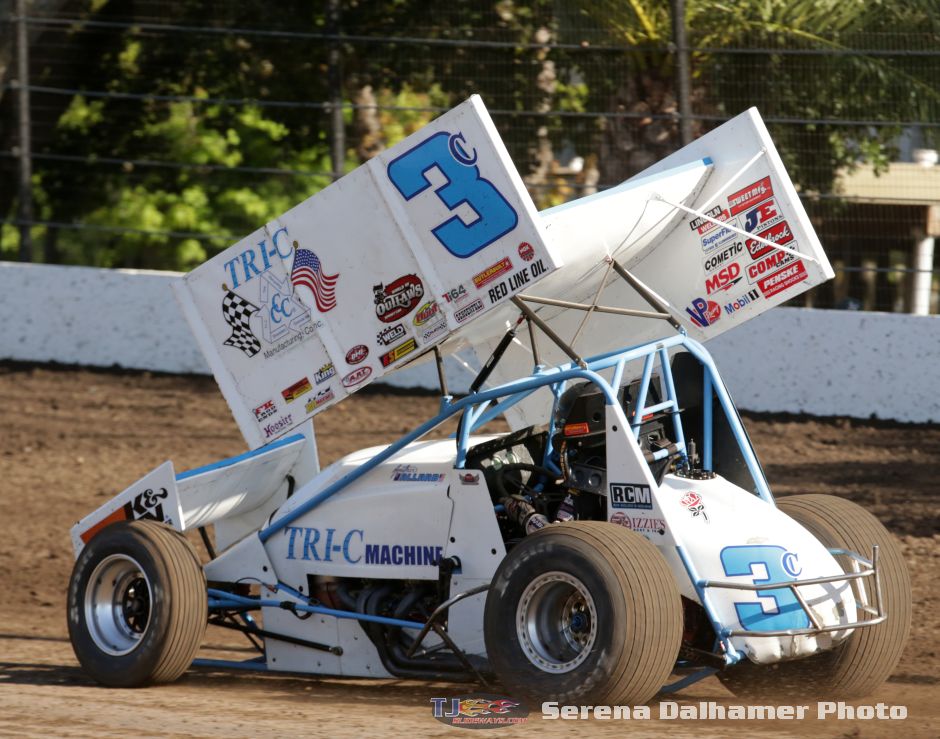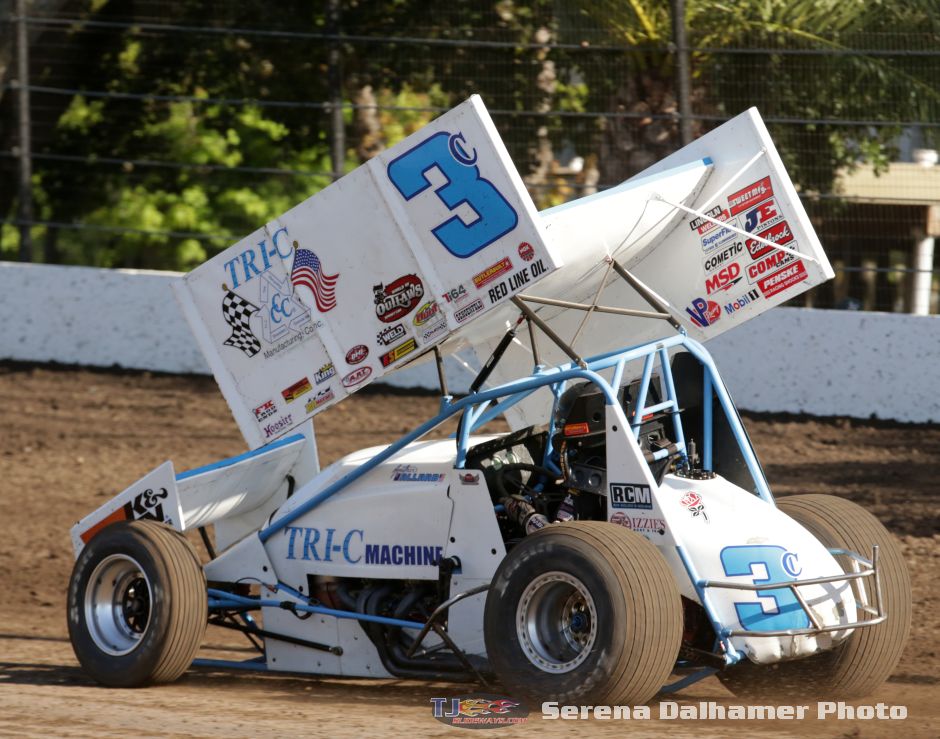 From Gary Thomas
Chico, CA — (April 27, 2015) — In the first 24-years of the Dave Bradway Jr. Memorial nobody has won the event more than three-time King of the West champion Jonathan Allard, who goes for number six this Saturday at the Silver Dollar Speedway.
The Chico, CA veteran last year earned one of the biggest wins of his career at the track, when he took home the World of Outlaws sanctioned Gold Cup Race of Champions. Ironically, his first ever King of the West Series triumph came in the 2001 Dave Bradway Jr. Memorial and with one more victory, he'll become the third driver in series history to reach the 40-win mark.
Allard's car owner's Clyde & Marion Lamar have also won the Bradway twice before, once in 1994 with Randy Tiner and again in '96 with current World of Outlaws star Paul McMahan.
"The Bradway is such a big event for so many people out here in California," Allard commented. "I've been fortunate enough to win it five times and they all mean a great deal to me. Now that I drive for Clyde & Marion Lamar however, it would definitely have a little extra meaning if I could give them another Bradway win. It won't be easy though because we have a lot of great drivers in Northern California right now. From young guys to veterans, we're extremely deep with talent this year, which makes it a lot of fun for everyone."
Allard's wins in the Dave Bradway Jr. Memorial have come in 2001, '03, '05, '09 and 2012. Campbell's Brent Kaeding has the second most wins in the event, with four to his credit. Two-time & reigning event winner Rico Abreu will not be in action this weekend, which opens up the possibilities for a new winner.
"Dave Bradway Jr. was a hero of mine growing up so this event has always had a special place in my heart," said Silver Dollar Speedway announcer & media relations specialist Troy Hennig. "When it comes to anticipation and build up, the Bradway is as good as we have all year. We're looking forward to a great race here in Chico on Saturday with a lot of drivers having a shot to win. There has been lots of really good racing so far this year at Silver Dollar Speedway so we can't to see everyone this weekend."
Dave and Diane Durica have once again collected lap money and each lap of the 40-lap A-main on Saturday and 12-lap Last Chance Showdown will pay $100 to be distributed among the top three each lap. The leader of the lap gets $50, second $30 and third $20. Lap money has been a staple of the Bradway Memorial over the years and always adds a special element to the event. Commemorative 25th anniversary event shirts will also be on sale during the weekend at Silver Dollar Speedway.
The fan group Hoserville will be partnering with the heat races for the 13th consecutive season. Each 10-lap heat race winner on Saturday May 2 will receive a free Hoosier Right Rear Tire plus Five Sleeves of Tear Offs. Hoserville has been involved with the heat races at the Dave Bradway Jr. Memorial since 2003 and it has grown to be a major part of the event each year. Each heat race winner will also stop on the front stretch for an interview & will receive a trophy from Trophy City to give to a child in the stands.
It's also become a tradition at the start of the night to hand out the Carwash Mike Fast Time Award at the Bradway. The winner of the award will take home a custom one of a kind Jagermeister Trophy & a Coors Light Cowboy Hat, in honor of super fan Carwash Mike Avilla, who passed away in 2011. As of press time we have $300 cash raised for the fast time award. If anyone would like to add to fast time, the hard charger award or donate anything to the night, please contact Dave and Dianne Durica at Durica1414@sbcglobal.net or 916-988-5958.
Saturday is also the first Williams Roofing Royal Fan Pill Draw night, which works as follows. A trivia question will be asked from the announce booth and the fan that answers correctly will pull a random number (1-22) out of a bag. The fan automatically wins $100 and if the driver wins the feature from the starting spot drawn, the driver receives a $1000 bonus. The Draw is taking place at KWS events that are part of the Prentice Motorsports Group Double Down Bonus weekends, which includes this Friday at Ocean Speedway & Saturday at Silver Dollar Speedway.
The front gate will open at 5pm on Saturday May 2, with adult tickets costing $20, juniors 12-15 will be $15 and kids 6-11 are $6. All seating is general admission during the night. Silver Dollar Speedway is a high-banked quarter-mile clay oval and is considered one of the most famous dirt track venues in the country. Camping is available for the weekend and is $35 a night that is collected by the fairgrounds. On Saturday the Northern California Auto Racing Alumni will hold their annual Hall of Fame barbeque at the garden court area inside the fairgrounds. The lunch takes place at noon.
The Silver Dollar Speedway is located on the Silver Dollar Fairgrounds, a half-mile west of SR 99 on Park Ave in Chico, California. For directions and a map visit http://www.silverdollarspeedway.com/location.php
Info on the King of the West 410 Sprint Car Series can be found at www.racepmg.com