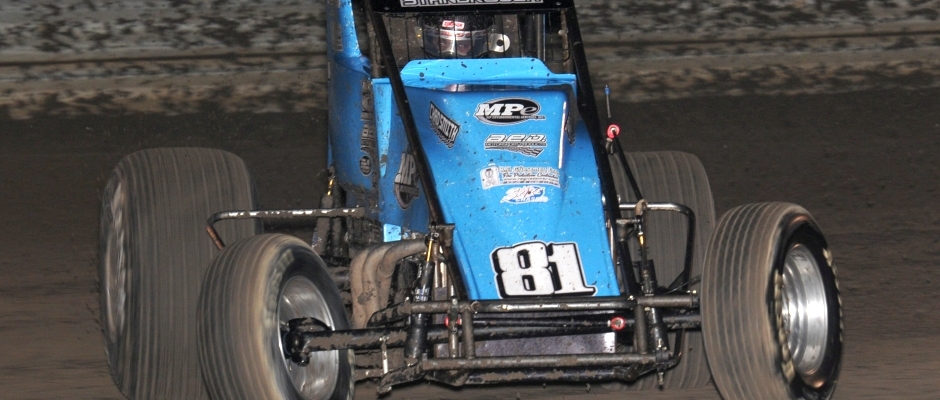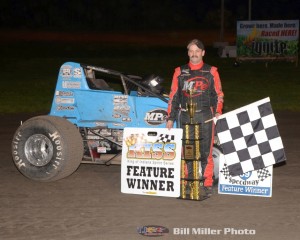 From Danny Burton
Gas City, IN — (May 1, 2015) —
Jon Stanbrough won his very first King of Indiana Sprint Series feature at the Lincoln Park Speedway way back in 2001, the first year of the promoter's alliance. On a cool but lovely night at the Gas City/I-69 Speedway, Stanbrough hustled to his 22nd KISS feature win over Kyle Robbins after passing pole sitter Logan Jarrett for the lead on lap two.
Kevin Thomas Jr. passed Dickie Gaines on lap nine (of ten) to win the first heat. Tyler Hewitt was third with Scotty Weir fourth. All four advanced to the feature.
Thomas Meseraull outran Max McGhee to win the second heat. Dave Darland, tonight running Jeff Walker's car, was third and Shane Cottle came from last to take the fourth spot. Brady Short, last week's KISS winner at Terre Haute, tried mightily to crack the top four, but went to the B.
Connor Donelson was impressive in winning the third heat. Kyle Robbins took second and Robert Ballou was third. Aaron Farney hung on for fourth. Travis Hery took the early lead but nearly flipped on the first lap. He would join Chad Boespflug in going to the B.
Logan Jarrett won the fourth and final heat. Jon Stanbrough was a strong second and pole sitter Justin Grant was third. Chris Gurley grabbed the final transfer by passing Dallas Hewitt in lapped traffic.
Half of the 32 car field had locked up feature starting positions.
The last chance race had a tough time getting started. First Joe Ligouri was the victim of a chain reaction incident in turn four that left him sitting sideways in the track.
On the re-start a similar affair left Benji Koontz upside down in turn two. He was able to get out of the car. Rookie Frank Flud, who had exited the race track after the first red, returned.
Red flag number two followed when Spencer Bayston bounced to a stop atop Dallas Hewitt. Seth Jackson may not have seen the accident until too late as he sailed over the banking in turn three and flipped into the fence protecting the pit area. None were hurt and all three were out of the race.
Seven cars were left with the top four moving on. The race was clean and green the rest of the way with Brady Short and Chad Boespflug checking out to run one/two. Joe Ligouri came back from his early misfortune to take third. And Frank Flud hung tough to make the feature by finishing fourth.
The redraw left Jarrett and Meseraull on the front row, followed by Stanbrough, Robbins, McGhee, Donelson, Thomas and Gaines. Jarrett led the first lap but Stanbrough jumped into the lead on the backstretch to assume the point. Max McGhee was already up to second when he flipped coming out of turn two. The rapid youngster was able to exit his car, but a promising race for him was over.
On the re-start, it was all Stanbrough as a mad scramble behind him ensued. Kyle Robbins had annexed second but Kevin Thomas Jr. finally broke away from the pack to grab third and eventually close on Robbins. For several laps early on, a pitched battle for position among Jarrett, Gaines, Darland, Ballou and Cottle took center stage as the leaders slowly broke away.
Stanbrough's straightaway lead went poof! on lap 28 of the 30 lapper when Cottle got out of shape in turn four and bounced to a stop on Chris Gurley. Both were okay, but Cottle was done.
Thomas had passed Robbins for second a couple of laps before the yellow. Meseraull was fourth ahead of Gaines. The green-white-checkered finish was sweet for Stanbrough but a nightmare for Thomas. He found a bump in turn one that bounced him out of contention for the lead. If that wasn't bad enough, the Alabama native lost several positions at the end.
Behind Stanbrough and Robbins was Thomas Meseraull in third. Gaines was a tenacious and impressive fourth. Ballou came from 11th to take fifth. The second five were Jarrett, Thomas, Scotty Weir, Darland and Boespflug, who had come from 18th to finish tenth.
This was Stanbrough's third Gas City/KISS win.
The complete rundown with starting position in parentheses:
(3) Stanbrough
(4) Robbins
(2) Meseraull
(8) Gaines
(11) Ballou
(1) Jarrett
(7) Thomas
(13) Weir
(10) Darland
(18) Boespflug
(17) Short
(15) Farney
(6) Donelson
(13) Gurley
(20) Flud
(14) Cottle
(12) Grant
(9) T. Hewitt
(19) Ligouri
(5) McGhee
The top five in points are Robbins with 340 points. Short is second with 317. Gaines is third and has 313. McGhee and Boespflug are tied for fourth in KISS points with 262.