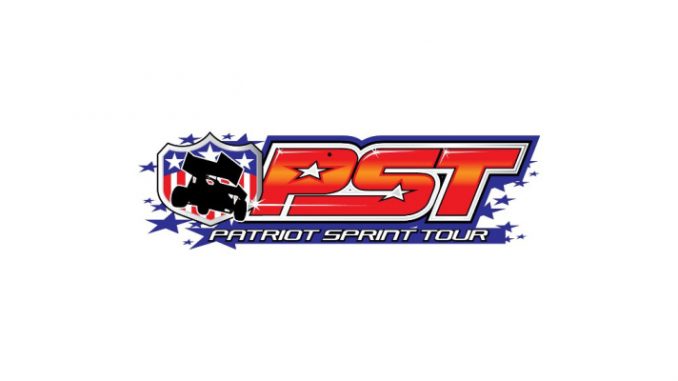 From Rich Vleck
Dundee, NY — (May 15, 2015) — On a night that started off wet and looked like that passing would be held to a minimum, Jared Zimbardi opened up new lanes and plenty of eyes as he stole the show and made a rain-delayed event worth it for not just him, but for the fans as well.
Zimbardi, 28, of Bradford, PA, drove up from the fifth starting position and made an impressive three-wide maneuver on lap 11 to move from third to first on the bottom of the track to take the lead and never look back to win the Patriot Sprint Tour Event at Black Rock Speedway. "The Juice" first passed Jason Barney entering turn one and then got along-side his brother-in-law Kyle Drum and completed a slide job on him in turns 3 and 4 to take over the top spot.
"The car was really drivable tonight, it could go anywhere," noted Zimbardi, the defending PST America and Canada Champion in Victory Lane. "That makes it fun to drive."
The evening started off slow as persistent sprinkles turned in to steady rain right before hot laps. With cancellation a distinct possibility, all racers in attendance, along with BRS Management, banded together to go for it. The result was a fast and smooth racetrack, but also one that struggled to find multiple grooves; that is until feature time.
It became clear in the opening laps of the 25-lap A-Main that the bottom groove of the 4/10-mile oval was coming alive. Jason Barney was the early driver on the move, driving from fourth up to second and applying pressure on early leader Drum. Zimbardi made it a three-car battle, using an even lower groove to make a bold three-wide pass.
"I was getting a real good run coming in to the bottom of (turn) one because the mud and slime was starting to go away and turn in to traction and I think (Jason) Barney just pushed a little bit there and I was able to squeak underneath him and I got next to Kyle (Drum)," recalled Zimbardi. "I knew (Drum) wouldn't do anything dirty, he's a real clean driver and you know what, they are getting better and he's going to win one of these real soon."
Once taking the top spot, the three-time PST America Champion was mellifluous in lapped traffic, keeping a safe distance over Drum's No. 47. The second and final caution would occur on lap 20, and on the ensuing restart Zimbardi was again perfect as he would cruise to his fourth career win at in his 35th start in his No. 35 in Dundee.
The win was Zimbardi's 20th career Patriot Sprint Tour A-Main Victory and also extended his streak to seven consecutive seasons with at least one win.
Kyle Drum was pleased with runner-up effort, noting in Victory Lane that if he is going to get bit, Zimbardi would be the one that he would want to have beat him. The Wayland, NY driver has been running sprint cars for well over a decade, but was making just his fourth start at Black Rock in the last 10 years. Drum did win the Hoosier Tire Canada/ Mike Emhof Motorsports Tire that is awarded each night.
Pole Position Raceway Polesitter Bryan Howland slid back to fourth before driving back around Jason Barney on a late-race restart to land on the podium for the third consecutive feature. Howland's No. 51 was smoking for much of the feature with oil hitting the hot headers, but he was able to pad his PST America point lead.
Justin Barger was also quick on a late-race restart, as he drove up for sixth to fourth in the final five laps for his second-straight fourth place finish. Jason Barney appeared to have the quickest car early in the feature but a slow leak in his right rear tire had his No. 87 fade back to round out the top five.
Heat race winner Tommy Wickham climbed up in to the top five before settling in sixth, while Sammy Reakes IV placed in seventh in just his second sprint start at BRS. Scott Kreutter won the Evingham Site Excavation Four Laps of Fame Dash4Cash and came home in eighth, with Matt Tanner and Paul Habeck completing the top 10.
A total of 22 sprints were in the pits for the third PST America event of the season. Along with Wickham, Steve Collins and Dave Just scored the heat race wins on the fast and smooth surface laid out on Friday Night.
For more information, visit www.PatriotSprintTour.com.
Patriot Sprint Tour America Series Results: 5/15/15, Black Rock Speedway, Dundee, NY.
A-Main (25 Laps)- 1. Jared Zimbardi (35), 2. Kyle Drum (47), 3. Bryan Howland (51), 4. Justin Barger (5), 5. Jason Barney (87*), 6. Tommy Wickham (75), 7. Sammy Reakes IV (17), 8. Scott Kreutter (52), 9. Matt Tanner (90), 10. Paul Habeck (25H), 11. Tyler Graves (25G), 12. Darryl Ruggles (48JR), 13. George Suprick (87), 14. Steve Collins (67), 15. Scott Just (54JR), 16. Steven Hutchinson Jr. (2), 17. Paulie Colagiovanni (10), 18. Steve Glover (121), 19. Will Glover (21), 20. Alysha Ruggles (48A), 21. Dave Just (54J), 22. Ed Kelley (20k).
Lap Leaders- Drum 1-10, Zimbardi 11-25.
Evingham Site Excavation Four Laps of Fame (4 Laps)- 1. Scott Kreutter (52), 2. Paul Habeck (25H), 3. Paulie Colagiovanni (10), 4. Tyler Graves (25G), 5. Sammy Reakes IV (17), 6. Alysha Ruggles (48A).
Heats (8 Laps Each)-
Race 1: Wickham, Drum, Zimbardi, Kreutter, Reakes, Tanner, S. Glover, Kelley.
Race 2: D. Just, Barney, Howland, Graves, S. Just, Suprick, D. Ruggles.
Race 3: Collins, Barger, Habeck, A. Ruggles, Colagiovanni, W. Glover, Hutchinson.
Hoosier Tire Canada/ Mike Emhof Motorsports Recipient: Drum
Pole Position Raceway Pole Winner: Howland
Patriot Sprint Tour America Point Standings (Top 10)- Howland 432, Reakes 390, Drum 376, T. Wickham 366, Kreutter 348, Collins 346, S. Just 334, D. Just 328, Hutchinson 324, Colagiovanni 322.
Evingham Site Excavation Four Laps of Fame Dash4Cash Series Standings (Top Three)- Zimbardi 12, Kreutter 10, Collins 6.
Patriot Tank Lines Hard Charger of the Season Standings (Top Five)- T. Wickham 24, Tanner 18, D. Just 12, Zimbardi and Suprick 11.
Danny Willmes Enterprises Lap Leader Standings (Top Five)- Barney and Stillwaggon 16, Zimbardi 15, Hebing, Drum and Poirier 10.