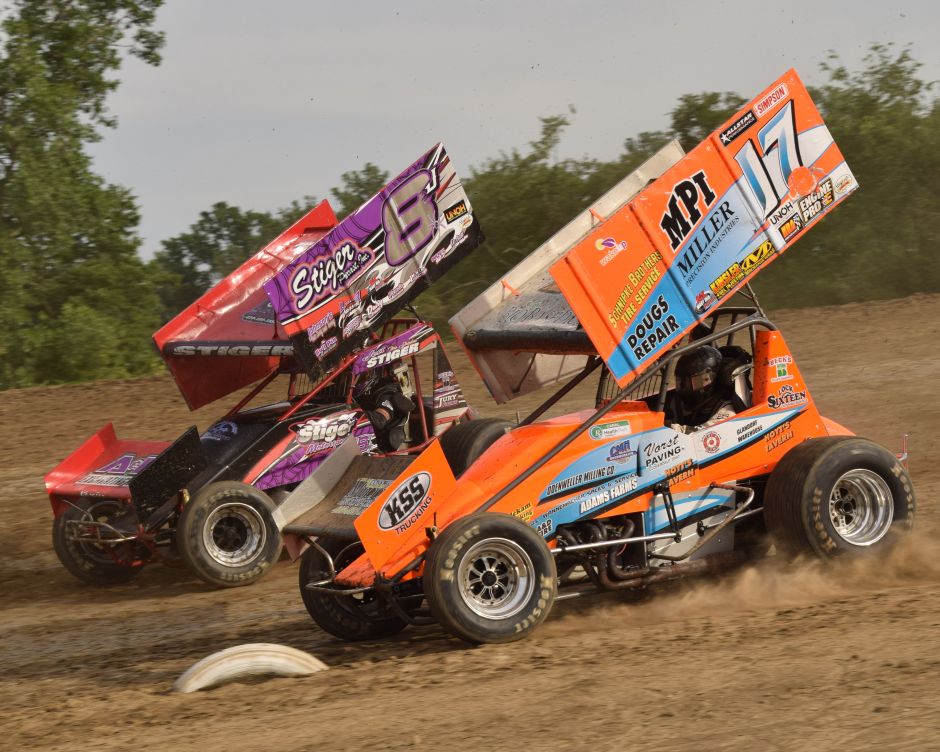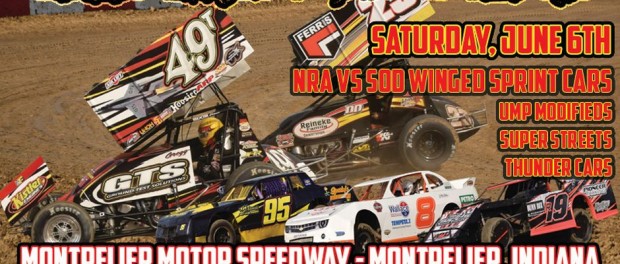 Montpelier, IN — (June 3, 2015) — When the K&L Ready Mix NRA Sprint Invaders and Engine Pro Sprints On Dirt rolls into the sleepy small town of Montpelier, Indiana on Saturday Night, June 6th, the event will feature a true epic battle drawing Ohio's and Michigan's finest winged sprint car drivers to the Indiana 1/4 mile bullring. The Border War 2 event will sanction the Ohio based K&L Ready Mix NRA Sprint Invaders against the Michigan based Engine Pro Sprints on Dirt bringing two separate sanctioning bodies to one single race. The event will mark the first time that NRA and SOD have co-sanctioned an event at the Montpelier Motor Speedway.
The 2014 iteration of the Border Wars saw a tremendous battle with Ohio outlaw, Greg Wilson (Benton Ridge, Ohio) picking up the feature win from the 12th starting position besting Delphos, Ohio's Shawn Dancer and California heavy hitter, the Hurricane, Randy Hannagan (from 7th). The race saw 4 different leaders during the green to checkers 25 lap feature event. For the former All Star Circuit Champion, Wilson, it was a bit of homecoming as Montpelier was the site of his first career sprint car win nearly 20 years earlier. Grand Ledge, Michigan driver, Dustin Daggett, is the defending Sprints On Dirt Series Champion while Bellfontaine, Ohio's JR Stewart heralded NRA Sprint Championship honors. Both series have posted a variety of winners thus far in 2015 including Dustin Daggett, Randy Hannagan, Max Stambaugh, Kyle Sauder, Jared Horstman, JR Stewart, Butch Shroeder, and Ryan Ruhl. Dustin Daggett currently leads the chase for the SOD Championship while Max Stambaugh by virtrue of two wins leads the chase for the NRA Championship.
Also, joining the program will be the popular UMP Modifieds, Super Streets, and Thunder Cars. The UMP Modifieds have posted three different winners in three races with Todd Sherman, Tony Anderson, and Randy Lines all picking up wins. Tony Anderson is currently the points leader in both the UMP Modifieds and Super Streets while Ervin Turner is currently leading the Thunder Car Division.
The Montpelier Motor Speedway, which began racing in 1903 and hosted its first automobile race in 1915, is one of America's oldest remaining racing facilities. Sprint car racing first came to Montpelier in the late 1940's in the form of "Big Cars". While the east central Indiana ¼ mile clay oval has a historic past, the facility has seen many major modern upgrades the past four seasons including new restrooms and bleachers along with the addition of many safety features such as a new catch fence system along with a new front stretch wall, lighting system, and runoff area. The Montpelier Motor Speedway commonly competes weekly on Saturday Nights with its popular Modified and Stock Car divisions, and is also the host to the popular Montpelier Motor Speedway Midget series
General Admission will be $15 with Kids (12 and Under) – FREE!