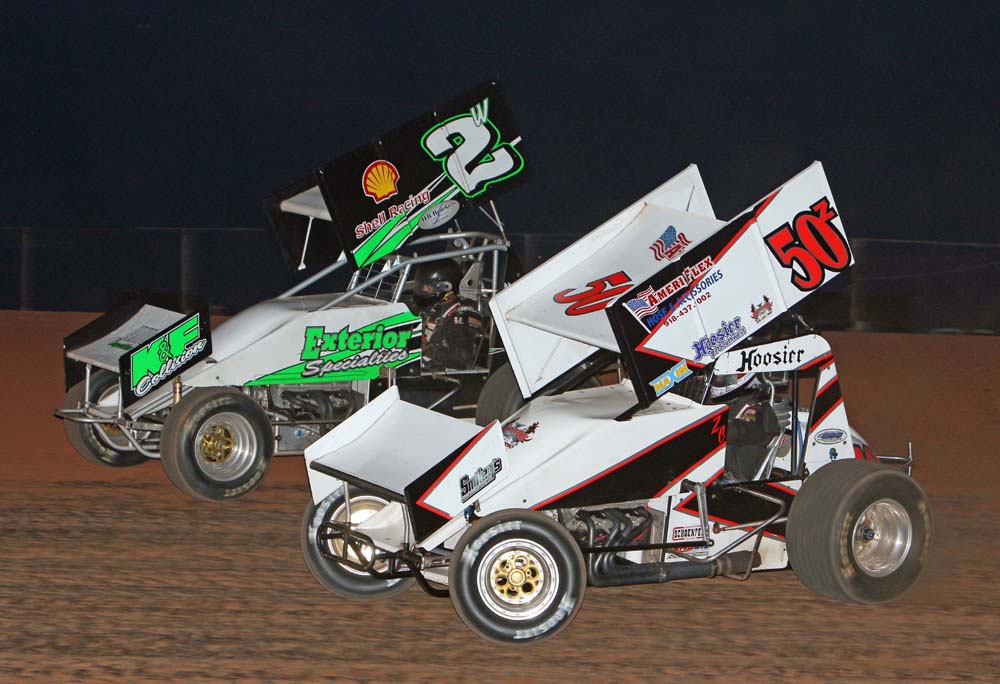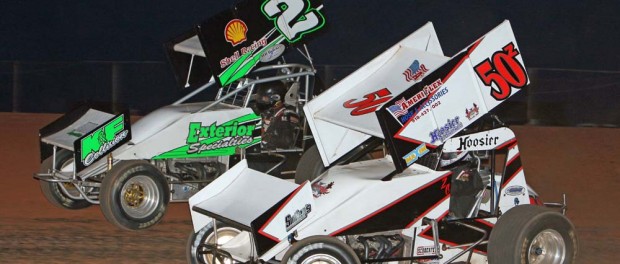 From John Lemon
Tulsa OK — (June 9, 2015) — After finally getting to race last weekend at the Lawton Speedway on the tail end of record rainfall in the region for the month of May, now comes a twofer for the AmeriFlex Hose & Accessories / Oil Capital Racing Series sprint cars. Friday night will see the highly unpredictable winged warriors in action at the "Grand Ole Lady" of the Monett Speedway in Monett Missouri, followed by a Saturday night stop at the Tri-State Speedway in Pocola Oklahoma.
Monett Speedway features bright reddish clay with an oval that produces some tight close action. Tri-State, while similar in length, is a track that is wider and can muster up some high speed racing action. This will also be "Bonus Weekend" for the race teams. Each track will raise their A-Feature starting pay while a $1000 cash bonus awaits the top three teams with the most championship points totaled between the two events.
Mustang Oklahoma's Robert Sellers will be attempting to keep his winning streak alive, as the driver of the Checkered Flag Trucking Special has been victorious in the last two outings on the circuit. Sellers has closed in on point leader Sheldon Barksdale's hold at the top spot in the race for the Harold Leep Championship Trophy. There are now just 14 markers between them (499-485). Brian McClelland is third with 450 points followed by Brent Bates (373) and Sean McClelland (367).
This will be the fourth year the AmeriFlex / OCRS series will visit the Monett Speedway. Whit Gastineau took the initial visit to the Show Me State in 2012 followed by two career first time winners in Kacee Frazier (2013) and Michael Bookout (2014). Promoter Randy Mooneyham has embraced the AmeriFlex / OCRS series from the outset and the fans of the land of Tiger's have done the same.
Tri-State has hosted a handful of AmeriFlex / OCRS events the past few years. This time, things will be a bit different as new Tri-State promoters Carey & Nicole Menasco have improved on a few things. There is new clay on the racing surface and new retaining walls of which the AmeriFlex / OCRS teams have seen neither. Race fans who haven't been to the TSS yet in 2015 will find newly remolded restrooms and concession stands await them as well as a scoring tower in turn one.
Here is the Monett / Tri-State sprint car doubleheader schedule at a glance:
Monett Speedway:
What: AmeriFlex / OCRS Sprint Cars
Where: Monett Speedway / Monett Missouri
When: Friday June 12, 2015
Time: Main Gates open at 6:00 pm / Hot laps at 7pm / Racing begins at 7:30pm
(OCRS drivers meeting is at 6:00pm)
Tickets: Gen. Admission $15 / Kids (12-15) $5 / 11 & under free with adult
Pit Passes: $30 11yrs and up / 10 yrs and under are $10
Track Phone: (417) 236-0600
Website: www.monettspeedway.net
Tri-State Speedway:
What: AmeriFlex / OCRS Sprint Cars
Where: Tri-State Speedway / Pocola Oklahoma
When: Saturday June 13, 2015
Time: Main Gates open at 5pm / Hot laps at 6:15pm / Racing at 7:00pm
(OCRS drivers meeting is at 5:45pm).
Tickets: Grandstand $15 (13 yrs & up) / Seniors (65+) $13 / Kids (6-12 yrs) $7.50
Pit Passes are $35 (13 yrs & up) and $15 (6-12 yrs)
Track Phone: (918) 436-5009
Website: www.tri-statespeedway.com
Nutz n' Boltz:
Bigger Donuts: With the way the soggy month of May played out, the teams of the AmeriFlex / OCRS series have been racing on ¼-mile ovals the last four times out. Two at Lawton and 1 each at Caney Valley and Flint Creek Speedways. The last time the series was on a track larger than a shiny quarter was on April 11th at the Outlaw Motor Speedway's 3/8-mile track, which is the same distance as both tracks this weekend.
Four of a Kind?: Should Robert Sellers sweep the doubleheader weekend, it will give him 5 wins for the season and 4 checkers in a row. No driver has held a four of kind hand since Jamie Passmore did it in 2012. Passmore eventually made it 5 in a row before getting his streak broken by one of his good friends, Danny Smith.
Loss of the Boss: AmeriFlex / OCRS owner – president Barry Grabel missed his first race at Lawton since buying the series in 2005 due to military commitments. Two members of the AmeriFlex / OCRS staff arrived at the track early only to hear that the balance of the crew were delayed due to problems on the highway east of Lawton. Undeterred, the crew forged on. While the early arriving members held down the fort, the remaining members arrived 10 minutes prior to the start of hot laps after their unwelcomed travel issues and the night went on without a hitch. Better late than never.
Those are OUR Guys! If this were the World of Outlaws vs. the Pennsylvania Posse, Lawton area fans would be quick to point out that the top three last week (Robert Sellers, Kyle Ezell & Gary Owens) are their homeboys and put a whoopin' on the eastern drivers that night. Can't argue with facts.
More Military Duty: As with Barry Grabel, Cove Arkansas pilot Joseph Miller had to miss the Lawton event due to military commitments. It broke his perfect attendance record with the series to date but its for a good cause. Thanks to both gentlemen for their service to our great country.
Prime Producers: Only two drivers have been in the top 5 in all of the AmeriFlex / OCRS events they have participated in (min. 4 events). They are Sean McClelland and Whit Gastineau. Only one driver has been in the top 10 in all six events held. That would be Sheldon Barksdale and that's a key reason why he is the point leader.
For more information on the AmeriFlex / OCRS sprint car series including updates, photos, complete 2015 point standings and future schedules, log onto the website at: www.ocrsracing.com
Checkout our Facebook page at: https://www.facebook.com/oil.series