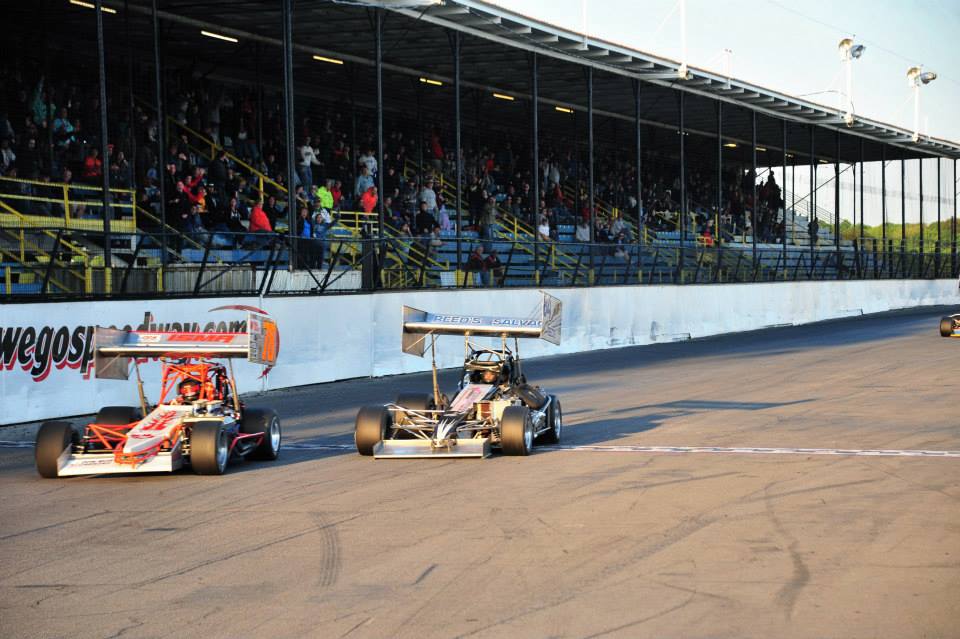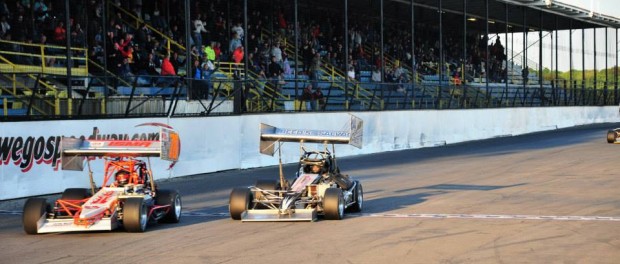 From Oswego Speedway
Oswego, NY — (June 9, 2015) — Just weeks after one of the most exciting feature finishes in recent memory, the ISMA winged Supermodifieds will return to Oswego Speedway for round two of the Shea Concrete 'Steel Palace' ISMA Super Series presented by Crop Production Services.
Memorial Day Weekend's Port City Super Spectacle featured a fierce battle between Canadians Mark Sammut and Mike Lichty, which saw Sammut dart into the lead on the race's final corner to claim his first career Oswego victory.
Lichty, who set another new Oswego track record earlier in the night with a lap of 14.829 seconds, had to settle for the runner-up position in a wheel to wheel classic that had the entire front grandstand on its feet.
Saturday night these two combatants will return with a host of other Supermodified shoes looking to grace Oswego's Turning Stone Resort Casino Victory Lane in 2015.
With his Oswego victory, Sammut leads the current ISMA Super standings coming back to the 'Steel Palace.'
Nipping at his heels is Oswego's defending King of Wings champion and Delaware Speedway feature winner earlier this season, Dave Shullick Jr.
Shullick joined Lichty in the 14.8 second bracket on May 23, but was unable to contend at the stripe for victory, despite once again landing on Oswego's podium in winged Super competition.
Jeff Locke, Lichty, and Eddie Witkum Jr. currently hold the top five positions in the ISMA standings.
Witkum and Locke ran first and second for nearly half of Oswego's Super Spectacle in May, with Witkum leading all the way through lap 36 of the 50 lap affair before Lichty took over. The two New Englanders would be relegated to fourth and fifth positions at race's end, with each eyeing a first time Oswego victory this weekend.
Jon McKennedy, defending ISMA champion Ben Seitz, Alison Cumens, Chris Perley and Ohio's Danny Shirey currently hold top ten positions in the series points moving toward June 13.
With a stout top ten lineup, the remainder of the weekly ISMA contingent is still a who's-who of the sport including Tim Ice, Dave McKnight, Rob Summers, Mike McVetta, Ryan Coniam, Kevin Jaycox Jr., Lou Cicconi, and Trent Stephens.
While a cast of winged Super veterans are sure to make Saturday's action a can't-miss event, several Oswego regulars are also looking to throw their hat into the ring come this weekend.
Current Oswego point leader and seven-time Speedway champion Otto Sitterly is still in search of his first career ISMA victory, and will look to make that happen this weekend. Sitterly cranked Dave Shullick Jr's No. 7 machine to a lap of 15.234 seconds in hot laps during the Super Spectacle before troubles sidelined the machine prior to time trials.
Sitterly placed fifth with the racer during last year's Bud Light ISMA Super Nationals, a race that saw Shullick drive to victory over Lichty.
Defending Mr. Novelis Supermodified Dave Danzer has been testing his back-up Supermodified with a wing, and has found some speed. Just one week ago in Fast Friday testing, Danzer dipped into the 15.7 second bracket with the No. 52. In previous winged competition, Danzer qualified 9th fastest and finished 13th in the 2011 King of Wings.
Former King of Wings champion Bob Bond is rumored to be at the wheel this weekend in the same car he won the KoW title with in 2010. The two-time champion of Oswego's Budweiser International Classic 200 currently rides as the runner-up in Oswego's 2015 point championship behind Sitterly.
Supermodified veteran Stephen Gioia III is making a push to compete this weekend as well with the No. 9 machine. Gioia currently rides 17th in Oswego's driver standings but has shown speed and success in Oswego wing racing in the past.
Round two of the Shea Concrete Steel Palace ISMA Super Series should no doubt prove exciting as the best of the winged and non-winged sides of Supermodified racing all look to come together this weekend at the Port City oval.
Saturday's racing, which will also feature the ATQMRA TQ Midgets, will see pit gates open at 1:30 p.m., hot laps at 3 p.m., ISMA time trials at 5 p.m., and racing at 6:40 p.m.
Once again in 2015, kids 16 & under will be admitted free of charge with a paid adult with active military also admitted free with I.D.
For more information on Oswego Speedway visit online at www.oswegospeedway.com, follow on Twitter @OswegoSpeedway, or like on Facebook at facebook.com/OswegoSpeedway.