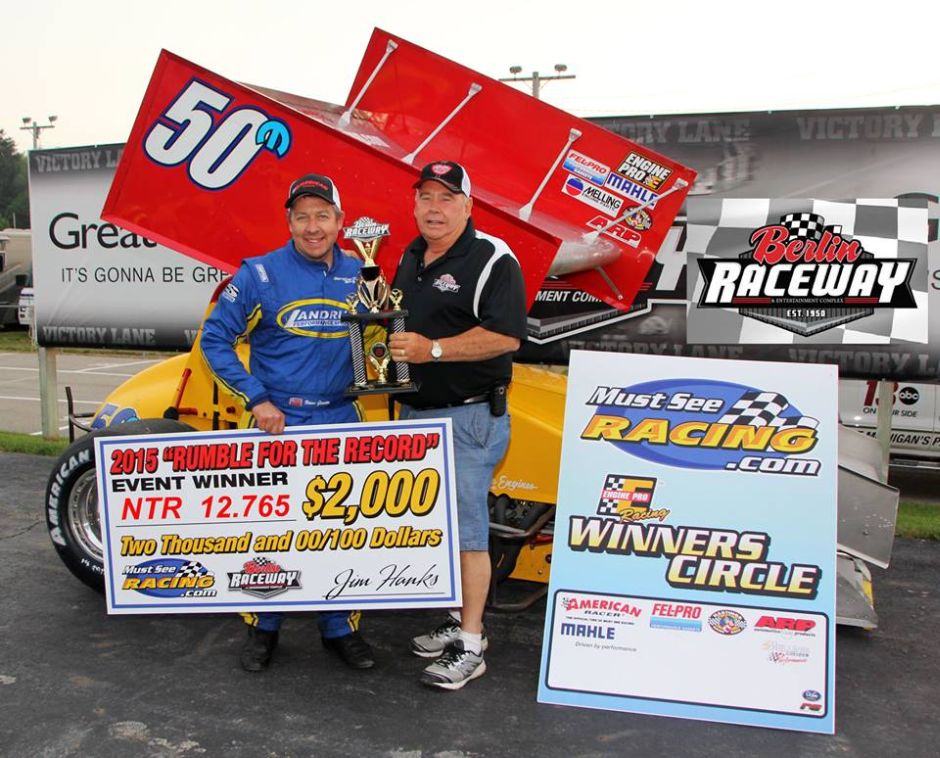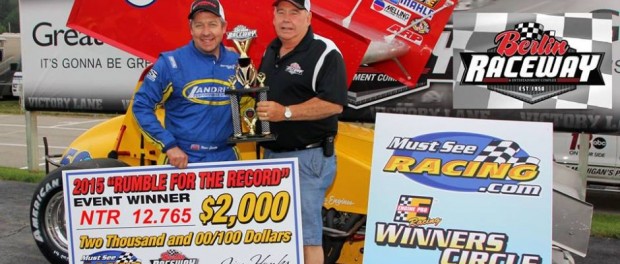 From Must See Racing
Marne, MI – (June 13, 2015) – Brian Gerster claimed the Must See Racing Sprint Series presented by Engine Pro special non-points invitational event Saturday night at Berlin Raceway in Marne, MI.
Gerster won the "Rumble for the Record" speed trial qualifying format event and in the process collected $2,000 for his efforts. Gerster was victorious in all four segments of the event and set a new track record in all but one of the segments.
The inaugural "Rumble for the Record" used a new and unique format. Five drivers, who were invited to participate in this unique event, competed in four qualifying segments that saw drivers eliminated from the event until there was one car remaining. Each driver was given two laps with his best lap being the one that counted.
Gerster set a new track record with a lap of 12.796 seconds in segment one. The new mark bettered the 12.799 record Jim Swain set in 2010. Gerster would get faster as the night went on and finally lowered the rack record for good in the final segment when he turned a lap of 12.765 seconds.
The near perfect conditions, and unseasonably cool June race time temperatures played into the speeds as teams were under the regular Must See Racing rules and tire compound. Gerster was arguably the man to beat prior to the event due to his skill at qualifying up front regularly.
"It was a lot of fun" Gerster explained in victory lane. "I enjoy qualifying and I'm a drag racing fan so this was kind of like a drag racing format. The fans seemed to have enjoyed it. I'm glad we won it and were able to break the track record three times. The fans got a good show and it was the only sprint car race you could see on pavement in Michigan this weekend."
Gerster wasn't surprised that his car continually got faster as the night went on. "When you let the engineer (Dick Myers) work on the race car, it always seems to get faster. I think that was really an advantage to keep tuning on the car. It was a good night and a lot of fun" concluded Gerster.
For info on Must See Racing including the updated schedule log onto www.mustseeracing.com.
RUMBLE FOR THE RECORD FINISH
1. Brian Gerster (50)
2. Jimmy McCune (88)
3. Ike Beasley (97)
4. Cody Gallogly (71h)
5. Jerry Caryer