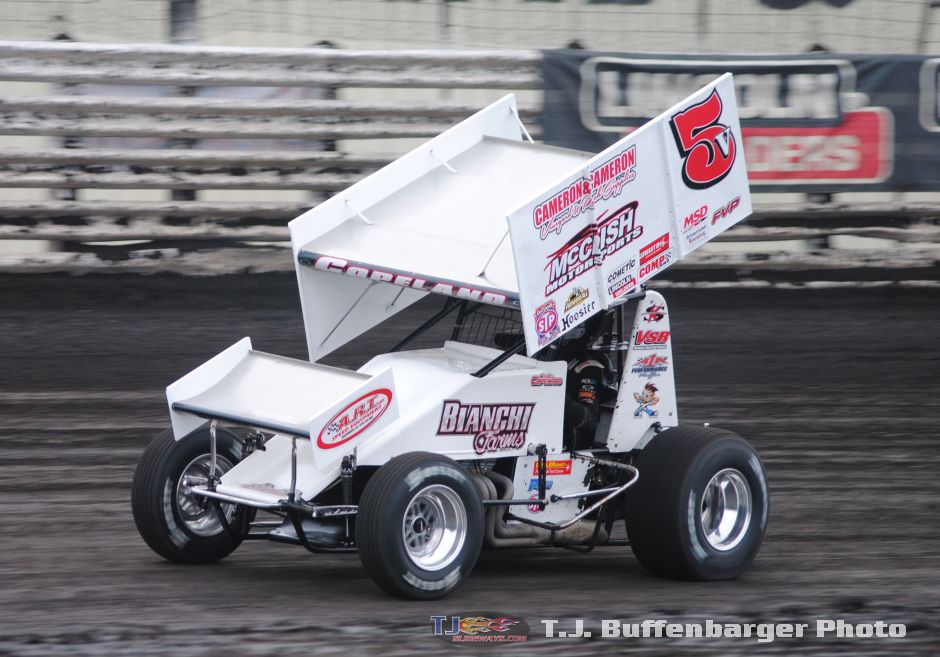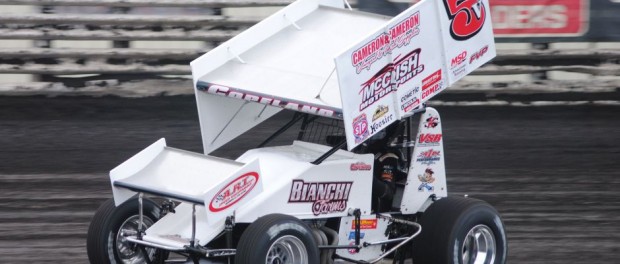 From Ben Deatherage
Yreka, CA — (June 28, 2015) — The 2015 edition of Speedweek Northwest would official get underway at Yreka, California's Siskiyou Motor Speedway on Sunday June 28th. A packed house would be in attendance to watch an action packed show. Twenty-three cars would sign in on the registration sheets representing California, Oregon, Washington, Montana, and the Australian state of New South Wales.
Visalia's Steven Tiner took advantage of his pole starting position to take the lead on lap one. The fourth generation driver, in his Wright Processing Systems/Larry Davis Farms/Tech9 Chassis/Stewart Ranch #94 Tech9, would start to receive some pressure by Kyle Hirst. Hirst, in the Scott and Jason Finley owned Finley Farms/CLT Logging/Rider Racing Engines #77 Maxim, eventually made the pass on Tiner on lap six. Hirst, looking forward to his fourth straight win at Yreka, would start to check out but would start to become threatened by challengers in lapped traffic.
Every time it looked like the Chico chauffeur, of Hirst, would be about to lose the lead a yellow would come out taking traffic out of the picture for the moment. Hirst was very good on the restarts but the final one on lap twenty-one presented an opportunity for Roseville ace Colby Copeland to get in front. Copeland, in the Jim and Anette Van Lare owned Bianchi Farms/Cameron & Cameron Vineyard & Ranch Supplies/Kyle Larson Racing/Van Lare Steering Repair #5V A.R.T., seized the moment out of turn two on lap twenty-two and got to the coveted position.
From there the race would remain green and Copeland would even extend his lead to cruise to the checkered flag. It would be the first win for Colby in his first start with the Western Sprint Tour and his fifth overall of the year. Copeland also became the thirtieth different Speedweek Northwest winner in ninety-three races.
Kyle Hirst held on to second while Steven Tiner finished third. The balance of the top five would consist of the Berco Redwood/Berry Lumber/P.M. Truck Repair/Trex Plastic Decking #31C A.R.T. of Justyn Cox from Clarksburg, in fourth, and to make it an all California top five Roseville's Sean Becker in the Dan and Cindi Menne owned Cherry Street Mini Storage/Mike's Hard Lemonade/Ponybracket.com/Shark Manufacturing #75 Maxim.
Heat races were won by Justyn Cox, the Rocket Designs/Auto Stitch Embroidery/BC Motorsports/Parker Racing Engines #11 KPC of Roger Crockett from Medford, Oregon, and Puyallup, Washington's Trey Starks in his Starks Timber Processing/Southland Equipment Limited/MASCO Petroleum/T&C Concepts #55 J&J. Garen Linder, of Central Point, Oregon was the winner of the consolation feature in the Linder Powdercoating/Visual EFX & Design/Rodgers Racing Engines #22 KPC. As mentioned above Steven Tiner was the victor of the trophy dash which put him on the pole for the main event.
The Western Sprint Tour venture's to Southern Oregon Speedway in White City for the second round of Speedweek Northwest on Monday June 29th. Tickets for the race include $15.00 for Adults, $12.00 for Seniors and Vets, $10.00 for Juniors, and Children 6 and under are FREE. For more information log on to www.sospeedway.com. For the latest news and information on the Western Sprint Tour visit sprints.nwextremeseries.com .
Race Summary:
Western Sprint Tour Race #4/Speedweek Northwest Round #1
Sunday June 28th, 2015
Siskiyou Motor Speedway
Yreka, California
A Feature: 1. 5V-Colby Copeland; 2. 77-Kyle Hirst; 3. 94-Steven Tiner; 4. 31C-Justyn Cox; 5. 75-Sean Becker; 6. 11-Roger Crockett; 7. 35-Dominic Scelzi; 8. 1R-Ryan Robinson; 9. 22-Garen Linder; 10. 45-Brent McGrath; 11. 72-Phil Dietz; 12. 55-Trey Starks; 13. 5D-Patrick Dills; 14. 11K-Michael Kofoid; 15. 96-Greg Hamilton; 16. 70-Raquel Ivie; 17. 3AU-Daniel Sayre; 18. 87-Kyler Barraza; 19. 29-Willie Croft; 20. 21-Colby Wiesz
Hard Charger: Brent McGrath +10
Lap Leaders: Steven Tiner (1-5), Kyle Hirst (6-21), Colby Copeland (22-30)
B Feature: 1. 22-Garen Linder; 2. 70-Raquel Ivie; 3. 3AU-Daniel Sayre; 4. 45-Brent McGrath; 5. 04-Todd Whipple; 6. 25S-Camden Robustelli; 7. 2M-Aaron Miller
Dash: 1. 94-Steven Tiner; 2. 77-Kyle Hirst; 3. 1R-Ryan Robinson; 4. 87-Kyler Barraza; 5. 31C-Justyn Cox; 6. 5V-Colby Copeland
Heat 1: 1. 31C-Justyn Cox; 2. 77-Kyle Hirst; 3. 5D-Patrick Dills; 4. 87-Kyler Barraza; 5. 11K-Michael Kofoid; 6. 22-Garen Linder; 7. 45-Brent McGrath; 8. 3AU-Daniel Sayre
Heat 2: 1. 11-Roger Crockett; 2. 94-Steven Tiner; 3. 5V-Colby Copeland; 4. 96-Greg Hamilton; 5. 75-Sean Becker; 6. 72-Phil Dietz; 7. 25S-Camden Robustelli
Heat 3: 1. 55-Trey Starks; 2. 29-Willie Croft; 3. 1R-Ryan Robinson; 4. 21-Colby Wiesz; 5. 35-Dominic Scelzi; 6. 70-Raquel Ivie; 7. 2M-Aaron Miller
Qualifying: 1. 77-Kyle Hirst; 2. 75-Sean Becker; 3. 35-Dominic Scelzi; 4. 87-Kyler Barraza; 5. 5V-Colby Copeland; 6. 1R-Ryan Robinson; 7. 31C-Justyn Cox; 8. 94-Steven Tiner; 9. 21-Colby Wiesz; 10. 11K-Michael Kofoid; 11. 72-Phil Dietz; 12. 29-Willie Croft; 13. 22-Garen Linder; 14. 11-Roger Crockett; 15. 55-Trey Starks; 16. 5D-Patrick Dills; 17. 96-Greg Hamilton; 18. 70-Raquel Ivie; 19. 3AU-Daniel Sayre; 20. 04-Todd Whipple; 21. 2M-Aaron Miller; 22. 45-Brent McGrath; 23. 25S-Camden Robustelli
Current Western Sprint Tour Point Standings (Top Ten):
1. 55-Trey Starks 331; 2. 22-Garen Linder 305; 3. 96-Greg Hamilton 287; 4. 11-Roger Crockett 274; 5. 31C-Justyn Cox 240; 6. 45-Brent McGrath 234; 7. 5N-Seth Nunes 223; 8. 51-Kyle Miller 221; 9. 87-Kyler Barraza 191; 10. 5D-Patrick Dills 187
Speedweek Northwest Point Standings (Top Ten):
1. 77-Kyle Hirst 95; 2. 5V-Colby Copeland 94; 3. 94-Steven Tiner 85; 4. 31C-Justyn Cox 84; 5. 75-Sean Becker 82; 6. 11-Roger Crockett 76; T 35-Dominic Scelzi 76; 8. 1R-Ryan Robinson 73; 9. 55-Trey Starks 66; T 22-Garen Linder 66