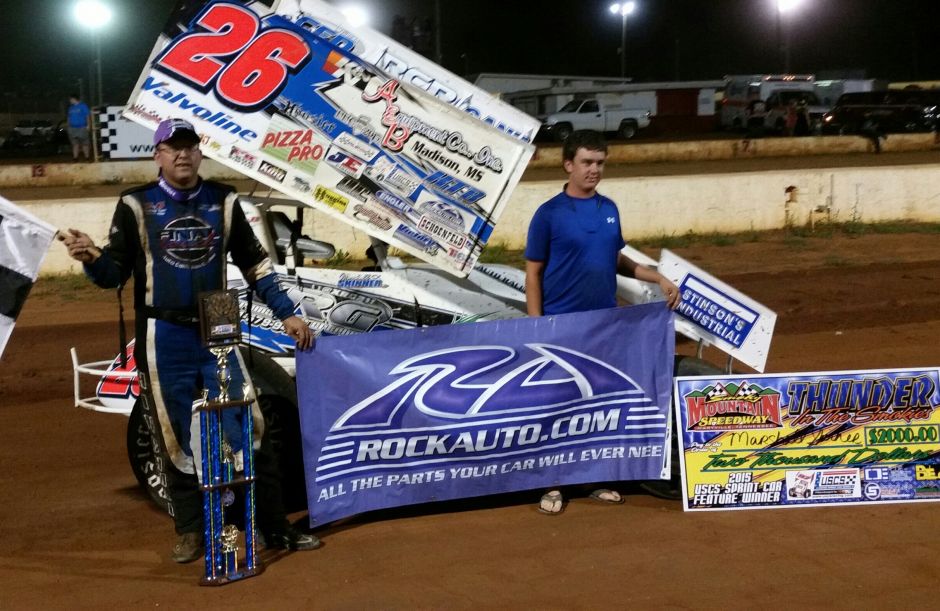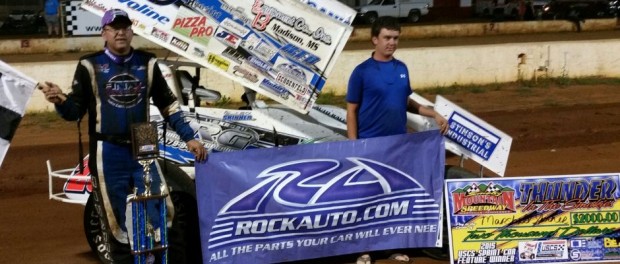 From Jacob Seelman
Maryville, TN — (July 17, 2015) — Marshall Skinner received a king's welcome back to United Sprint Car Series Presented by K&N Filters www.rockauto.com USCS Victory Lane on Thursday night at Smoky Mountain Speedway. Skinner, the 1999 USCS champion, started from the K&N Filters pole position and never looked back, blasting away from three-time 2015 season winner Eric Riggins Jr. and leading all 30 laps of the "Thunder in the Smokies" A-main en route to his first series win in nearly two years.
The win, Skinner's first at Smoky Mountain and his 26th career USCS victory, broke a drought dating back to November 3, 2013 at Riverside International Speedway and made for an emotional victory lane celebration for the Marion, AR native.
"[The car] was pretty good [tonight]," Skinner said in www.rockauto.com USCS Victory Lane. "I haven't been running any big tracks lately – we've been running Riverside [International Speedway] and [I-30 Speedway in] Little Rock weekly. I won the championships at both of those tracks last year, but that's all I've been doing is running these small, quarter-mile little bullrings."
"When we went to Batesville (Ark.) last weekend, which is a big track like this, I struggled bad. I said to myself, 'Boy, I better go run me some of these bigger race tracks again so I can get back on top of my game,' because I used to win at a bunch of these places. Luckily, we made it all come together and it put us back in victory lane tonight."
"This is a big win, and I definitely needed it. We're gonna be celebrating a long time tonight."
Skinner hung on for the win despite a restart with 13 laps to go, sparked when Brandon McLain, from Indian Trail, N.C., blew a rear tire and spewed debris down the backstretch to draw the race's only caution flag.
Though Riggins, the 2010 USCS Southern Thunder Rookie of the Year from Charlotte, N.C., was able to close up on Skinner's tail tank on the restart, he could never get close enough to mount a charge for the victory.
"We really got good about halfway through the race, and I think we probably could have run Marshall down if that caution hadn't come out," Riggins admitted. "We had some issues with some lapped cars holding us up before the yellow and after it, the car just wasn't the same. I think I just used up everything I had too soon tonight."
Riggins then faded on the final lap, as 11-time and reigning series champion Terry Gray, out of Bartlett, TN slide by on the inside to claim the runner-up spot at the twin checkers. Riggins was credited with third in the rundown, scoring the K&N Filters Podium Award.
Three-time USCS championship runner-up and Sarasota, Fla. native Danny Martin Jr. finished fourth ahead of 2014 USCS Asphalt Thunder champion and current national points leader Morgan Turpen. The Cordova, Tenn. native and recent college graduate rounded out the top five and the lead lap cars at the finish.
Grovetown, GA.'s Jay Dunham led the next group of drivers with a sixth-place effort, followed by Rockwell, N.C. rookie Shawn Mott, who scored a USCS career-best of seventh in his series debut. Longtime USCS competitor Joe Larkin, from Suwannee, GA. was the final car running in eighth.
McLain was credited with ninth after his tire woes, and Lookout Mountain, GA. veteran Aubrey Black finished out of the race in tenth with a flat tire from the debris field on the backstretch.
Former USCS Southern Thunder regional champion Johnny Bridges fell out early in the feature after losing power steering in his Ford Performance No. 07, and leading rookie contender Nick Snyder from Marco Island, FL also retired early with motor issues.
Snyder (Mid-South) and Gray (Southern Thunder) kicked off the evening's racing action by winning the Hoosier Tire Speed Dashes for their respective regions. Skinner followed by scoring the win in the Engler Machine and Tools First Heat, and Riggins rolled to the victory in the Butlerbuilt Second Heat.
Skinner was the provisional polesitter after scoring the most passing points in heat race action, and when a zero was rolled on the K&N Inversion Die, he also received the K&N Filters Pole Award. Joe Larkin passed the most cars in the A-main (four) to grab the Wilwood Disc Brakes Hard Charger Award.
The United Sprint Car Series filtercharged by K&N continues their 2015 schedule on Friday night, July 17 with Sprint Car Wars VI at the Boyd's Speedway in Ringgold, Ga. The event was rained out in both 2013 and 2014, but Tim Crawley won the most recent appearance at the three-eighths mile clay oval en route to the series championship in 2012.
For rules and updated schedule information about the United Sprint Car Series Outlaw Thunder Tour, please visit www.uscsracing.com or call the series office at 770-460-7223 or 770-865-6097.
RESULTS: USCS Sprint Car Series "Thunder in the Smokies"; Smoky Mountain Speedway; July 16, 2015
Mid-South Hoosier Tire Speed Dash: Nick Snyder, Terry Gray, Morgan Turpen, Marshall Skinner.
Southern Thunder Hoosier Tire Speed Dash: Terry Gray, Johnny Bridges, Morgan Turpen, Eric Riggins Jr., Aubrey Black, Brandon McLain.
Engler Machine and Tool First Heat: Marshall Skinner, Danny Martin Jr., Terry Gray, Brandon McLain, Jay Dunham, Joe Larkin and Bubba Johnson.
Butlerbuilt Second Heat: Eric Riggins Jr., Johnny Bridges, Nick Snyder, Morgan Turpen, Shawn Mott, Aubrey Black and David Thorman.
USCS Sprint Car Series filtercharged by K&N "Thunder in the Smokies" A-main: 30-laps
1. #26 – Marshall Skinner, Marion, AR
2. #10 – Terry Gray, Bartlett, TN
3. #47 – Eric Riggins Jr., Charlotte, NC
4. #24 – Danny Martin Jr., Sarasota, FL
5. #10M – Morgan Turpen, Cordova, TN
6. #51 – Jay Dunham, Grovetown, GA
7. #5M – Shawn Mott, Rockwell, NC
8. #33 – Joe Larkin, Suwanee, GA
9. #21B – Brandon McLain, Indian Trail, NC
10. #21A – Aubrey Black, Lookout Mountain, GA
11. #07 – Johnny Bridges, Cherryville, NC
12. #116 – Nick Snyder, Marco Island, FL
13. #5 – David Thorman, Greenville, SC DNS
14 #69 – Bubba Johnson, Del Rio, TX – DNS