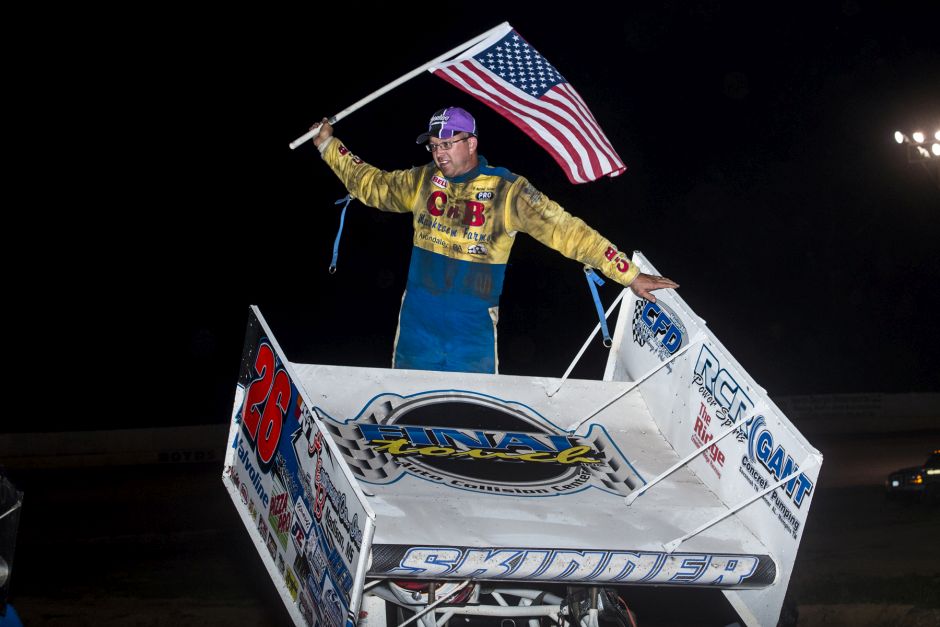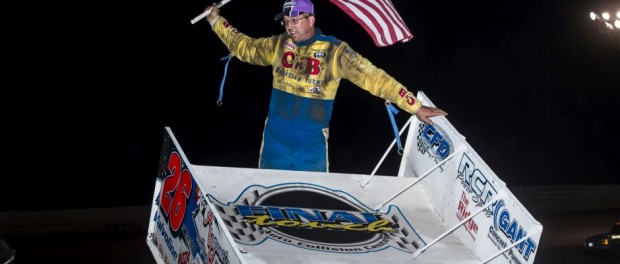 From Jacob Seelman
Ringold, GA — (July 17,2015) — Marshall Skinner was a man on a mission Friday night at Boyd's Speedway.
In the first appearance at the three-eighths mile clay oval since 2012 for the United Sprint Car Series Outlaw Thunder Tour filtercharged by K&N, Skinner, from Marion, Ark., started fifth and methodically worked his way through the lead pack, taking the lead from current USCS Southern Thunder points leader Eric Riggins Jr. on lap 14 of the 30-lap A-main and going on to win his second straight USCS main event.
The win was Skinner's second of the 2015 season and his 27th career USCS victory, putting him one win away from tying 1998 series champion Eddie Gallagher for fifth on the all-time series win list.
"I couldn't have pictured this," Skinner said of scoring back-to-back wins. "First, I want to thank all the fans for coming out after the tragedy that went down in Chattanooga on Thursday. I hope this was a great show for you guys. Second, I almost thought we were going to lose it during that yellow [because] we rode around for so long. My rear tires were going flat, but somehow, we got away and hung on. This feels great tonight."
Riggins, from Charlotte, N.C., hung on for second, but could do nothing with Skinner over the final six-lap sprint to the finish – brought about after Johnny Bridges stopped at the entrance to turn three to draw the race's lone caution flag on lap 24.
"Our car always takes a little time to come in, but lapped traffic really got in our way tonight," Riggins explained. "That's what allowed Marshall to get by me, in all honesty. If I could have gotten clear of traffic, I think I could have gotten away from him. The late caution didn't help at all. I just wish we could have been able to race it out ourselves instead of having to fight through so many cars the way we did."
Anthony Nicholson, out of Bartlett, Tenn. rounded out the podium finishers in third. He was followed by 11-time series champion and fellow Bartlett native Terry Gray and three-time championship runner-up Danny Martin Jr., from Sarasota, Fla., who made up the balance of the top five.
Championship leader Morgan Turpen came home sixth in the final rundown, with leading rookie contender and Marco Island, Fla. young gun Nick Snyder behind her in seventh. Grovetown, Ga. pilot Jay Dunham finished eighth, with Ripley, Mississippi's Jeff Willingham and San Antonio, Texas' Jim Perricone rounding out the top ten finishers.
Turpen kicked off the evening's racing action by winning the Hoosier Tire Speed Dash, and her teammate Terry Gray scored the win in the Engler Machine and Tools First Heat. Riggins rolled to the victory in the Butlerbuilt Second Heat.
Anthony Nicholson was the provisional polesitter after scoring the most passing points in heat race action – moving from seventh to second – but after a four was rolled on the K&N Inversion Die, Riggins garnered the K&N Filters Pole Award. Danny Martin Jr. came from the last row on the grid and passed the most cars in the A-main (10) to grab the Wilwood Disc Brakes Hard Charger Award.
The United Sprint Car Series filtercharged by K&N continues their 2015 schedule on Saturday night, July 18 with the Night of Thunder at the Dixie Speedway in Woodstock, Ga.
For rules and updated schedule information about the United Sprint Car Series Outlaw Thunder Tour, please visit www.uscsracing.com or call the series office at 770-460-7223 or 770-865-6097.
RESULTS: USCS Sprint Car Series "Sprint Car Mania VI"; Boyd's Speedway; July 17, 2015
Hoosier Tire Speed Dash: Morgan Turpen, Terry Gray, Eric Riggins Jr., Marshall Skinner, Danny Martin Jr., Jay Dunham.
Engler Machine and Tool First Heat: Terry Gray, Anthony Nicholson, Nick Snyder, Jeff Willingham, Johnny Bridges, Joe Larkin, Aubrey Black, Danny Martin Jr.
Butlerbuilt Second Heat: Eric Riggins Jr., Marshall Skinner, Morgan Turpen, Brandon McLain, Jay Dunham, Jim Perricone, Ray Bugg, Shawn Mott.
USCS Sprint Car Series filtercharged by K&N Sprint Car Mania VI A-main: 30-laps
1. #26 – Marshall Skinner, Marion, AR
2. #47 – Eric Riggins Jr., Charlotte, NC
3. #16 – Anthony Nicholson, Bartlett, TN
4. #10 – Terry Gray, Bartlett, TN
5. #24 – Danny Martin Jr., Sarasota, FL
6. #10M – Morgan Turpen, Cordova, TN
7. #116 – Nick Snyder, Marco Island, FL
8. #51 – Jay Dunham, Grovetown, FL
9. #28 – Jeff Willingham, Ripley, MS
10. #10P – Jim Perricone, San Antonio, TX
11. #21 – Aubrey Black, Lookout Mountain, GA
12. #21B – Brandon McLain, Indian Trail, NC
13. #5M – Shawn Mott, Rockwell, NC
14. #25 – Ray Bugg, Iuka, MS
15. #33 – Joe Larkin, Suwanee, GA
16. #07 – Johnny Bridges, Cherryville, NC