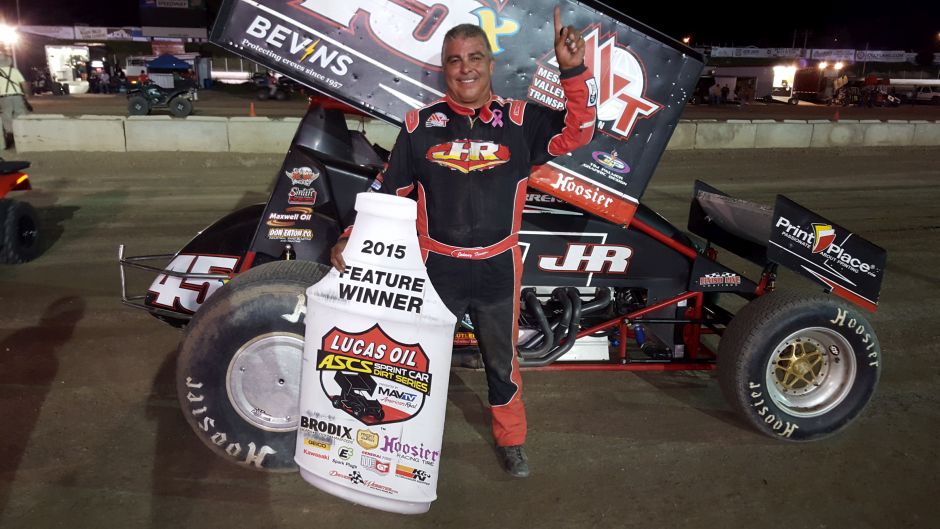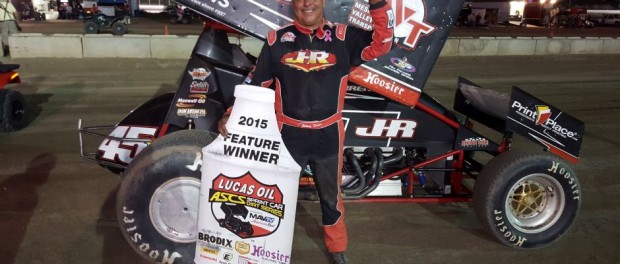 From Bryan Hulbert
Rapid City, SD — (July 24, 2015) — Getting a reprieve from Mother Nature as a light shower, and close proximity lightning, delayed action at the Black Hills Speedway during Lucas Oil ASCS Heat Races, it was New Mexico's Johnny Herrera who parked the Semi Crazy Truck Wash No. 45x in Victory Lane for the third time in 2015 with the Lucas Oil American Sprint Car Series presented by the MAVTV Motorsports Network.
Career win No. 13, Johnny's 200th National Tour start saw the No. 45x taking off from the pole. Stopped after the first round with two drivers collected in the first two turns, Herrera picked up his momentum right where he left off. Finding the back of the field on Lap 8, the battle through the back markers set the stage for Aaron Reutzel to begin running down the MVT No. 45x.
Having to abandon the highline to clear slower cars, Aaron put his B.C. Funds No. 87 on the chip, pulling past the No. 45x to lead the 11th round. Opening his advantage to nearly five seconds at one point, everything looked like another victory for Reutzel, but a caution on Lap 20 put Herrera to the back bumper of the No. 87.
With slower cars out of the picture among the top-five, gremlins began to emerge for Aaron as the engine began to stumble. Having already fought engine woes in his Heat Race, Aaron was hammer down, hoping to make the run, but as the laps counted down, so did the cylinders on Aaron's Shark power plant as Herrera retook the lead on Lap 23.
"I think Aaron may have been fighting an engine issue there on the last restart. I know he was fighting with it during his Heat Race," said Herrera in Victory Lane. "Definitely, we weren't the best racecar tonight, but we hung in there and sometimes, it works out that way. We were a little off on our set up, but we'll take these wins anyway we can get them."
Having stalked Herrera for the latter part of the A-Feature, Oklahoma's Wayne Johnson crossed runner up to the No. 45x with his engine also beginning to fail.
"That thing pegged the temperature gauge in the Heat, and in the feature it did it before that caution came out," said Johnson. "I'm not sure what's wrong with it and Scotty [Cook] just asked me if I could hear Reutzel's engine blowing up, and I said no, because all I could hear was mine missing, popping, and banging but our racecar was really good. I got to Johnny in traffic and was probably a little too nice to him, but that's the way I want these guys to race me."
Taking off from fourth, Missouri's Kyle Bellm picked up one spot to complete the night's podium, "We drew bad in the Heat, but got to fourth so that put us in the redraw and stated fourth. I really think in clean air, we were just as good as those guys, but lapped traffic I swear they were going 20-30mph slower, and I zigged when I should have zagged a few times."
Despite the engine going south, Aaron Reutzel held on to finish fourth with Blake Hahn moving up two spots to complete the top-five.
Matt Covington crossed sixth as the last car on the lead lap with Jeremy McCune seventh. Kevin Ingles was eight, D.J. Brink ninth, and Anthony Farnsworth tenth.
With 24 drivers checking in at the Black Hills Speedway, three Heat Races went to Blake Hahn, Jeremy McCune, and Matt Covington. The Black Hills Speedway opted not to run a B-Feature, putting all 24 drivers in the A-Feature.
The Lucas Oil ASCS presented by the MAVTV Motorsports Network hits The Road To Knoxville on Thursday, July 30 and Friday, July 31 at the I-80 Speedway in Greenwood, Neb. The night will also include the FVP National Sprint League. Updates can be found at http://www.i-80speedway.com.
For continued updates on the American Sprint Car Series, log onto http://www.ascsracing.com.
Race Results:
Lucas Oil ASCS National Tour
Black Hills Speedway – Rapid City, S.D.
Friday, July 24, 2015
Car Count: 24
Heat Races: 8 Laps, everyone transfers to to the A-Feature.
Heat 1 (8 Laps): 1. 52-Blake Hahn[1]; 2. 77X-Wayne Johnson[4]; 3. 75-D.J. Brink[5]; 4. 14K-Kyle Bellm[7]; 5. 10-Anthony Farnsworth[2]; 6. 4-Adam Speckman[6]; 7. 13-Ryan Parks[8]; 8. 77M-Nate Maxwell[3]
Heat 2 (8 Laps): 1. 0J-Jeremy McCune[1]; 2. 87-Aaron Reutzel[8]; 3. 7-Mike Sires[4]; 4. 56X-Mark Chisholm[7]; 5. 21-Ryder Olson[6]; 6. 14-Ben Holmberg[2]; DNS 15-James Sires; DQ 9A-Clint Anderson[3]
Heat 3 (8 Laps): 1. 95-Matt Covington[1]; 2. 45X-Johnny Herrera[6]; 3. 2K-Kevin Ingle[2]; 4. 29-Eric Flatmoe[4]; 5. 92-Jordan Weaver[3]; 6. 33-Kris Miller[5]; 7. (DNF) 3-Mike Pennel[8]
A-Feature: 25 Laps
A Feature 1 (25 Laps): 1. 45X-Johnny Herrera[1]; 2. 77X-Wayne Johnson[5]; 3. 14K-Kyle Bellm[4]; 4. 87-Aaron Reutzel[6]; 5. 52-Blake Hahn[7]; 6. 95-Matt Covington[3]; 7. 0J-Jeremy McCune[2]; 8. 2K-Kevin Ingle[10]; 9. 75-D.J. Brink[8]; 10. 10-Anthony Farnsworth[15]; 11. 7-Mike Sires[9]; 12. 13-Ryan Parks[18]; 13. 33-Kris Miller[17]; 14. 4-Adam Speckman[16]; 15. 21-Ryder Olson[13]; 16. 14-Ben Holmberg[19]; 17. 9A-Clint Anderson[22]; 18. 92-Jordan Weaver[14]; 19. (DNF) 77M-Nate Maxwell[20]; 20. (DNF) 15-James Sires[23]; 21. (DNF) 3-Mike Pennel[21]; 22. (DNF) 56X-Mark Chisholm[11]; 23. (DNF) 29-Eric Flatmoe[12]; DNS 6G-Bryan Gossel
Lap Leader(s): Johnny Herrera 1-10; 23-25 – Aaron Reutzel 11-22;
KSE Hard Charger: Anthony Farnsworth +5
FSR High Point: Aaron Reutzel
Provisional(s): N/A