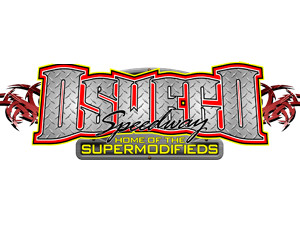 By Dan Kapuscinski
OSWEGO, NY (July 28, 2015) – The Oswego Speedway Old-Timers Reunion will celebrate in a big way come Saturday, August 8, as the reunion will put on its' 10th annual celebration just hours before Oswego Speedway's 65th Anniversary special, which will feature grandstand admission of only $5.
The reunion, once again coordinated by longtime Speedway faithful's Jim Ferlito and Jim Liccardi, will run from 10 a.m. to 3 p.m. on August 8 at Lighthouse Lanes, located directly across from the Speedway on Jim Shampine Drive.
Several historic members of the Oswego Speedway racing community will be on hand including legends Bentley Warren, Todd Gibson, Norm Mackereth and more.
Drivers, owners, racing families, officials, media members and longtime fans will be available throughout the afternoon to help celebrate Oswego Speedway and Supermodified racing for the 10th year.
Warren will also be available at Oswego Speedway for a book signing of his piece 'Wicked Fast: Racing through Life with Bentley Warren', inside the Speedway's grounds at a time to be determined.
The reunion itself will include a full chicken bbq dinner with chef salad, salt potatoes, baked beans, macaroni salad, dinner rolls, dessert and non-alcoholic beverages. Tickets for the reunion and dinner are $12, which also includes a discount toward pit admission for the Speedway's action later that night, which will begin at 6:30 p.m.
For more ticket information contact Jim Liccardi at (315) 342-5149. Tickets may be ordered ahead of time, with payment made at the door.
Oswego Speedway's Novelis Supermodifieds will contend in a 45-lap main event following the reunion, as they did for several years at the 'Steel Palace', along with heat racing as well as the famous Semi-Finals, which haven't been run regularly since the early 1990's.
The Pathfinder Bank Small Block Supers will join the Supermodifieds for a 30-lap feature on August 8, followed by an infield pit party at the conclusion of the racing action.
For more information on Oswego Speedway visit online at www.oswegospeedway.com, follow on Twitter @OswegoSpeedway, or like on Facebook at facebook.com/OswegoSpeedway.