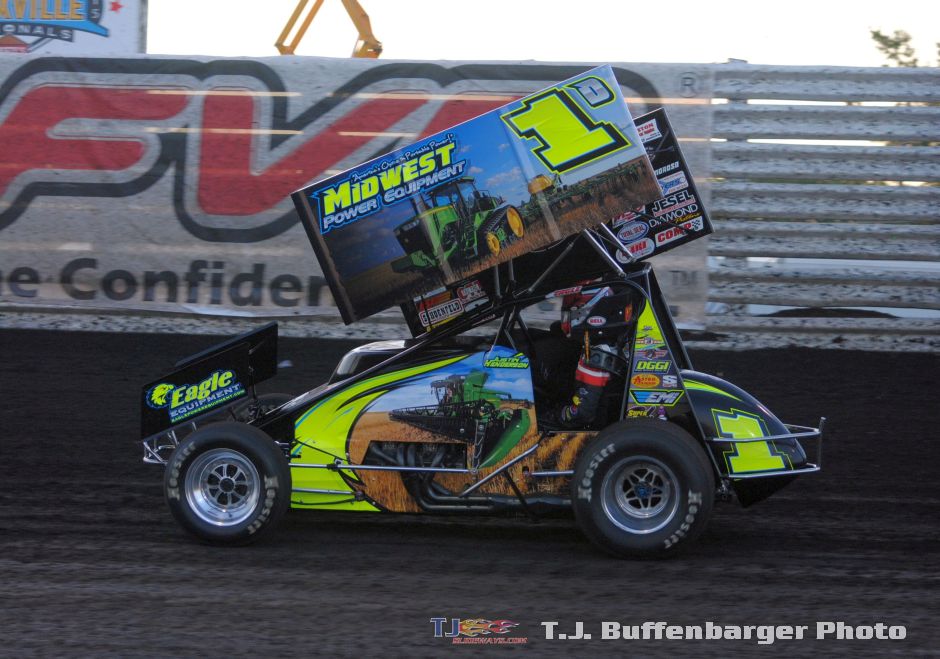 From BDS Motorsports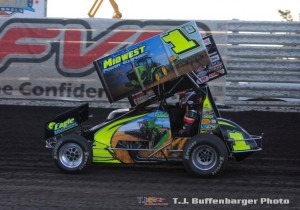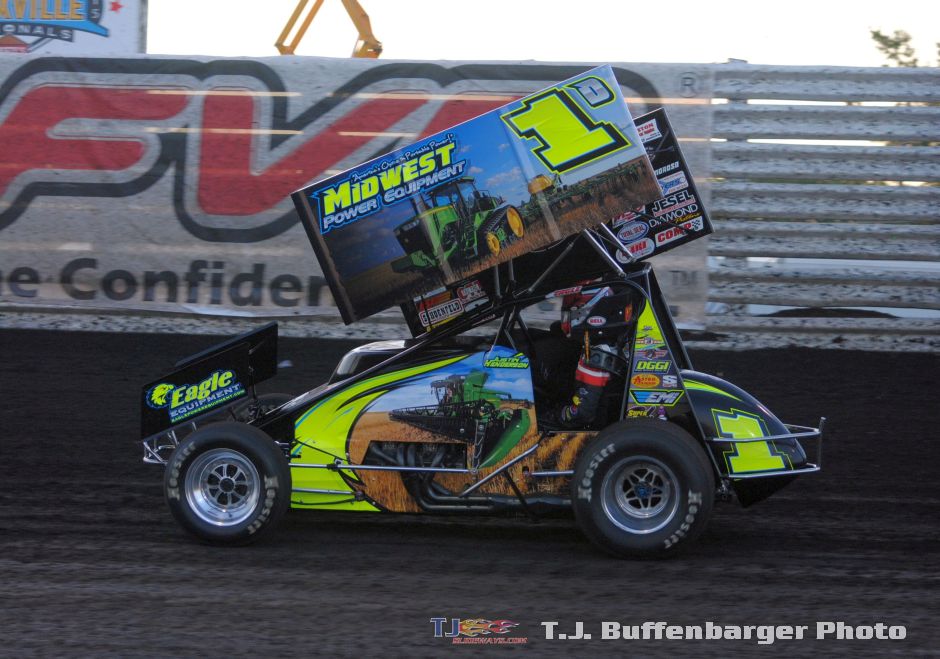 Dupo, IL (August 17, 2015) After impressive finishes in each of the last two years' Knoxville Nationals, BDS Motorsports and driver, Justin Henderson, entered this year's event hoping for another podium finish. Debuting a new graphics scheme to honor the Midwest and sponsor Midwest Power Equipment, the BDS Motorsports #1 was shined up and ready to hit the track for Wednesday night's preliminary events. Over fifty other competitors were just as hungry Wednesday night and track conditions would control a lot of the race results.
To start his Wednesday night, Justin went out 36th in the qualifying order. Going out late and being just a little off, the BDS Motorsports, Parker powered Eagle Chassis only laid down a lap good enough for 23rd quick overall. This put Justin starting fourth in heat race number three. Needing to move forward to earn crucial points and a lock in spot for the A-main, Justin went to work early in heat race action and was able to earn a second place finish, and secure a starting spot in the 25-lap A-main event. Knowing that he needed every point he could possibly earn, Justin drove the wheels off the car in the A-main and moved forward for a fifth place finish. At the end of his preliminary night, Justin sat tenth in overall points with a total of 445 points.
In the Knoxville Nationals, points are earned for qualifying and each finishing position; points are important and hard to come by. The format for the Saturday night A-main was the top 16 in overall points from Wednesday and Thursday and then the top four from Friday night's A-main, the winner of the World Challenge, and then the top four finishers in Saturday night's B-main event. After Thursday night, Justin sat 20th in overall points and had earned a fourth place starting position for Saturday night's B-main. At that time, the team had the choice whether or not to give up the 445 points they earned on Wednesday and race again on Friday to try to lock in or to keep the 445 points, line up fourth in the B-main and try to race its way into Saturday's A-main. The team elected to run Saturday's 22-lap B-main event.
At the start of Saturday's B-main event, Justin quickly moved into third place until Sammy Swindell got around him a few laps later. As the race progressed, Justin and the BDS Motorsports #1 just were not able to race as hard as they normally would. With everyone chasing the dream of starting the A-main at the Knoxville Nationals, Justin began getting passed and found himself with a seventh place finish in the B feature. Unfortunately this was not good enough to transfer into the night's 50-lap A-main event, and ended the two year streak of Knoxville Nationals A-main appearances for BDS and Justin Henderson. The day and night were not a total loss however, as the BDS Motorsports, Eagle Power Equipment, Midwest Power Equipment #1 once again brought home the "Best Appearing Car" award for the third year in a row. This year's scheme featured a highly detailed graphics design including tractors and combines to celebrate what the Midwest is best known for. BDS would like to thank Cody and Design Graphics Group, Inc. for all of their hard work making the BDS car look amazing.
With Knoxville Raceway taking this next weekend off, BDS Motorsports and Justin Henderson will hit the road and travel
north to do some 360 racing in Minnesota with the Upper Midwest Sprint Car Series. On Thursday, August 20th, the team will travel to Wilmar, MN for a Midwest Power Race. On Friday, the team will then head to Princeton, MN for the Ethel Kouba Memorial. Tentatively, the team will then take Saturday off and head down to Sedalia, MO for an ASCS National race on Sunday the 23rd. Stay tuned to Facebook and Twitter for more updates from the upcoming weekend.
With the biggest week of the year now behind them, BDS Motorsports would like to thank all the fans, sponsors, and friends that stopped by the shop this past week for its open house events. Pit Stop Liquors provided some great drink samples and it, along with other BDS sponsors provided some great giveaways to fans that stopped by. Bryan and the team are truly thankful for all the support that they receive from everyone involved. Racing is a team sport, and the BDS team thanks all of you for being a part of their team. As always, thank you to all the sponsors that help make racing weekly possible – Karavan Trailers, Birch Corp Financial, Eagle Power Equipment, Al Parker Engines, American Fab, Midwest Power, Randy's Lawncare/Maintenance – Newton, IA, Pit Stop Liquors, Zephyr Pro40, Sebastian Sandblasting and Powdercoating, Eagle Chassis (EMi), DMI, Astro Titanium, Ultra – Lite Brakes, KSE Products, Kinsler Fuel Injection, Schoenfeld Headers, Fuel Safe, Kustom Sprintcar Supplies, Moroso Products, FK Rod Ends, Brown & Miller Racing Solutions, Hoosier Tire Midwest, Butlerbuilt Safety Products, Callies, MSD Ignitions, Dyer Rods, Cometic Gaskets, Diamond Pistons, Comp Cams, Dart Blocks, Super Shox, Simpson Race Products, Speedway Motors, Hepfner Racing Products, Gillund Enterprises, JB Distributing, Justice Brothers, and Quick Racing Products.
Facebook – BDS Motorsports
Twitter – @BDSMotorsports
Four in the Fluff Motorsports Marketing & Promotions