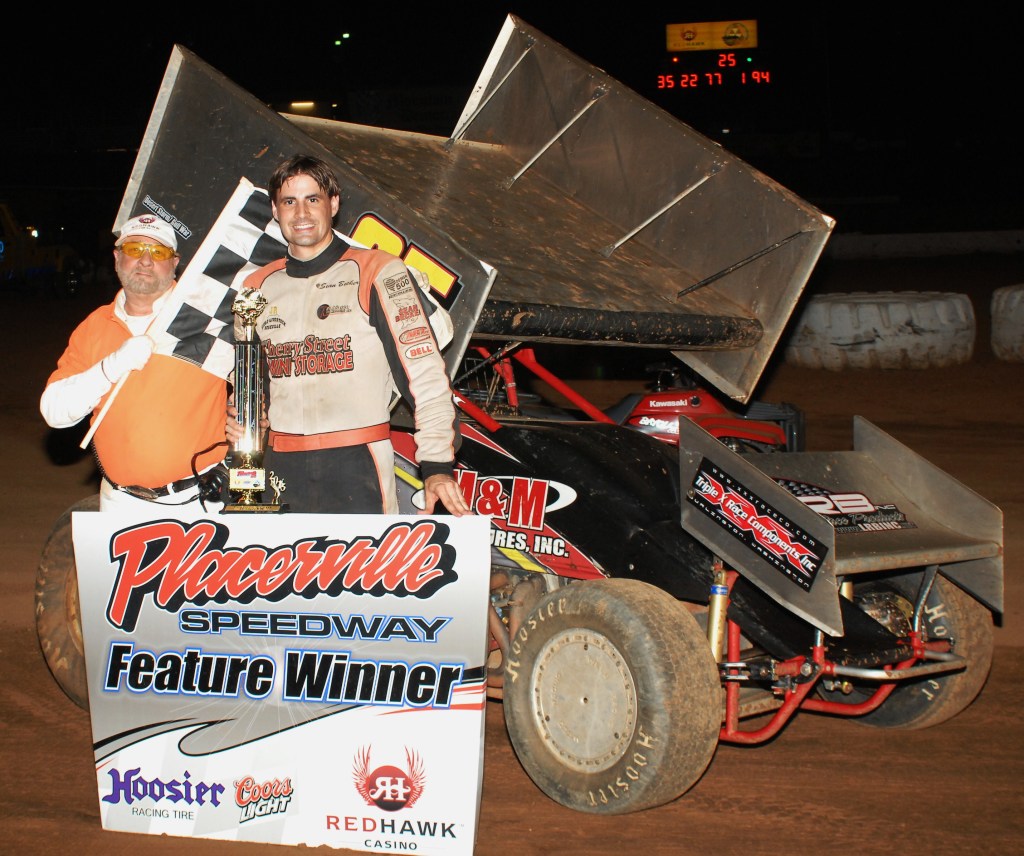 PETERSEN MEDIA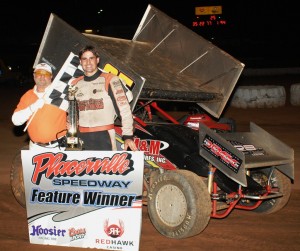 Sean Becker is on his way to rewriting the book at the Silver Dollar Speedway. Friday night he claimed his fourth consecutive track title, and fifth overall by way of his third place effort during the track's regular season finale.
"I am just so proud of this Menne Motorsports team, and so thankful for the opportunity they gave me this year," Sean Becker said. "We have not been able to pick up as many wins as we had hoped at this point, but it is great to win another track championship."
Timing the Mike's Hard Lemonade/Cherry Street Mini Storage/Menne Ranch Hay Inc. No. 75 machine in second fastest, the Roseville, CA driver would race from fourth to second in his heat race, and qualify for the redraw.
Finding himself with the six-pill, Becker would line up in the third row for the 25-lap feature event, and go to work on the slick Silver Dollar Speedway surface.
Fighting his way into the third spot, Becker did all he could to chase down the lead duo of Tyler Walker and Jonathan Allard, but they were able to get away from the field as Becker got into third.
Though he closed on them in the final laps, Becker was unable to get to them to challenge for the win, but the third place finish was enough to get him his fifth Silver Dollar Speedway track title, putting him second all time at the Silver Dollar Speedway, just one title behind Shane Scott.
"We were really fast, but the leaders were just a little bit quicker at the end and we could not quite get to them," Becker added.
Saturday night, Becker would make the trek to the Ocean Speedway in Watsonville, CA and take part in the 55th Annual Johnny Key Classic with the F&F Racing team.
With 30 cars taking time, 'The Shark' would end up qualifying 14th fastest and line up in the third row of his heat race. On an extremely slick Ocean Speedway, Becker would finish in the third and final transfer spot, and safely move into the 50-lap feature event.
Gridding the field from the 14th spot, Becker slowly worked his way towards the Top-10 as he admittedly struggled to get going. As the rubber began to go down on the track, Becker would bobble and it would result in a freight train of cars getting by him as he fought to get back to the rubber.
In the end, Becker would take the checkered flag with a 13th place finish.
'We flirted with a Top-10 on Saturday, and then as the track started to take rubber, I bobbled enough to get out of the rubber, and give a few spots away as the track became follow-the-leader," Becker added. "Though we were disappointed with our finish, I want to thank the entire F&F Racing team for making the trip down."
Becker would like to thank Mike's Hard Lemonade, Cherry Street Mini Storage, Menne Ranch Hay Inc., Astro Titanium, Ponybracket.com, Hunt's Race World, Molecule, Shaver Racing Engines, FK Rod Ends, and K&N for their support in 2015.
2015 BY THE NUMBERS: Starts- 37, Wins- 4, Top 5's- 27, Top 10's- 30
ON TAP: Becker will return to action on Saturday night as he climbs back aboard the Dan Monhoff No. 35 machine at the Placerville Speedway.
STAY CONNECTED: If you can't be at the track, make sure to follow @MrsSharkBecker on twitter for constant updates, and become a fan on facebook at https://www.facebook.com/SeanBeckerRacing1023.
PETERSEN MEDIA: Petersen Media is a media company that can handle your public relations, marketing, and any other promotional needs. Petersen Media utilizes multiple tactics to help you reach your intended audience, to boost awareness.
For more information contact sales@petersenmediainc.com, by phone at 916-342-3424, visit www.petersenmediainc.com,  www.facebook.com/PetersenMedia, or follow www.twitter.com/petersen_media.