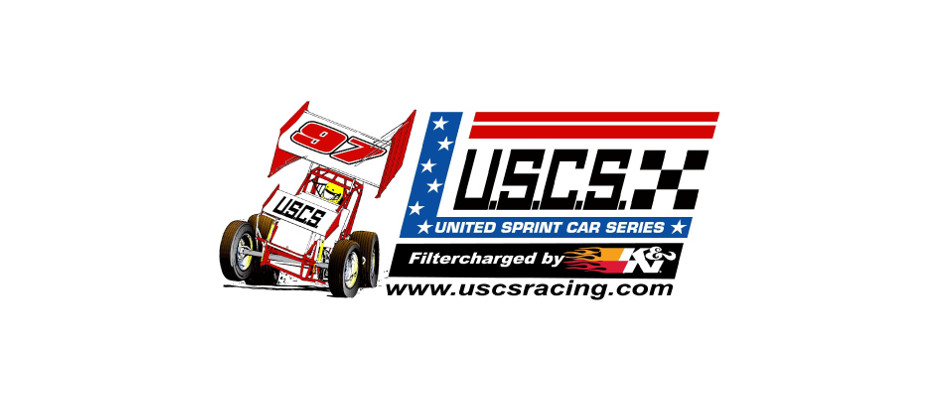 From Pete Walton
Atlanta, GA – (February 26, 2016) – The United Sprint Car Series presented by K&N Filters opens its 20th season at Magnolia Motor Speedway in Columbus, Mississippi on this Saturday, February 27th during the 8th annual USCS "Frost Buster 250" presented by Carl Hogan Toyota (www.carlhogantoyota.com ) The event was to feature a two-night double-header for the USCS Outlaw Thunder Tour presented by K&N Filters winged sprint cars, but, rains earlier in the week have left the facility wet and low temperatures on Thursday and Friday nights forced cancellation of Friday's prelim portion of the event. The USCS' winged sprint car division will still contest a complete racing program on Saturday night for over $12,000 in total prize money. A $2500 paycheck awaits the winner of the 30-lap Frostbuster sprint car finale in the www.rockauto.com USCS Victory Lane on Saturday night's.
The event will award USCS Outlaw Thunder Tour National Championship points and USCS Mid South Thunder regional series points each night. The event also gives the drivers from the USCS Southern Thunder region a chance to use their finish to replace a USCS Southern Thunder regional event finish as a bonus for participating in this Mid South region event.
Race fans and race teams will be treated to a full menu of speed contests with racing in eight of the area's most popular divisions. The event includes one of only two scheduled 2016 season appearances for the USCS "Outlaw Thunder" Tour presented by K&N Filters winged sprint cars plus the K&N Filters USCS Outlaw Modified Series and the www.rockauto.com USCS 600 Sprint Car Series mini sprints at Magnolia Motor Speedway. The USCS Frostbuster 250 event features over 250 laps of racing around the 3/8 mile clay oval including 150+ laps of Championship main events on Saturday night.
Action kicks off on Saturday night at 5:00 pm with a full racing program in all divisions including the 130 mile per hour USCS Outlaw Thunder Tour winged sprint cars. The world's most powerful short track cars (Outlaw Sprint Cars) are expected to reach speeds exceeding 130 M.P.H. around "The Mag". Top winged sprint car drivers from at least 7 states are expected for the first 2016 appearance of the USCS sprint cars to Magnolia Motor Speedway.
They will be joined by the Mag's Super Late Models, the K&N Filters USCS Outlaw Modified Series, Nesmith Dirt Late Model, www.RockAuto.comUSCS 600 Sprint Car Series mini sprint, Nesmith Street Stock, 602 Stock Late Model and Factory Stock divisions.
NASCAR veteran racer and frequent TV commentator, Ken Schrader is again entered to compete in the K&N Filters USCS Outlaw Modified Series portion of the event on Saturday night. It will only be Schrader's third-ever appearance at the track in an Outlaw Modified race car. So far in his previous two appearances he is UNDEFEATED. Schrader was the 2012 as well as the 2014 "Frostbuster 250" USCS Modified Series event Champion. Ken Schrader has 970 starts in NASCAR's top three divisions including 763 Sprint Cup (formerly the Winston Cup) divisions.
Magnolia Motor Speedway is located just West of Columbus, Mississippi at the junction of US Highway 82 and US Highway 45 South. For more info and for directions to Magnolia Motor Speedway please visit www.magnoliadirt.com or call 662-240-3478 (or 662-574-2572). For info on the United Sprint Car Series, K&N Filters USCS Outlaw Modified Series or www.rockauto.comUSCS 600 Sprint Car Series please visit www.uscsracing.com or call 770-460-7223 or 770-865-6097.