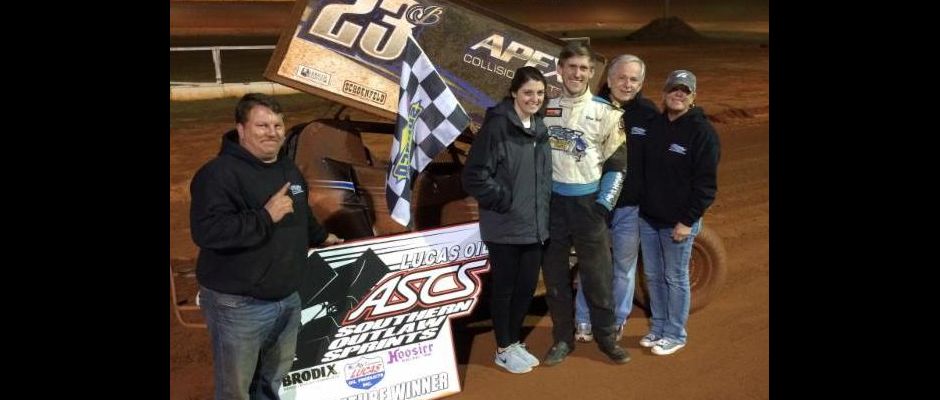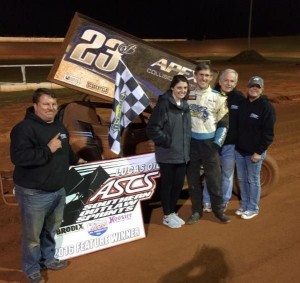 From Bryan Hulbert
Loxley, AL — (March 5, 2016) — Making his first trip to ASCS Victory Lane in 2016, Tennessee's Brian Bell was the class of the field Saturday night at the Deep South Speedway, scoring his first career victory with the Lucas Oil ASCS Southern Outlaw Sprints in the Apex Collision Center / FSR Radiator No. 23b.
In front of a packed house, Bell was able to hold off Derek Hagar as well as Friday night's winner, Seth Bergman, for the victory. Arkansas's Marshall Skinner crossed fourth with Brandon Hanks, from 12th, completing the top-five.
Oklahoma's Matt Covington was sixth with Terry Gray from 11th to seventh. Timmy Thrash crossed eighth with Joey Schmidt from 15th to ninth. Alabama's Kyle Amerson completed the top-ten.
The Lucas Oil ASCS Southern Outlaw Sprints returns to action with a showdown at Mississippi's Jackson Motor Speedway with the Griffith Truck and Equipment ASCS Gulf South Region presented by Southern Trailer Works on Friday, April 8 and Saturday, April 9.
For continued updates on the Lucas Oil ASCS Southern Outlaw Sprints, or any of the six ASCS Region Tours, as well as the Lucas Oil ASCS National Tour presented by the MAVTV Motorsports Network, log onto http://www.ascsracing.com.
Results:
ASCS Southern Outlaw Sprints
Deep South Speedway – Loxley, Ala.
Saturday, March 5, 2016
Car Count: 27
Heat 1 (8 Laps): 1. 23-Seth Bergman; 2. 95-Matt Covington; 3. 33-Ronnie Roberts Jr.; 4. 10-Terry Gray; 5. 28-Jeff Willingham; 6. 88-Brandon Blenden; 7. D1-Darlene McCall
Heat 2 (8 Laps): 1. 01-Shane Morgan; 2. 09-Timmy Thrash; 3. 21-Butch David; 4. 3-Kyle Amerson; 5. 38-Ryan Moore; 6. 29-Rusty Sanford; 7. 4M-Michael Miller
Heat 3 (8 Laps): 1. 26-Marshall Skinner; 2. 9JR-Derek Hagar; 3. 84-Brandon Hanks; 4. 1-Freddie McCall; 5. 9-Lane Whittington; 6. F16-Todd Fayard
Heat 4 (8 Laps): 1. 10M-Morgan Turpen; 2. 23B-Brian Bell; 3. 00-Tristan Lee; 4. 1S-Joey Schmidt; 5. 38A-Tony Agin; 6. 59-Kevin Newton
B Feature (12 Laps): 1. 38A-Tony Agin[1]; 2. 9-Lane Whittington[4]; 3. 4M-Michael Miller[9]; 4. 29-Rusty Sanford[6]; 5. 1-Freddie McCall[2]; 6. 28-Jeff Willingham[3]; 7. 59-Kevin Newton[10]; 8. D1-Darlene McCall[8]; 9. 88-Brandon Blenden[7]; 10. F16-Todd Fayard[5]
A Feature (25 Laps): 1. 23B-Brian Bell[1]; 2. 9JR-Derek Hagar[3]; 3. 23-Seth Bergman[7]; 4. 26-Marshall Skinner[4]; 5. 84-Brandon Hanks[12]; 6. 95-Matt Covington[5]; 7. 10-Terry Gray[11]; 8. 09-Timmy Thrash[2]; 9. 1S-Joey Schmidt[15]; 10. 3-Kyle Amerson[13]; 11. 10M-Morgan Turpen[8]; 12. 38-Ryan Moore[16]; 13. 33-Ronnie Roberts Jr.[14]; 14. 29-Rusty Sanford[20]; 15. 01-Shane Morgan[6]; 16. 00-Tristan Lee[10]; 17. 21-Butch David[9]; 18. 4M-Michael Miller[19]; 19. 9-Lane Whittington[18]; 20. 38A-Tony Agin[17]