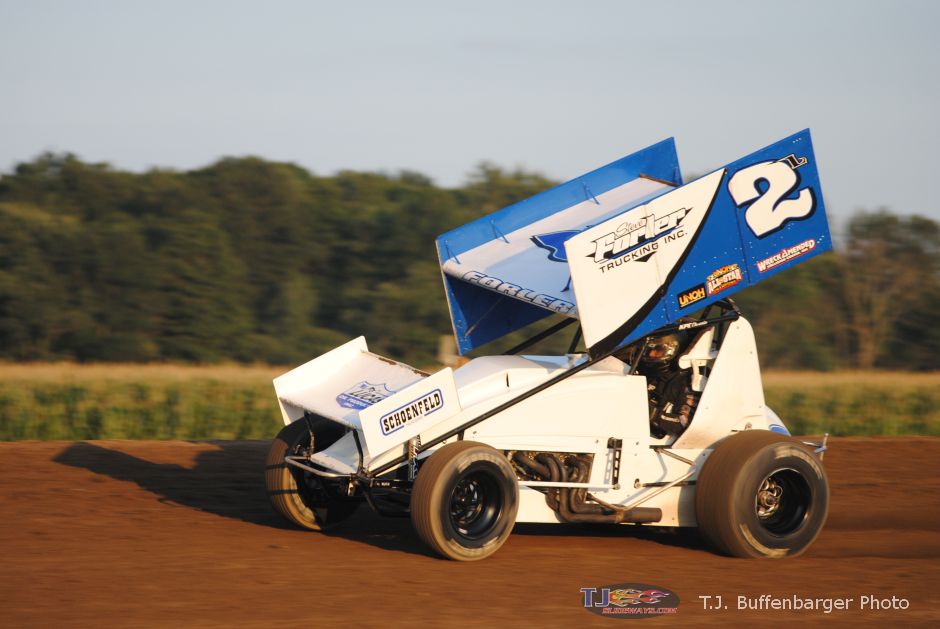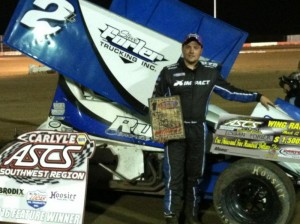 From Bryan Hulbert
Peoria, AZ — (March 12, 2016) — Claiming his second win in as many races with the Carlyle Tools ASCS Southwest Region in 2016, Washington's Logan Forler held off hard charging Dusty Zomer at the Canyon Speedway Park in Peoria, Ariz.
Topping a roster of 24 drivers at Canyon Speedway Park, Forler led flag-to-flag in the Steve Forler Trucking No. 2L for his seventh career win with the Carlyle Tools ASCS Southwest Region. Coming from 11th to second, Zomer, in the Buffalo Wild Wings No. 82, was joined by Arizona's J.T. Imperial on the podium who fought his way up from seventh.
Clawing from 16th, New Mexico's Wes Wofford was the night's SpeedMart, Inc. Hard Charger with a fourth place run. Bolting wings on his normally wingless No. 51 machine, Arizona's R.J. Johnson completed the top five from 13th.
After having trouble on the start, Rick Ziehl rebounded to sixth with Lance Norick from 19th to seventh. Ryan Linder finished eighth with Bob Ream, Jr. ninth. Jesse Baker from 18th completed the top-ten.
The night's four non-transfer drivers in the B-Feature each got a $25 bonus thanks to Beaver Stripes.
Up next for the Carlyle Tools ASCS Southwest Region is the Arizona Speedway in Queen Creek, Ariz. on Saturday, March 19. This is the season's first trip to the Arizona Speedway. More information can be found at http://arizonaspeedway.net.
For continued updates on the Carlyle Tools ASCS Southwest Region, log onto http://www.ascsracing.com.
Race Results:
ASCS Southwest Region
Canyon Speedway Park – Peoria, Ariz.
Saturday, March 12, 2016
Car Count: 24
Heat 1 (8 Laps): 1. 20Z-Rick Ziehl; 2. 18W-Lorne Wofford; 3. 75X-J.T. Imperial; 4. 82-Dusty Zomer; 5. 51-R.J. Johnson; 6. 74-Colton Hardy; 7. 19-Wes Wofford; 8. 17K-Kyle Danielson
Heat 2 (8 Laps): 1. 2L-Logan Forler; 2. 9-Ryan Linder; 3. 91-Casey Buckman; 4. 8-Bob Ream Jr; 5. 5C-Billy Chester III; 6. 14-Cody Sickles; 7. 22B-Jesse Baker; 8. 12-James Mosher
Heat 3 (8 Laps): 1. 4U-James Aragon; 2. 0J-Jeremy McCune; 3. 56-Barry Martinez; 4. 7-Danny Mathus; 5. 01-Kaylene Verville; 6. 2-Shad Peterson; 7. 4X-Rickey Hood; 8. 90-Lance Norick
B Feature (12 Laps): 1. 51-R.J. Johnson[1]; 2. 74-Colton Hardy[4]; 3. 5C-Billy Chester III[2]; 4. 19-Wes Wofford[6]; 5. 4X-Rickey Hood[11]; 6. 22B-Jesse Baker[7]; 7. 90-Lance Norick[12]; 8. 12-James Mosher[10]; 9. 17K-Kyle Danielson[9]; 10. 2-Shad Peterson[8]; 11. 14-Cody Sickles[5]; 12. 01-Kaylene Verville[3]
A Feature (25 Laps): 1. 2L-Logan Forler[2]; 2. 82-Dusty Zomer[11]; 3. 75X-J.T. Imperial[7]; 4. 19-Wes Wofford[16]; 5. 51-R.J. Johnson[13]; 6. 20Z-Rick Ziehl[5]; 7. 90-Lance Norick[19]; 8. 9-Ryan Linder[1]; 9. 8-Bob Ream Jr[6]; 10. 22B-Jesse Baker[18]; 11. 56-Barry Martinez[10]; 12. 91-Casey Buckman[9]; 13. 5C-Billy Chester III[15]; 14. 0J-Jeremy McCune[8]; 15. 7-Danny Mathus[12]; 16. 18W-Lorne Wofford[3]; 17. 12-James Mosher[20]; 18. 4X-Rickey Hood[17]; 19. 4U-James Aragon[4]; 20. 74-Colton Hardy[14]