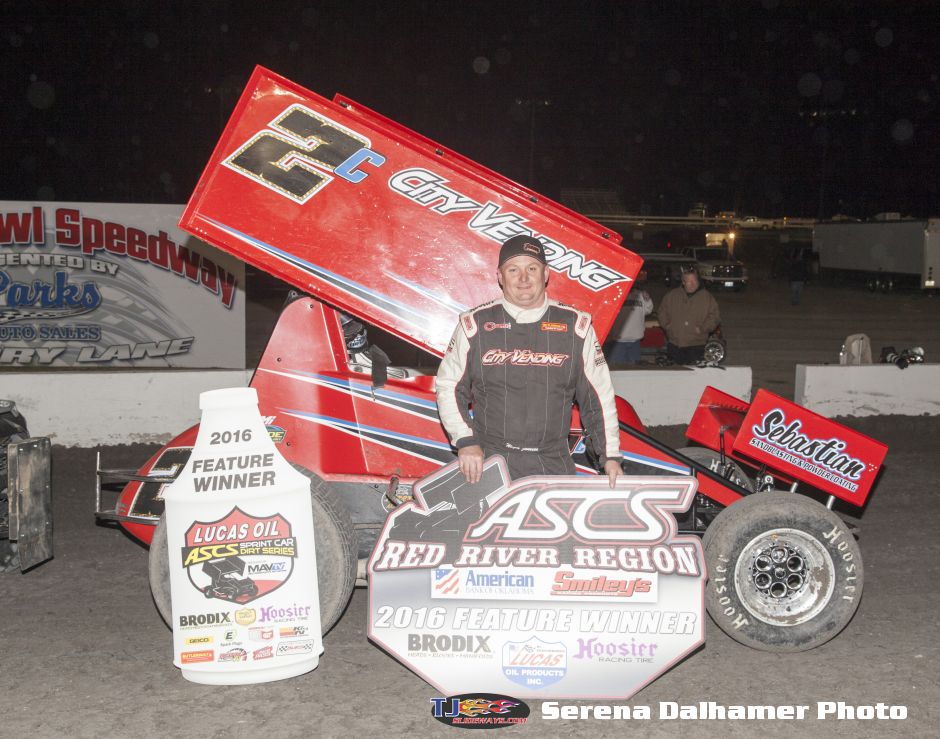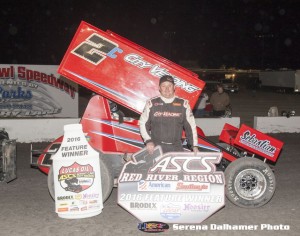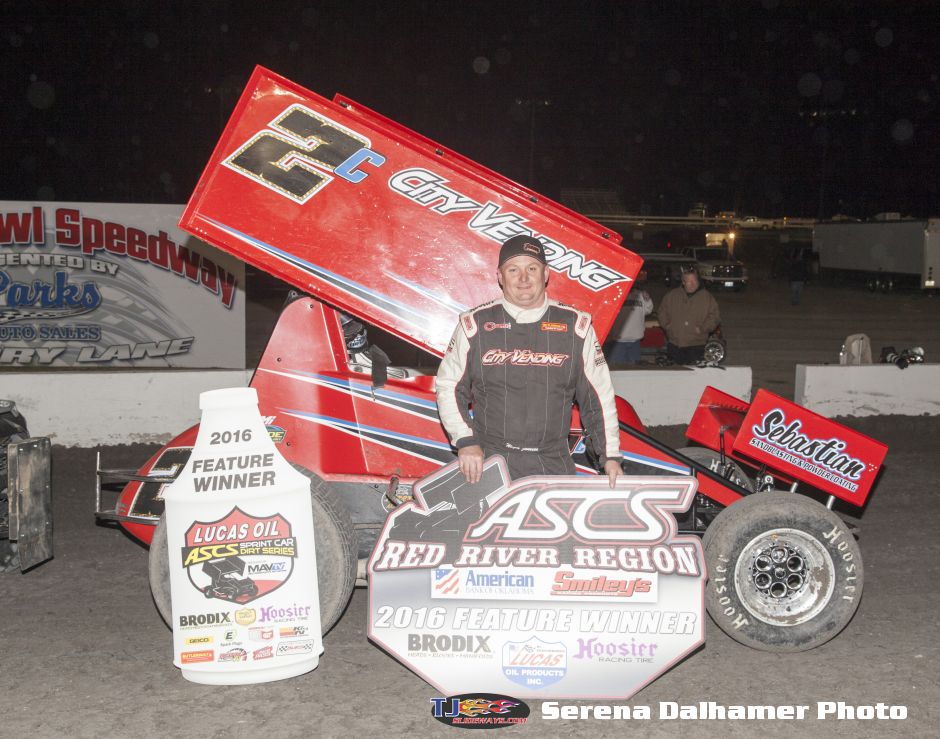 By Bill W
March 23, 2016 – Lately, Wayne Johnson has turned the Devil's Bowl Speedway in Mesquite, Texas into his own personal playground. The Oklahoma City, Oklahoma driver has won three of the last four ASCS National Series events contested at Devil's Bowl, and Saturday was no different, as he parked the Two-C Racing machine in Victory Lane again. The first weekend with ASCS also saw a sixth place run at Heart 'O Texas Speedway in Waco.
Wayne won his heat from outside row one in Waco on Thursday. "The heat went well, and we were able to win that," he says. "We just didn't tighten the car up enough for the feature, and we were way too loose. We started third and backed up to sixth at the end."
After a Friday rainout, action in Mesquite was limited to Saturday. Wayne drew a spot outside row three for his heat. "Sometimes Devil's Bowl is so hard to pass, we thought we might be in trouble," he says. "The racecar was really good. We were able to get to second there, and once we got there, we were rolling."
The number of cars necessitated a heat/Qualifier format, and Wayne headed into the Qualifier tied with Travis Rilat for high point total. Starting fourth, he would charge to the win. "The car was just really good," he says. "We really felt good in both the heat and the Qualifier. The track was really too good early in the night, but we were still passing cars. That was a good feeling heading into the feature."
After passing the pole-sitter, Rilat, Wayne led the distance in the main event. "We were able to get the jump right away," he says. "We were able to keep a straightaway distance ahead of everyone. We were really good in traffic and able to get through there. On one restart, I did see (Seth) Bergman try to slide us, but we were really good. The racetrack ended the night with a curb and not much of a bottom."
Overall, it was a good weekend for the team, but it was great to get that first win of 2016. "It was great to get this first win for the Two-C team," says Wayne. "I can't thank the Carlile family and all our partners enough. That should get us rolling. We're really looking forward to this weekend and getting back out there."
ASCS will head to Cotton Bowl Speedway near Paige, Texas on Friday and Bronco Raceway Park near Cleveland, Texas Saturday. "Paige was fun when we were there a few weeks ago," says Wayne. "We've never been to Cleveland. I know some of these other drivers have been there, so we'll need to do some quick learning."
Follow Updates on Facebook!
Wayne will update as his race night commences at his Facebook page. Find it by searching for Wayne Johnson Racing or clicking the following link…
http://www.facebook.com/#!/WayneJohnsonRacing
Outlaw Wings – "The Wing with an Attitude"
Check out the new "recessed rivet" design put out by Outlaw Wings. Talk to Wayne about purchasing Outlaw Wings for your car! Outlaw Wings – "The Wing with an Attitude"!
Wayne's Fast Facts
Wayne's win at Devil's Bowl Speedway was his ninth in ASCS National Series action at the famous half-mile. His first win with the series at Devil's Bowl came on June 18, 1996 ahead of Garry Lee Maier and Danny Wood.
Partner of the Week – Weld Wheels
Weld ®. The word is virtually synonymous with racing wheels. Their heritage is unmatched; their product is the choice of champions in most forms of motorsports. Founded in 1968 by Greg Weld out of the pure love of racing, the company has undergone many changes over the last forty years, but one thing that hasn't changed is that the product is still designed and manufactured in Kansas City, USA. In November 2008, the heritage and future became one, as Weld Racing, LLC was formed by current Weld management and Granite Creek Partners, LLC, to place ownership and leadership of the company back in the hands of racers. Visit them at www.WeldRacing.com!
"Wednesday's with Wayne"
"Wednesday's With Wayne" is an up close look at the past, present and future of colorful and talented sprint car driver Wayne Johnson. You'll never know what to expect next with Wayne, so don't miss us on Wednesdays!
To receive "Wednesday's with Wayne", send an e-mail to sprntcar@hotmail.com with"Wayne" in the subject line.
Wayne Johnson Racing would like to thank partners, Todd Carlile, Townline Variety, Outlaw Wings, City Vending, Stone Mountain Access Systems and product sponsors The Oil Medics, Sebastian Sandblasting & Powdercoating, Rod End Supply, Astro Titanium, Schoenfeld Headers, Simpson, Butlerbuilt, Xtreme Accu-Tach, Weld Wheels, Slade Shocks, Kustom Sprint Car, Fisher Racing Engines, Speedway Graphics and Canyon Apparel.