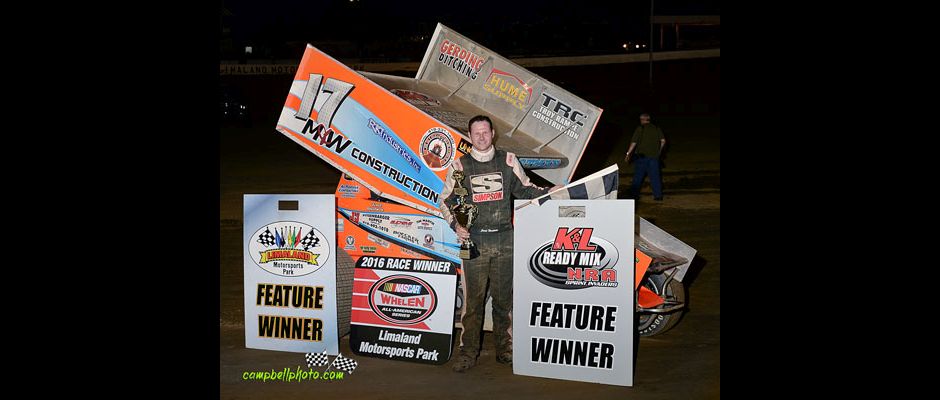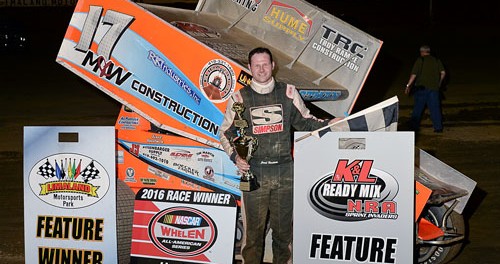 From Derek Ewing
Lima, OH — (April 15, 2016) — Blue skies and beautiful weather greeted fans and teams alike as Limaland Motorsports Park kicked off the 2016 campaign with the Season Opening Shootout presented by Smith Boughan. A great field of cars in all divisions and a full grandstand were on hand to start the season, with Jared Horstman, David Mielke, and Tony Anderson picking up feature wins.
Kicking off the season in the McDonalds Dash for Cash were the K&N Filters UMP Dirtcar Modifieds. Lima, Ohio's Tony Anderson opened the season with the Dash win in a new car and team owners in Eric and Al Austin.
As feature action began, it was the K&L ready Mix NRA Sprint Invaders kicking off the year with their 25 lap affair. It was carnage early as the red flag flew right away when #6s JR Stewart, #30 Hud Horton, and #10J Jarrod Delong tangled in turn 4 with Stewart ending up on his side and Horton up against the fence. 4 laps would be completed before the caution would wave again, this time for #49 Shawn Dancer coming to a stop in turn 4. #10 Mitch Brown and #28 Phil Gressman would battle early with Gressman taking the lead until the red flag waved again for a scary crash that would see #23 Devon Dobie, and #12 Nick Roberts flipping violently in turns 3&4. Both drivers would walk away under their own power. On the restart #17 Jared Horstman would show why he's the defending track champ, wasting no time moving to 2nd, then on lap 9, Horstman pulled the trigger on a big slide job in turns 3 and 4 to grab the point. Horstman would not be challenged, picking up the win over Gressman, Brown, #5M Max Stambaugh, and #22H Randy Hannagan. Heat Races were won by #15 Brandon Ferguson, #10 Mitch Brown, and #28 Phil Gressman.
Next up were the K&N Filters UMP Modifieds. As the A Main got underway, it was #18 Randy Lines, and #87 David Mielke leading the field to green. Mielke would jump out to the early lead with #22T Tony Anderson in tow. Lines and #65 Todd Sherman continued their long running feud, as the 2 battled each other hard all throughout the feature. Caution would wave on lap 6 for #35 Bobby Stremme, as he looped out in turns 1&2. On the restart, Anderson would show his nose to Mielke on a couple occasions, but Mielke would pull away and win the feature on his first ever visit to Limaland. Anderson would be 2nd, Lines 3rd, Sherman 4th, and #17t Michael Tarlton rounding out the top 5. Heat races were won by Mielke, Lines, Anderson, and Sherman. B Mains were won by #34x Andy Bibler, and #11H Mike Hohlbein.
Rounding out the night's action were the Bud Thunderstock's 15 lap feature. #22T Tony Anderson, and #27 Frank Paladino would lead the field to green, but caution would wave for #19 Bill Reimund as he slowed on the front straight. On the restart, #1m Jeff Matheny would power to the lead on the inside, hiking the left front up off the track throughout the feature. The setup seemed to work as he was able to hold lead throughout the event. On lap 13, Matheny would get loose exiting turn 2, and that was the break Anderson was waiting for. The multiple time track champion would power past Matheny down the back straight, and take the lead heading to the white flag. On the final lap, Matheny would encounter more problems as #21H Jordan Conover tried to avoid Matheny's car and made heavy contact, causing heavy damage to the Conover machine, and relegating him to a disappointing 5th place finish. Anderson picked up the win over Matheny, #2 Shayne Meadows, #74D Craig Dippman, and Conover. Heat races were won by Paladino, Anderson, and Matheny.
Limaland Motorsports Park returns to action next Friday night, April 22, with the Spring Fling, presented by S&S Volvo. NASCAR legend Ken Schrader will be on hand and will compete with the K&N Filters UMP Modifieds. Also in action will be the K&L Ready Mix NRA Sprint Invaders. Visit www.limaland.com for all the details.
Limaland Motorsports Park – 4/15/2016
Smith Boughan Season Opening Shootout
K&L Ready Mix NRA Sprints
Heat 1 – (8 Laps – Top 6 Transfer)
1. 15-Brandon Ferguson; 2. 22H-Randy Hannagan; 3. 5M-Max Stambaugh; 4. 6S-Jr Stewart; 5. 5W-Jeff Williams; 6. 6-Sean Hosey
Heat 2 – (8 Laps – Top 6 Transfer)
1. 10-Mitch Brown; 2. 10X-Dustin Stroup; 3. 23-Devon Dobie; 4. B20-Butch Schroeder; 5. 11-Tim Allison; 6. 12-Nick Roberts
Heat 3 – (8 Laps – Top 6 Transfer)
1. 28-Phil Gressman; 2. 17-Jared Horstman; 3. 49-Shawn Dancer; 4. 30-Hud Horton; 5. 10J-Jarrod Delong; 6. 22R-Kevin Roberts Jr
A-Main – (25 Laps) [#]-Starting Position
1. 17-Jared Horstman[6]; 2. 28-Phil Gressman[3]; 3. 10-Mitch Brown[1]; 4. 5M-Max Stambaugh[7]; 5. 22H-Randy Hannagan[4]; 6. B20-Butch Schroeder[11]; 7. 11-Tim Allison[14]; 8. 15-Brandon Ferguson[2]; 9. 22R-Kevin Roberts Jr[18]; 10. 5W-Jeff Williams[13]; 11. 23-Devon Dobie[8]; 12. 12-Nick Roberts[17]; 13. 10X-Dustin Stroup[5]; 14. 49-Shawn Dancer[9]; 15. 6-Sean Hosey[16]; 16. 6S-Jr Stewart[10]; 17. 30-Hud Horton[12]; 18. 10J-Jarrod Delong[15]
K&N Filters UMP Modifieds
Heat 1 – (8 Laps – Top 4 Transfer)
1. 87-David Mielke; 2. O1-Jared Spalding; 3. 47-Collin Thirlby; 4. 35-Bobby Stremme; 5. 11JS-Joch Scott; 6. 4-Mike Learman; 7. 19B-Brandon Ordway; 8. 7-Jeff Geis; 9. 18N-Derrick Noffsinger; 10. 24X-Zeke Mckenzie
Heat 2 – (8 Laps – Top 4 Transfer)
1. 18-Randy Lines; 2. 1-Andy Galgoci; 3. 17N-Dillon Nusbaum; 4. 16-Jeff Koz; 5. 34X-Andy Bibler; 6. 19-Ryan Ordway; 7. 31-Mickey Carman Jr; 8. 96-Pete Wormcastle; 9. 20K-Bill Keeler
Heat 3 – (8 Laps – Top 4 Transfer)
1. 22T-Tony Anderson; 2. 10-Nathon Loney; 3. 2B-Darryl Banks; 4. 22L-Bill Lewis; 5. 11H-Mike Hoblein; 6. 3W-Dylan Woodling; 7. 162-Logan Moody; 8. 22X-Frank Paladino; 9. 5-Scott Fitzpatrick; 10. 12B-Kelly Bowlby
Heat 4 – (8 Laps – Top 4 Transfer)
1. 65-Todd Sherman; 2. 17T-Mike Tarlton; 3. 10B-Scott Bowersock; 4. 4G-Bill Griffith; 5. 36-Brandon Vaughon; 6. 28R-Chad Rosenbeck; 7. 8X-Bronson Means
B-Main #1 – (8 Laps – Top 2 Transfer)
1. 34X-Andy Bibler; 2. 11JS-Joch Scott; 3. 4-Mike Learman; 4. 24X-Zeke Mckenzie; 5. 31-Mickey Carman Jr; 6. 19-Ryan Ordway; 7. 96-Pete Wormcastle; 8. 7-Jeff Geis; 9. 19B-Brandon Ordway; 10. 18N-Derrick Noffsinger; 11. 20K-Bill Keeler
B-Main #2 – (8 Laps – Top 2 Transfer)
1. 11H-Mike Hoblein; 2. 3W-Dylan Woodling; 3. 28R-Chad Rosenbeck; 4. 162-Logan Moody; 5. 5-Scott Fitzpatrick; 6. 36-Brandon Vaughon; 7. 8X-Bronson Means; 8. 12B-Kelly Bowlby; 9. 22X-Frank Paladino
A-Main – (20 Laps) [#]-Starting Position
1. 87-David Mielke[2]; 2. 22T-Tony Anderson[3]; 3. 18-Randy Lines[1]; 4. 65-Todd Sherman[4]; 5. 17T-Mike Tarlton[8]; 6. 17N-Dillon Nusbaum[10]; 7. 1-Andy Galgoci[6]; 8. 16-Jeff Koz[14]; 9. 10B-Scott Bowersock[12]; 10. 2B-Darryl Banks[11]; 11. 35-Bobby Stremme[13]; 12. O1-Jared Spalding[5]; 13. 11JS-Joch Scott[19]; 14. 47-Collin Thirlby[9]; 15. 22L-Bill Lewis[15]; 16. 34X-Andy Bibler[17]; 17. 4G-Bill Griffith[16]; 18. 10-Nathon Loney[7]; 19. 3W-Dylan Woodling[20]; 20. 11H-Mike Hoblein[18]
Bud Thunderstocks
Heat 1 – (8 Laps – Top 7 Transfer)
1. 27-Frank Paladino; 2. 21H-Jordan Conover; 3. 2-Shayne Meadows; 4. 1B-Jason Jimison; 5. 1-Bobby Rose; 6. O1-Aj Bernys
Heat 2 – (8 Laps – Top 7 Transfer)
1. 22T-Tony Anderson; 2. 67-Eddie Shaner; 3. 74D-Craig Dippman; 4. OO-Will Norris; 5. 17J-Jarrod Klay; 6. 9-Dane Arvin
Heat 3 – (8 Laps – Top 7 Transfer)
1. 1M-Jeff Matheny; 2. 82-Chris Douglas; 3. 19-Bill Reimund; 4. 99-Andy King; 5. 89-Keith Shockency; 6. 26-Justin Long
A-Main – (15 Laps) [#]-Starting Position
1. 22T-Tony Anderson[1]; 2. 1M-Jeff Matheny[3]; 3. 2-Shayne Meadows[7]; 4. 74D-Craig Dippman[8]; 5. 21H-Jordan Conover[4]; 6. 27-Frank Paladino[2]; 7. 1B-Jason Jimison[10]; 8. O1-Aj Bernys[16]; 9. 89-Keith Shockency[15]; 10. 67-Eddie Shaner[5]; 11. 99-Andy King[12]; 12. 1-Bobby Rose[13]; 13. 9-Dane Arvin[17]; 14. 19-Bill Reimund[9]; 15. 82-Chris Douglas[6]; 16. OO-Will Norris[11]