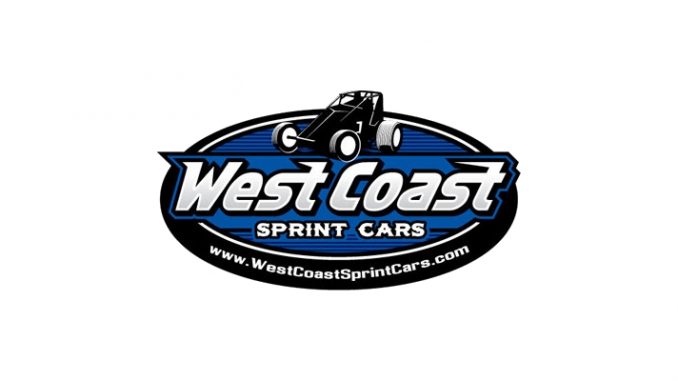 USAC WEST COAST SPRINT CAR RACE RESULTS: April 23, 2016 – Tulare, California – Merle Stone Chevrolet Thunderbowl Raceway – "J.D. Heiskell & Company Appreciation Day"
WOODLAND AUTO DISPLAY QUALIFICATIONS: 1. Richard Vander Weerd, 10, Vander Weerd-15.014 (NTR); 2. Danny Faria Jr., 17V, Faria-15.168; 3. Landon Hurst, 81X, Watt-15.250; 4. Trey Marcham, 81, Watt-15.264; 5. Brody Roa, 91R, BR-15.320; 6. D.J. Johnson, 33, Johnson-15.330; 7. Jace Vander Weerd, 88, Vander Weerd-15.406; 8. Tyler Walker, 73, Ford-15.471; 9. Ricky Kirkbride, 87, Van Meter-15.502; 10. Jeff Sibley, 42N, Sibley-15.572; 11. Max Adams, 5M, Adams-15.585; 12. Austin Liggett, 83, Liggett-15.662; 13. Shannon McQueen, 7, Van Meter-15.805; 14. Tristan Guardino, 81T, Watt-15.851; 15. Kyle Smith, 55, Smith-15.854; 16. Corey Ballard, 20, Ballard-15.861; 17. Cody Majors, 54, Majors-16.184; 18. Ryan Timmons, 29T, Timmons-16.303; 19. Matt Day, 97, Day-NT; 20. Kevin Barnes, 36B, Barnes-NT
EXTREME MUFFLERS FIRST HEAT: (10 laps) 1. J.Vander Weerd, 2. Sibley, 3. R.Vander Weerd, 4. Marcham, 5. McQueen, 6. Ballard, 7. Day. NT
DJ SAFETY SECOND HEAT: (10 laps) 1. Walker, 2. Roa, 3. Guardino, 4. Majors, 5. Adams, 6. Faria, 7. Barnes. NT
BROWN & MILLER RACING SOLUTIONS THIRD HEAT: (10 laps) 1. Liggett, 2. Hurst, 3. Johnson, 4. Timmons, 5. Smith, 6. Kirkbride. NT
FEATURE: (30 laps) 1. D.J. Johnson, 2. Richard Vander Weerd, 3. Tyler Walker, 4. Austin Liggett, 5. Max Adams, 6. Danny Faria Jr., 7. Trey Marcham, 8. Brody Roa, 9. Jace Vander Weerd, 10. Tristan Guardino, 11. Jeff Sibley, 12. Cody Majors, 13. Ryan Timmons, 14. Shannon McQueen, 15. Corey Ballard, 16. Kyle Smith, 17. Landon Hurst, 18. Kevin Barnes, 19. Ricky Kirkbride, 20. Matt Day. NT
————————————
**Faria flipped during the second heat. Kirkbride flipped during the third heat. Hurst flipped during the feature.
FEATURE LAP LEADERS: Laps 1-9 Guardino, Laps 10-30 Johnson.
BR MOTORSPORTS / KING RACING PRODUCTS HARD CHARGER: Danny Faria Jr. (17th to 6th)
NEW WEST COAST SPRINT CAR POINTS: 1-Johnson-341, 2-Roa-321, 3-J.Vander Weerd-314, 4-R.Vander Weerd-282, 5-Marcham-279, 6-Adams-247, 7-Liggett-238, 8-Guardino-222, 9-Troy Rutherford-216, 10-Sibley-195.
NEXT WEST COAST SPRINT RACE: May 14 – Tulare, CA – Merle Stone Chevrolet Thunderbowl Raceway – "Chris & Brian Faria Memorial"
Western RaceSaver Sprint Car Feature: F
1. 15 Blake Robertson
2. 45 Monty Ferriera
3. 35 Albert Pombo
4. 6 Matt Demartini
5. 7Z Zane Blanchard
6. 22 mike schott
7. 10 Mathew Moles
8. 72K Scott Meisner
9. 7 Clarence Cox
10. 111 Don Boam
11. 71M Jesse Mack
12. 10F Jared Faria
13. 24 David Dias
14. 5 Cole Danell
15. 67 Vaughn Schott
16. 28 Nathan Rolfe
17. 99T tanner Boul
18. 23T George Tristeo