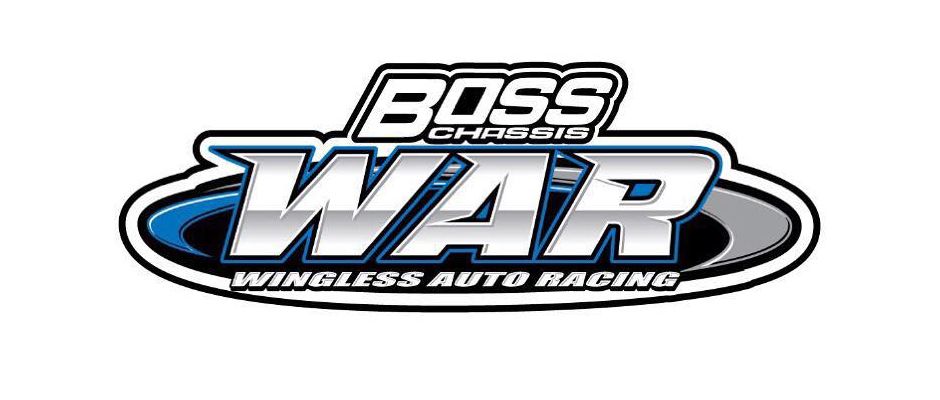 From WAR
Wheatland, MO (May 7, 2016) – Getting by leader Clinton Boyles on lap eight, Zach Daum picked up his second career Boss Chassis WAR Series victory at Lucas Oil Speedway Saturday.
Boyles set the pace early as Daum was in a battle for second with Derek Hagar and David Stephenson. With a handful of laps in the books, the action would be halted for Vinny Ward and Tyler Shoemaker, who got together in turn two, ending the evening for both drivers.
When the green came out, Boyles set the pace with Stephenson, Daum, Hagar and Terry Babb behind him. The action would again be halted a few laps later for Taylor Walton and Ryan Kitchen, who tangled in between turns three and four. Both drivers were done for the night.
The yellow was what was needed for Daum, who was able to get by Boyles shortly after the green. The final yellow of the race would come out on lap eight for Zach Clark, who suffered front end damage and came to a stop on the edge of the infield, just off of turn four.
Daum extended his lead and went on to his second career win with WAR in his DKM Motorsports #75K. Korey Weyant made a great charge in the later stages of the race, moving up to second in his Ealey Transportation/Moore Automotive #99. Boyles continued his string of top-five finishes, running third in the Jesse Hockett Racing/Rod End Supply #77. Babb was a solid fourth in his KCBJ Motorsports #8D with Kyle Clark rounded out the top five in the Same Day Auto Repair #9$. Mitchell Moore was sixth, followed by Chris Parkinson.
Glen Passmore, Katlynn Leer, and Riley Kreisel rounded out the top ten. Heat race winners for the thirty-two car field were Danny Smith, Babb, Hagar and Boyles, while Craig Carroll took the B-Main. Danny Thoman and Michael Tyre both flipped in heat race action. Both drivers were uninjured.
The Boss Chassis WAR Series will next be in action at the I-35 Speedway in Winston, MO, on Saturday, May 14, followed by their first ever appearance at the Missouri State Fair Speedway in Sedalia, MO, on Friday, May 20.
Wingless Auto Racing
Lucas Oil Speedway
Wheatland, MO
Saturday May 7, 2016
A Feature (25 Laps): 1. 75K-Zach Daum[2]; 2. 99-Korey Weyant[9]; 3. 77-Clinton Boyles[1]; 4. 8D-Terry Babb[7]; 5. 9$-Kyle Clark[4]; 6. 51-Mitchell Moore[11]; 7. 65-Chris Parkinson[10]; 8. 69-Glen Passmore Jr[14]; 9. 8K-Katlynn Leer[13]; 10. 90-Riley Kreisel[18]; 11. 24C-Craig Carroll[17]; 12. 22-David Stephenson[5]; 13. 8-Jeff Wingate[20]; 14. 7JR-Derek Hagar[3]; 15. 2-Zach Clark; 16. 31-Casey Willis[16]; 17. 21-Ryan Kitchen[19]; 18. 93-Taylor Walton[15]; 19. 82-Vincent (Vinny) Ward[8]; 20. 1T-Tyler Shoemaker[12]
B Feature (12 Laps): 1. 24C-Craig Carroll[1]; 2. 90-Riley Kreisel[9]; 3. 21-Ryan Kitchen[6]; 4. 8-Jeff Wingate[3]; 5. 2-Zach Clark[5]; 6. 55-Kenny Potter[2]; 7. 9-Casey Baker[4]; 8. 99L-Mike Ell[8]; 9. 12-Danny Thoman[15]; 10. 31X-Noah Adams[7]; 11. 4-Joshua Tyre[10]; 12. 8X-John Manley[16]; 13. 7L-JD Black[11]; 14. 24L-Layne Himebaugh[12]; 15. 11-Michael Tyre[13]; 16. 21C-Chris Desselle[14]
Heat 1 (8 Laps): 1. 5$-Danny Smith[1]; 2. 75K-Zach Daum[7]; 3. 99-Korey Weyant[5]; 4. 1T-Tyler Shoemaker[6]; 5. 8K-Katlynn Leer[8]; 6. 31X-Noah Adams[2]; 7. 24L-Layne Himebaugh[3]; 8. 12-Danny Thoman[4]
Heat 2 (8 Laps): 1. 8D-Terry Babb[1]; 2. 22-David Stephenson[4]; 3. 69-Glen Passmore Jr[3]; 4. 31-Casey Willis[5]; 5. 55-Kenny Potter[7]; 6. 8-Jeff Wingate[8]; 7. 4-Joshua Tyre[6]; 8. 8X-John Manley[2]
Heat 3 (8 Laps): 1. 7JR-Derek Hagar[3]; 2. 51-Mitchell Moore[1]; 3. 9$-Kyle Clark[7]; 4. 24C-Craig Carroll[5]; 5. 2-Zach Clark[4]; 6. 99L-Mike Ell[2]; 7. 21-Ryan Kitchen[8]; 8. 21C-Chris Desselle[6]
Heat 4 (8 Laps): 1. 77-Clinton Boyles[6]; 2. 65-Chris Parkinson[2]; 3. 93-Taylor Walton[3]; 4. 82-Vincent (Vinny) Ward[8]; 5. 9-Casey Baker[5]; 6. 90-Riley Kreisel[1]; 7. 7L-JD Black[4]; 8. 11-Michael Tyre[7]