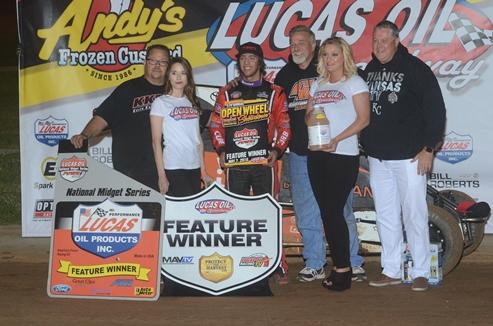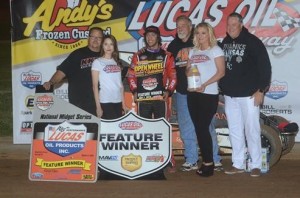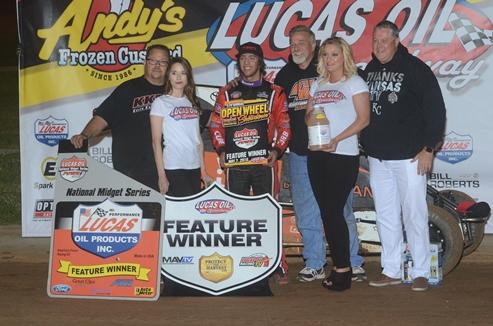 From Derek Schuett
Wheatland, MO — (May 7, 2016) — After taking the opening night of the Missouri Mid-State Midget Nationals at Valley Speedway on Friday night, Tanner Thorson ran away with night number two at Lucas Oil Speedway. Saturday night's win resulted in a weekend sweep for Thorson and a complete podium sweep for Keith Kunz Motorsports. Thorson's fifth career POWRi Lucas Oil National Midget Series victory came on his birthday, no less.
Starting on the front row, Tyler Thomas showed the field to green sharing the front row with Jason McDougal. At the drop of the green, Thomas would get the advantage over McDougal with Carson Macedo in tow. As Macedo closed in on Thomas, Tanner Thorson would move into the third spot after starting seventh. Utilizing the high side of the 3/8 mile Lucas Oil Speedway, Thorson would edge past Macedo on lap six coming off turn four, and the following lap take the lead away from Thomas coming off turn four. As Thomas and Macedo struggled to keep up with Thorson's blistering pace, Spencer Bayston moved into the fourth position, eventually taking third away from Tyler Thomas on lap 11.
As the battle for second through fourth continued on, Justin Peck who started in the 14th position closed in on Zach Daum for fifth, taking the position off turn four after Daum bobbled running on the cushion. Entering lap traffic, Thorson continued to navigate with skill, keeping Macedo and Bayston far behind until the only yellow flew for Ryan Robinson atop turn two. With 23 laps down Thorson took off again setting a torrential pace for the final seven laps of the feature on his way to a birthday victory. Carson Macedo crossed in second with Spencer Bayston rounding out the podium for the second night in a row. Justin Peck took home fourth after starting 14th, while Zach Daum ended up fifth.
"This track is pretty sweet," said Tanner Thorson. "Keith and Big Al put an awesome car underneath me. It's pretty cool to be able to win on your birthday. These guys have five cars out here. It's pretty crazy for these guys. They work their butts off at the shop and we come out here and it gets pretty hectic sometimes, but it pays off. "
"It feels good," Carson Macedo stated. "I'm just really happy for this team. For Keith to finish one, two, three is pretty awesome. Just goes to show all the hard work they put in. Everyone at Keith Kunz Motorsports works really hard for this. I'm just glad to be a part of it."
"I was really hoping after a strong run last night, we could get the win tonight, but hats off to Tanner and Carson," said Spencer Bayston. "I enjoy racing with these guys, I've gotten pretty close with both of them."
Midgets
Speedway Motors Heat Race Winners: Heat 1: 71K – CARSON MACEDO, Heat 2: 5D – ZACH DAUM, Heat 3: 11A – ANDREW FELKER, Heat 4: 91T – TYLER THOMAS
Semi-Feature Winner: 89 – NICK BAILEY
Great Clips Feature Winner: 67 – TANNER THORSON
POWRi Lucas Oil National Midget Series Feature Results (30 laps):1. 67 – TANNER THORSON 2. 71K – CARSON MACEDO 3. 97 – SPENCER BAYSTON 4. 5X – JUSTIN PECK 5. 5D – ZACH DAUM 6. 91T – TYLER THOMAS 7. 27 – TUCKER KLAASMEYER 8. 11A – ANDREW FELKER 9. 67K – HOLLY SHELTON 10. 3N – JAKE NEUMAN 11. 4M – MICHELLE DECKER 12. 11C – CHETT GEHRKE 13. 8 – ALEX SEWELL 14. 7M – CHANCE MORTON 15. 21 – TY HULSEY 16. 5B – ARIEL BIGGS 17. 71 – RYAN ROBINSON 18. 7 – AUSTIN BROWN 19. 72 – GRADY CHANDLER 20. 1K – BRAYTON LYNCH 21. 17E – BLAKE EDWARDS 22. 73 – JASON MCDOUGAL 23. 89 – NICK BAILEY