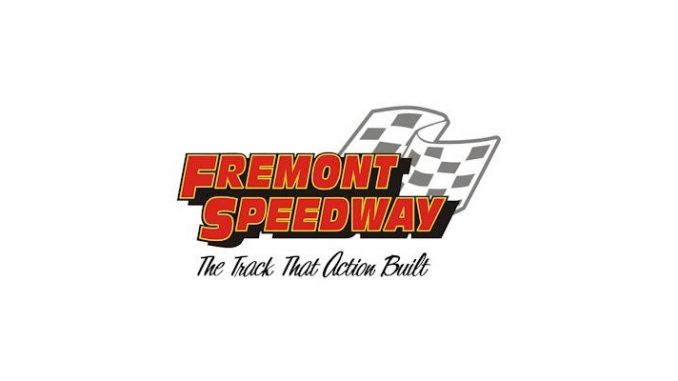 By Brian Liskai
FREMONT, Ohio – Wooster, Ohio's Broc Martin watched a huge lead wiped out late in the 410 sprint feature at Fremont Speedway. But, he got a tremendous restart, hit his marks and went on to dominate for his second career win on Root's Poultry Night.
Martin had built a 3.2 second lead late in the 30-lap feature for the Fort Ball Pizza Palace 410 Sprints. But a red flag with seven laps to go put Cole Duncan – who had been chipping away at the lead by .2 seconds every lap – right on Martin's rear bumper. Martin focused and drove away for the victory, leading all 30 laps.
"I have to thank a real special friend of ours. Health wise he's had some issues here lately and that's Jim Smith Enterprises…Smitty…he's been a huge influence on my career and my life in general. I have to thank Guerne Heights Drive In, a great please to eat if you're down in the Wooster area. I have to thank Orrville Trucking and Grading, Santmyer Oil, Keizer Wheels, my friends Rick and Barb…Mt. Dew Rick, he helps a ton. I have to thank my buddies Wayne and Matt and my parents. My mom retired and got a second job just so we can do this. My dad works 55 hours a week," Martin said in the Engine Pro Victory Lane.
"I want to thank all the fans and folks at Fremont Speedway. I drive past a track 20 minutes from my home to come up here because I run with some of the best drivers in the country at one of the best facilities in the country. Everyone here has treated me like a member of the family," Martin concluded.
The Fremont Federal Credit Union 305 Sprint Feature couldn't get more exciting. Dundee, Michigan's Dan McCarron held off 15th place starter Nate Dussel to earn his first career Fremont victory. It was by the narrowest of margins – .01 seconds.
"I have a lot of people to thank, mainly my wife Kate who helps me out on this car night in and night out…every night. My dad and my sister are usually here. Blake Smith is just awesome help. We've really struggled but tonight I think we hit the balance. I don't know what we did but Blake's not changing it," said McCarron beside his McCarron Sales and Promotions, All Star Performance, XYZ Machining, Timken, Rod End Supply, Engler Machine & Tool backed #22M.
Delta, Ohio's Ky Harper would dominate the McCullough Industries 602 Late Model feature, though he had a close call late in the race with a couple of lapped cars. He would dig his way through for his second win of the season and the seventh of his career.
"I wasn't breathing there when I almost tangled with those lapped cars. This car isn't anything like the car we had last year. We've had to do a ton of work on it. We're getting it closer. That's two victories in last two outings," said Harper beside his Handy Grafix, Cut Right Lawn Care, Jed's Twist T-Freez, Rocket Chassis, Childress Collision, Classic Industries backed #34.
Fostoria, Ohio's Shawn Valenti would battle with Cory McCaughey throughout the 15 laps of the Burmeister Trophies Dirt Truck feature before driving to his second win of the season. It is Valenti's 27th career win at Fremont and moves him into 16th on the track's all-time win list.
"When I was a little kid sitting up there in the stands just hoping one day I could be standing out here on the front stretch let alone collect 27 of them…it's pretty amazing," said Valenti who was involved in a multi-car crash in the 410 sprint feature earlier.
"I have to thank Jeff Babcock for putting me in this thing. I have to thank Craig Miller Trucking, Gressman Powersports, JP Enterprise, KS Sales and Service, Real Geese Decoys…it feels good to be back up here," added Valenti.
The start of the 30 lap 410 sprint feature got off to a horrendous start as seven cars were involved in a vicious crash on the back stretch. It would eliminate the cars of Dean Jacobs, Valenti, Caleb Griffith, Duane Zablocki and Stuart Williams with Cale Thomas and Jody Keegan making repairs to rejoin the field. On the second attempt at green Ben Rutan would spin.
On the third attempt Martin battled with Trey Jacobs with Duncan, Stuart Brubaker, Brian Lay and Travis Philo in tow. Martin began to build up a sizeable lead over Jacobs and Duncan with Lay moving into fourth on lap four.
Martin caught the back of the field with just seven laps scored but his lead grew over Jacobs and Duncan with a great battle shaping up for fourth with Lay, Brubaker and Philo. By the half-way point Martin's lead was over three seconds as Jacobs and Duncan battled for second followed by Lay, Philo, Brubaker, Jack Sodeman, Jordan Ryan and Tyler Gunn.
Duncan would take second on lap 18 but Martin had built a four second lead. Duncan was closing lap after lap when, on lap 23, Gunn made contact with the front stretch wall, flipping hard. He would emerge okay.
Martin got a tremendous restart and began rebuilding his lead. Duncan and Jacobs would battle again for second with Lay, Philo, Brubaker and Ryan in tow. With just three laps remaining Martin had built his lead back to over two seconds as he would drive to the win.
Duncan, Jacobs, Lay and Brubaker would round out the top five.
"You (pointing to announcer Brian Liskai) were freaking me out…I could hear you saying he was chopping of two tenths of a second. I know Cole, he's a heck of a racer, and last year when I won I had to do almost the same thing except Byron (Reed) had to come all the way from fifth to second. I knew Cole was definitely going to be a challenge. I knew as long as I could hit my marks…and to be honest with you probably with about five laps to go I messed up in three and four but in one and two I was nailing it. It's tough when you're leading like that because you don't know which lane to chose but I guess it worked," Martin said.
McCarron and Steve Rando brought the field to green in the 25-lap 305 sprint feature with McCarron gaining the advantage. Alvin Roepke and Brian Gibbs would tangle after a lap was scored necessitating a single-file restart. McCarron would rocket back into the lead while Bobby Clark would slip past Rando for second with Luke Griffith ready to pounce in fourth.
Griffith would move into third on lap four but would spin with five laps scored. The restart order was McCarron, Clark, Rando, Jamie Miller and Dustin Stroup, Ricky Peterson, Paul Weaver and Nate Dussel.
Once again McCarron would pull away from Clark with Rando and Miller in tow. A great battle was underway for fifth involving Stroup, Weaver and Dussel. Griffith would bring out another caution with 10 laps scored. When the green flew so did McCarron over Clark, Rando, Miller, Weaver, Dussel and Stroup.
As McCarron pulled away slightly, Clark and Rando would battle for second. A quick caution for a Dustin Rall spin on lap 14 was the only thing keeping the rest of the field close to McCarron who had driven a flawless race to that point.
On the restart McCarron hit his marks as Rando drove around Clark for second with Dussel up to fourth followed by Miller, Weaver, and Roepke from the back of the field. The final caution flew on lap 19 for Gibbs.
McCarron now had his hands full when the green flew as Dussel drove from fourth to second with Rando challenging as well. With four laps to go McCarron, Dussel and Rando were neck-and-neck for the lead with Weaver, Clark and Roepke battling in their tire tracks. Two laps from the end Dussel was racing right on McCarron's rear bumper.
As they took the white flag, McCarron dove to the bottom to block Dussel's advance. As they raced into the final two turns McCarron slipped off the bottom just enough to give Dussel a shot. The duo had a drag race to the checkers with McCarron winning by less than a bumper.
Dussel, Rando, Weaver, and Clark would round out the top five.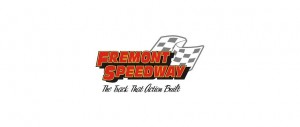 "Before the last restart (with six laps to go) my crew guy Blake told me to keep it wound up into three. I thought if I could just carry enough momentum and then even if I had to slide I'd be alright. Luckily I was. Nate is a heck of a driver and has won a ton of races here. He didn't run me up and I appreciate that," McCarron said.
Harper and Chester Fitch brought the field to green for the 15-lap late model feature but before a lap could be completed Jamie Miller would spin. On the ensuing restart Harper would battle with Fitch before wrestling the top spot with Brandon Perkins, Steve Sabo and Matt Shipley in tow.
The race would go caution-free the rest of the way. Harper would build a sizeable lead over Fitch with Sabo taking third on lap two, bringing Shipley to fourth. Shipley would drive into third on lap five.
The only thing that would slow Harper was two lapped cars with three laps to go as he nearly made contact. Harper was able to negotiate through the traffic and drove to the win over Fitch, Shipley, Steve Sabo and John Brooks.
Jim Holcomb and Cory McCaughey brought the field to green for the 15 lap dirt truck feature. It was immediately a seven truck battle for the lead with McCaughey holding the slight advantage over Holcomb and Dana Fry. Eighth starter Valenti would drive into fourth on lap two and around Fry into second a lap later.
Valenti took the lead using the high line on lap five with McCaughey continuing to battle to his inside. Frey, Kent Brewer and Brandon Leighton remained within striking distance. The event's only caution flew on lap six for a Brad Stuckey spin.
When the green flew the battle between Valenti and McCaughey resumed with Frey racing with Brewer for third while Leighton and Dustin Keegan waged war for fifth. With five laps to go Brewer now challenged Frey for third as Valenti moved to the low groove to try and block McCaughey's advance.
McCaughey gave Valenti all he could handle but when the checkers flew Valenti took the win. Brewer would come in third followed by Frey and Jeff Ward.
Fremont Speedway will host a double-header weekend Saturday, May 28 and Sunday, May 29. On Saturday the Kistler Racing Products FAST Championship Series Presented by KS Sales and Service will compete in the richest purse in the organization's eight year history with the winner of the 410 feature taking home $5,000. The 305 sprints will battle for $1,000 to win with the dirt trucks also in action. Sunday will see the second appearance of the Buckeye Outlaw Sprint Series (BOSS) non-wing sprint cars battling for $5,000 to win for the 2nd Annual Mike Hensel Memorial. Once again the 305 sprints will compete for $1,000 to win with the late models also in action.
There is a special two-day ticket package available. Go to www.fremontohspeedway.com for more information.
Fremont Speedway
Root's Poultry Night
Saturday, May 21, 2016
Starting position[*]
410 Sprints – Fort Ball Pizza Palace
Fricker's Qualifying
1.97-Dean Jacobs, 12.303; 2.45L-Brian Lay, 12.397; 3.23JR-Jack Sodeman, 12.398; 4.91-Cale Thomas, 12.411; 5.33M-Caleb Griffith, 12.418; 6.22-Cole Duncan, 12.449; 7.16-Stuart Brubaker, 12.541; 8.83M-Broc Martin, 12.551; 9.3J-Trey Jacobs, 12.669; 10.51-Roger Campbell, 12.672; 11.9Z-Duane Zablocki, 12.674; 12.5T-Travis Philo, 12.719; 13.68G-Tyler Gunn, 12.823; 14.60-Jody Keegan, 12.825; 15.23-DJ Foos, 12.881; 16.7-Shawn Valenti, 12.900; 17.46AU-Stuart Williams, 12.960; 18.9-Jordan Ryan, 13.312; 19.27K-Ben Rutan, 13.396; 20.7K-Troy Kingan, 13.521; 21.51B-Karl Baker, 13.590; 22.14-Daryl Daugherty, 14.499; 23.99-Frank Moser, 15.085;
Heat 1 – (10 Laps, top 5 to A)
1. 7-Shawn Valenti[1] ; 2. 68G-Tyler Gunn[2] ; 3. 16-Stuart Brubaker[4] ; 4. 91-Cale Thomas[5] ; 5. 97-Dean Jacobs[6] ; 6. 51-Roger Campbell[3] ; 7. 27K-Ben Rutan[7] ; 8. 14-Daryl Daugherty[8]
Heat 2 – (10 Laps, top 5 to A)
1. 46AU-Stuart Williams[1] ; 2. 60-Jody Keegan[2] ; 3. 83M-Broc Martin[4] ; 4. 9Z-Duane Zablocki[3] ; 5. 45L-Brian Lay[6] ; 6. 33M-Caleb Griffith[5] ; 7. 7K-Troy Kingan[7] ; 8. 99-Frank Moser[8]
Heat 3 – (10 Laps, top 5 to A)
1. 23JR-Jack Sodeman[6] ; 2. 9-Jordan Ryan[1] ; 3. 22-Cole Duncan[5] ; 4. 5T-Travis Philo[3] ; 5. 3J-Trey Jacobs[4] ; 6. 23-DJ Foos[2] ; 7. 51B-Karl Baker[7]
B-Main 1 – (10 Laps)
1. 33M-Caleb Griffith[1] ; 2. 51-Roger Campbell[2] ; 3. 27K-Ben Rutan[4] ; 4. 7K-Troy Kingan[5] ; 5. 51B-Karl Baker[6] ; 6. 14-Daryl Daugherty[7] ; 7. 99-Frank Moser[8] ; 8. 23-DJ Foos[3]
A-Main 1 – (25 Laps)
1. 83M-Broc Martin[2] ; 2. 22-Cole Duncan[4] ; 3. 3J-Trey Jacobs[1] ; 4. 45L-Brian Lay[7] ; 5. 16-Stuart Brubaker[3] ; 6. 5T-Travis Philo[10] ; 7. 9-Jordan Ryan[17] ; 8. 23JR-Jack Sodeman[6] ; 9. 51-Roger Campbell[12] ; 10. 60-Jody Keegan[14] ; 11. 68G-Tyler Gunn[13] ; 12. 91-Cale Thomas[5] ; 13. 51B-Karl Baker[20] ; 14. 7K-Troy Kingan[19] ; 15. 97-Dean Jacobs[8] ; 16. 9Z-Duane Zablocki[9] ; 17. 33M-Caleb Griffith[11] ; 18. 7-Shawn Valenti[15] ; 19. 46AU-Stuart Williams[16] ; 20. 27K-Ben Rutan[18]
Hard Charger: Jordan Ryan +10
305 Sprints – Fremont Federal Credit Union
Heat 1 – (8 Laps, top 5 to A)
1. 11G-Luke Griffith[2] ; 2. 1W-Paul Weaver[7] ; 3. 75-Jerry Dahms[3] ; 4. 10X-Dustin Stroup[8] ; 5. 9R-Dustin Rall[1] ; 6. 1X-Dustin Dinan[9] ; 7. 36-Seth Schneider[5] ; 8. 5JR-Jimmy Mcgrath[4] ; 9. 41-Thomas Schinderle[6] ; 10. 12-Tyler Capodice[10]
Heat 2 – (8 Laps, top 5 to A)
1. 66-Jamie Miller[4] ; 2. 19R-Steve Rando[6] ; 3. 87-Brian Gibbs[1] ; 4. 7M-Brandon Moore[3] ; 5. 25-Jason Keckler[5] ; 6. 18N-Frank Neill[2] ; 7. 10-Josh Harrison[7] ; 8. 20I-Kelsey Ivy[8] ; 9. 12G-Darin Gallagher[10] ; 10. 44-Kyle Farmer[9]
Heat 3 – (8 Laps, top 5 to A)
1. 2-Ricky Peterson[2] ; 2. 22M-Dan McCarron[4] ; 3. 8-Bobby Clark[3] ; 4. 39C-Scott Riley[1] ; 5. 1-Nate Dussel[9] ; 6. 2F-Matt Foos[5] ; 7. 77I-John Ivy[7] ; 8. 99-Alvin Roepke[6] ; 9. 97-Kyle Peters[8]
B-Main 1 – (12 Laps, top 5 to A)
1. 36-Seth Schneider[4] ; 2. 1X-Dustin Dinan[1] ; 3. 77I-John Ivy[6] ; 4. 99-Alvin Roepke[9] ; 5. 20I-Kelsey Ivy[8] ; 6. 97-Kyle Peters[12] ; 7. 41-Thomas Schinderle[10] ; 8. 18N-Frank Neill[2] ; 9. 2F-Matt Foos[3] ; 10. 5JR-Jimmy Mcgrath[7] ; 11. 12-Tyler Capodice[13] ; 12. 12G-Darin Gallagher[11] ; 13. 44-Kyle Farmer[14] ; 14. 10-Josh Harrison[5]
A-Main 1 – (20 Laps)
1. 22M-Dan McCarron[1] ; 2. 1-Nate Dussel[15] ; 3. 19R-Steve Rando[2] ; 4. 1W-Paul Weaver[9] ; 5. 8-Bobby Clark[3] ; 6. 99-Alvin Roepke[19] ; 7. 10X-Dustin Stroup[7] ; 8. 1X-Dustin Dinan[17] ; 9. 7M-Brandon Moore[11] ; 10. 77I-John Ivy[18] ; 11. 2-Ricky Peterson[5] ; 12. 36-Seth Schneider[16] ; 13. 66-Jamie Miller[4] ; 14. 20I-Kelsey Ivy[20] ; 15. 75-Jerry Dahms[8] ; 16. 25-Jason Keckler[14] ; 17. 9R-Dustin Rall[13] ; 18. 87-Brian Gibbs[10] ; 19. 39C-Scott Riley[12] ; 20. 11G-Luke Griffith[6]
Hard Charger: Nate Dussel +13
Dirt Trucks – Burmeister Trophies
Heat 1 – (8 Laps)
1. 17x-Dustin Keegan[5] ; 2. 4s-Keith Sorg[7] ; 3. 22-Brandon Leighton[2] ; 4. 16-Jim Holcomb[8] ; 5. 5s-Brad Stuckey[6] ; 6. 99-Gene Potridge[3] ; 7. 221-Jeff Warnick[4] ; 8. 6K-Todd Keegan[9] ; 9. 26-Kyle Lagrou[1]
Heat 2 – (8 Laps)
1. 7B-Shawn Valenti[4] ; 2. 36M-Cory Mccaughey[3] ; 3. 37-Eric DeVanna[1] ; 4. 7f-Dana Frey[6] ; 5. 721-John Martis[5] ; 6. 33-Jeff Ward[2] ; 7. 8KB-Kent Brewer[7] ; 8. 4x-Sam Weaver[8]
A-Main 1 – (15 Laps)
1. 7B-Shawn Valenti[8] ; 2. 36M-Cory Mccaughey[2] ; 3. 8KB-Kent Brewer[14] ; 4. 7f-Dana Frey[3] ; 5. 33-Jeff Ward[12] ; 6. 17x-Dustin Keegan[4] ; 7. 4s-Keith Sorg[6] ; 8. 5s-Brad Stuckey[9] ; 9. 16-Jim Holcomb[1] ; 10. 37-Eric DeVanna[7] ; 11. 22-Brandon Leighton[5] ; 12. 99-Gene Potridge[11] ; 13. 4x-Sam Weaver[16] ; 14. 721-John Martis[10] ; 15. 221-Jeff Warnick[13] ; 16. 6K-Todd Keegan[15]
Hard Charger: Kent Brewer +11
602 Late Models – McCullough Industries
Heat 1 – (6 Laps)
1. 44-Matt Shipley[1] ; 2. 101-Chester Fitch[3] ; 3. 34-Ky Harper[5] ; 4. 23-Dustin Sautter[4] ; 5. 43K-Louis Alan[6] ; 6. 4M-Jamie Miller[2] ; 7. 32-Brandon Myers[8] ; 8. 12-Kyle Dukeshire[7]
Heat 2 – (6 Laps)
1. 01-Brandon Perkins[2] ; 2. 00-John Brooks[5] ; 3. 16-Steve Sabo[4] ; 4. 17x-Dustin Keegan[7] ; 5. 98-Tim Sabo[6] ; 6. 04-Jeff Hites[1] ; 7. 27K-Jay King[3]
A-Main 1 – (15 Laps)
1. 34-Ky Harper[1] ; 2. 101-Chester Fitch[2] ; 3. 44-Matt Shipley[5] ; 4. 16-Steve Sabo[3] ; 5. 00-John Brooks[6] ; 6. 01-Brandon Perkins[4] ; 7. 98-Tim Sabo[10] ; 8. 23-Dustin Sautter[7] ; 9. 17x-Dustin Keegan[8] ; 10. 04-Jeff Hites[12] ; 11. 12-Kyle Dukeshire[15] ; 12. 32-Brandon Myers[13] ; 13. 43K-Louis Alan[9] ; 14. 27K-Jay King[14] ; 15. 4M-Jamie Miller[11]
Hard Charger: Kyle Dukeshire +4