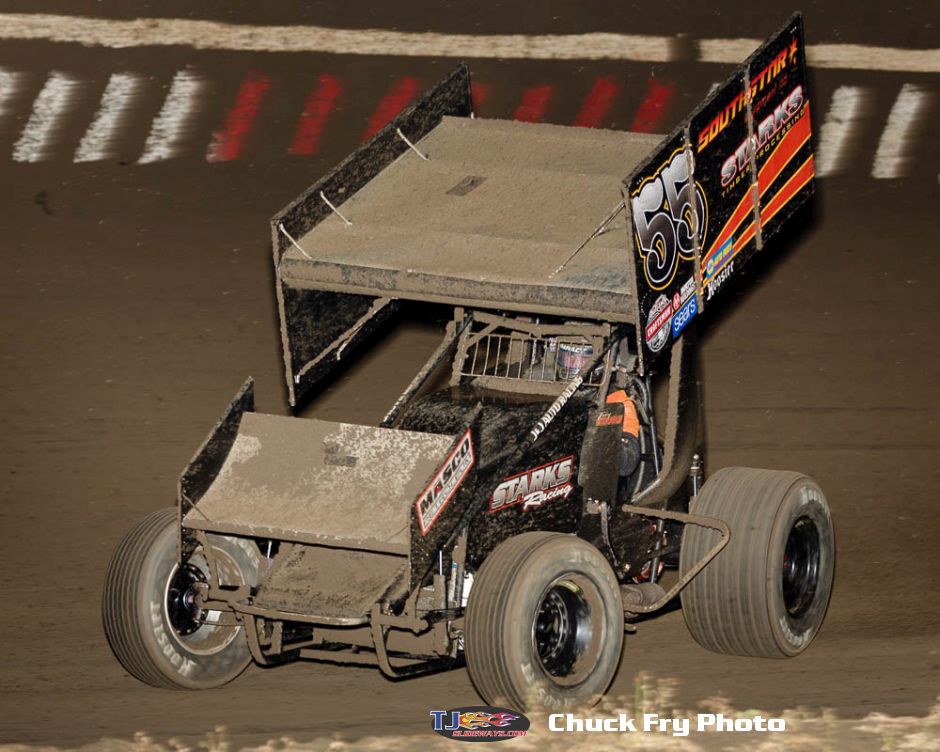 From Kaleb Hart
Alger, WA — (June 11, 2016) — Trey Starks is officially tuned up for the Jim Raper Memorial Dirt Cup in two weeks at Skagit Speedway. The Puyallup, WA driver led the final 19 laps of action in the 360 at Skagit Speedway on Saturday night to collect the John Carroll Classic Win presented by Industrial Resources Inc. on Janicki Industries night at the races.
Evan Margeson set the early pace on the John Carroll Classic main event, with Starks looming roughly five cars back as Margeson closed on slower traffic. Right before Evan began putting cars down a lap, Starks found a fast line around the top of turns three and four and used it to rocket into the lead. Margeson kept Starks close with a rapidly advancing Colton Heath also making good laps and shrinking the gap. Starks would endure multiple restarts and intensely heavy traffic while turning away Margeson and Heath among the slower cars to score the win, his second in a row after a triumph last week at Grays Harbor Raceway. Heath passed Margeson for second just past halfway in the main, but would settle for second place with Evan holding off Jason Solwold for third. Three thrilling heat races were won by Starks, Margeson and Cam Smith. Travis Jacobson was the quick qualifier among the 22 cars.
Devin Barnes made it two wins in a row at Skagit Speedway in the Sportsman Sprint division, with a little help from some good friends. Barnes, who triumphed last week, blew up his engine on the final lap and was looking at sitting out the rest of the year before Black Market Speed stepped up with a bullet for him to compete with. Devin took full advantage, leading all 25 laps to win is second straight feature. James Bundy rallied forward for a second place finish with Derek Roberts coming home third. Steve Parker set quick time. Parker and Zach McCabe won the heats.
Cliff Ballenger won the Outlaw Tuner portion of the John Carroll Classic, taking over the lead on lap five and rolling away to an easy victory, never being challenged over the final 12 laps to win his first feature of the year. He was joined on the podium by Jon Gunderson and Eric Thibert. Two heats for the tuners were won by Ballenger and Steve Bergman.
360 Sprints
Fast Time – Travis Jacobson 11.704
Heat 1 – Trey Starks, Jason Solwold, Travis Jacobson, Colton Heath, Mack Brown, Luke Didiuk, Steve James
Heat 2 – Evan Margeson, Chase Goetz, Eric Fisher, JJ Hickle, Devin Madonia, Bud Ashe, Lance Sargent
Heat 3 – Cam Smith, Justin Youngquist, Jake Helsel, Michael Bollinger, Steve Reeves, Nate Vaughn, Daniel Cernich
John Carroll Classic A Main – Trey Starks, Heath, Margeson, Solwold, Jacobson, Youngquist, Goetz, Helsel, Smith, Brown, Didiuk, Fisher, Madonia, Reeves, Ashe, Vaughn, James, Hickle, Bollinger, Cernich
Lap Leaders – Margeson 1-6 Starks 7-25
Sportsman Sprints
Fast Time – Steve Parker 12.589
Heat 1 – Steve Parker, Devin Barnes, Chris Ochs, Bill Rude, Paul Burdick, Victoria Cantu, Julian Fuentes
Heat 2 – Zach McCabe, James Bundy, Steve Kilcup, Derek Roberts, Joe Lyon, Roger Oudman, Clayton Sibley
Main – Devin Barnes, Bundy, Roberts, Kilcup, Burdick, McCabe, Parker, Brett McGhie, Oudman, Lyon, Sibley, Cantu, Rude, Fuentes, Ochs
Lap Leaders – Barnes 1-25
Outlaw Tuners
Heat 1 – Steve Bergman, Jon Gunderson, Eric Thibert, Terra Arnett, Jack Desrosier, Tj Campbell
Heat 2 – Cliff Ballenger, Clint Meins, Kevin Reuter, Howard Vos, Mike Ploeg
Main – Cliff Ballenger, Gunderson, Thibert, Reuter, Bergman, Desrosier, Vos, Arnett, Ploeg, Meins
Lap Leaders – Reuter 1 Meins 2-4 Ballenger 5-17