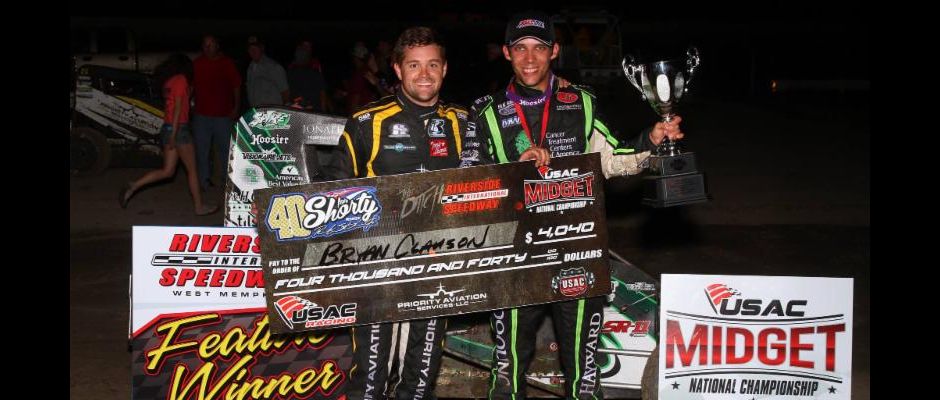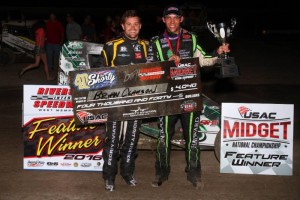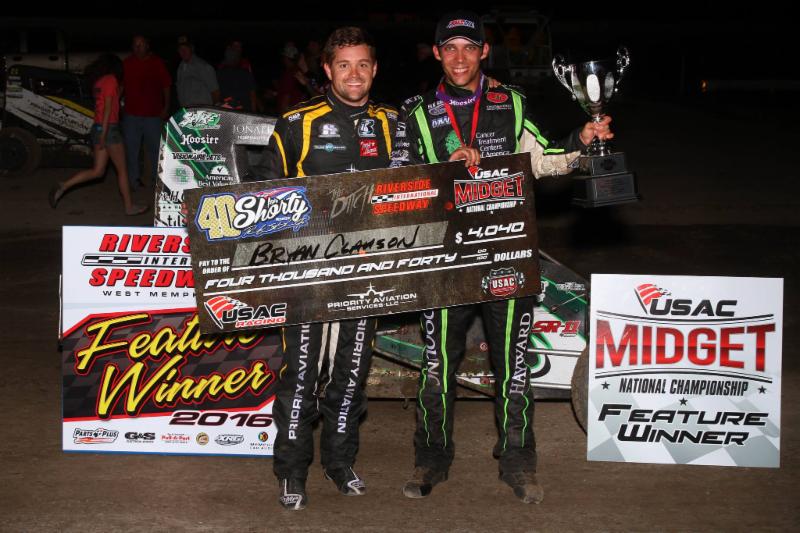 From Richie Murray
West Memphis, AR — (June 18, 2016) — Up to this point in the 2016 season, Bryan Clauson's journey had been mostly rosy and smooth as he's picked up win-after-win (22 to be exact) from coast-to-coast and everywhere in between. But, after losing an engine on Friday night and forced to go to the the backup powerplant, Clauson and the Dooling/Hayward team had to work feverishly with uncertainty lingering in their minds, unsure if they would even be able to make the call at all for Saturday night's event.
When all was said and done, Clauson overcame, once again finding himself in familiar territory, victory lane, after taking advantage of a late-race tire issue on the car of leader Tanner Thorson to nail down his first USAC National Midget win of the season in Saturday night's "40 for Shorty" at Riverside International Speedway in his Dooling-Hayward/Cancer Treatment Centers of America – B & H Contractors/Spike/Stanton SR-11.
"Tonight was one of those nights where we'll look back on it after we finish all 200 (races) this year and just smile about," Clauson acknowledged. "We were at the point of just wanting to scrap it tonight because of our motor issues, but these guys kept busting their butts. Big Rick Stenhouse patched this motor back together and put the super tune on it; it was spectacular all night. My guys' effort and passion for the sport is unbelievable and it makes me want to win for them. Having dad on the wrenches is fun. As we've gotten older, we've learned how to deal with each other, but it's been fun this year to win with him again. We did a lot of that in the midget in 2009 and 2010 and it was a lot of fun again tonight."
On the initial start, things went awry for Oklahoma's Matt Sherrell as he tumbled down the back straightaway on the opening lap, bringing out the red flag. He would walk away uninjured, but unable to restart.
On the next attempt, pole-sitter Brady Bacon would run side-by-side with outside front row starter Zach Daum, but would hold court, fending off Daum to take the lead at the conclusion of lap one.
In a repeat performance of Friday night's opener at Riverside, Tanner Thorson was lightning quick during the early stages of the feature, picking his way to the front in no-time-flat from his fourth starting position.
On lap three, Thorson slid past Daum in turn three to seize the second spot and, three laps later, he had reeled in race-leader Bacon. On the seventh lap, Thorson would head to the bottom, setting up a turn three slider on Bacon for the lead. As Thorson drifted his right rear tread up to the guardrail, Bacon crossed over, pulling alongside Thorson as the two drag-raced to the line with the advantage going to Thorson by a mere .033 seconds.
Shortly thereafter, tenth-running Kyle Jones was unharmed after barrel-rolling his machine through turns one and two to bring out the feature's second red.
After the restart, Thorson was on a rail, appearing to put the field to bed as he continuously stretched his lead throughout the middle portion of the race.
Meanwhile, Clauson was hanging tough, running consistent, fast laps, but not able to significantly chop into Thorson's lead, but on lap 29, what looked like a foregone conclusion had vanished into the thick West Memphis atmosphere. Thorson's right rear tire had come apart, shredding pieces down the back straightaway as he crawled to a stop.
With the stage reset, Clauson was now in control at the front of the pack while Thorson, with fresh rubber, restarted at the tail, which was only 11th at that point in the race due to attrition. Thorson could not be counted out as a contender. For, it was just one season ago during the "Gold Crown Midget Nationals" at Tri-City Speedway in Granite City, Illinois that Thorson pitted to change a flat right rear tire just after the midway point, and then proceeded to slice his way through the pack to take the lead and secure the victory in the final two laps.
Thorson charged hard up against the outer edge during the final circuits, but was only able to manage a seventh at the finish.
But, up front, nobody had anything for Clauson who took his third 40-lap USAC National Midget feature win in his last four tries, completing a memorable performance with his 13th USAC-sanctioned victory of 2016 and 23rd overall triumph of the season.
Clauson collected his 37th career USAC National Midget win ahead of Bacon, Carson Macedo, Chad Boat, Shane Golobic, Ryan Robinson, Thorson, Spencer Bayston, Ricky Stenhouse, Jr. and Holly Shelton.
Broken Arrow, Oklahoma's Bacon took home second in his FMR Racing/Beast/Toyota for his third straight top-five finish, placing himself in the thick of the championship race as the series takes a break before hitting the heartland hard during a four-race stretch in early August.
"Bryan found the bottom first and we were a little too tight to run as far down as he was," Bacon explained. "We just didn't have the grunt to race with them and we had to be more defensive than we should have. The car was really good and hooked up and it was cool to watch the track change as the line moved around. Second is our best run of the year, so we're knocking on the door and, hopefully, we can just keep picking up steam."
Macedo, the series rookie out of Lemoore, California, followed up Friday night's career-best second place performance with yet another strong run, taking third in his Keith Kunz – Curb-Agajanian Motorsports/TRD – Tarlton & Son/Bullet/Speedway Toyota.
"The track was really fast through the middle which made it a little hard to pass, but it was a great weekend for us," Macedo said. "I guess I jumped the start, which is too bad, obviously, but that's the way it goes sometimes. But we're running up front, so I think we can get one of these sometime soon. All in all, though, we're happy with how things went and we'll come out next time and just try to keep getting better."
Contingency award winners at Riverside International Speedway included Spencer Bayston (ProSource Fast Qualifier), Bryan Clauson (Simpson Race Products/Competition Suspension, Inc. (CSI) First Heat Race Winner/KSE Racing Products Hard Charger), Chad Boat (Benic Enterprises/Indy Race Parts Second Heat Race Winner), and Cody Brewer (Wilwood Brakes 13th Place Finisher).
—————————————————————————-
USAC MIDGET NATIONAL CHAMPIONSHIP RACE RESULTS: June 18, 2016 – West Memphis, Arkansas – Riverside International Speedway – "40 for Shorty"
PROSOURCE QUALIFYING: 1. Spencer Bayston, 97, Kunz/Curb-Agajanian-13.373 (New Track Record); 2. Carson Macedo, 71K, Kunz/Curb-Agajanian-13.389; 3. Tanner Thorson, 67, Kunz/Curb-Agajanian-13.416; 4. Ryan Robinson, 71, Kunz/Curb-Agajanian-13.501; 5. Zach Daum, 5D, Daum-13.572; 6. Brady Bacon, 76m, FMR-13.610; 7. Shane Golobic, 17w, Wood-13.675; 8. Ryan Greth, 4, Lesher-13.785; 9. Bryan Clauson, 63, Dooling/Hayward-13.807; 10. Chad Boat, 84, Tucker/Boat-13.832; 11. Gage Walker, 7, Walker-13.897; 12. Kyle Jones, 54, Hefler-13.962; 13. Ricky Stenhouse, Jr., 17, Clauson-14.020; 14. Holly Shelton, 67K, Kunz/Curb-Agajanian-14.033; 15. Cody Brewer, 96, Central-14.092; 16. Matt Sherrell, 35, Sherrell-14.179; 17. Nick Bailey, 89, Bailey-16.200.
SIMPSON RACE PRODUCTS/COMPETITION SUSPENSION (CSI) FIRST HEAT: (10 laps) 1. Clauson, 2. Daum, 3. Thorson, 4. Bayston, 5. Golobic, 6. Stenhouse, 7. Walker, 8. Brewer, 9. Bailey. 2:15.41
BENIC ENTERPRISES/INDY RACE PARTS SECOND HEAT: (10 laps) 1. Boat, 2. Bacon, 3. Macedo, 4. Jones, 5. Greth, 6. Robinson, 7. Sherrell, 8. Shelton. 2:15.25 (NTR)
FEATURE: (40 laps) 1. Bryan Clauson, 2. Brady Bacon, 3. Carson Macedo, 4. Chad Boat, 5. Shane Golobic, 6. Ryan Robinson, 7. Tanner Thorson, 8. Spencer Bayston, 9. Ricky Stenhouse, Jr., 10. Holly Shelton, 11. Gage Walker, 12. Zach Daum, 13. Cody Brewer, 14. Ryan Greth, 15. Kyle Jones, 16. Matt Sherrell, 17. Nick Bailey. NT
—————————-
**Sherrell flipped on the opening lap of the feature. Jones flipped on lap 8 of the feature.
FEATURE LAP LEADERS: Laps 1-6 Bacon, Laps 7-28 Thorson, Laps 29-40 Clauson.
KSE RACING PRODUCTS HARD CHARGER: Bryan Clauson (9th to 1st)
NEW USAC MIDGET NATIONAL CHAMPIONSHIP POINTS: 1-Bayston-515, 2-Clauson-505, 3-Bacon-492, 4-Thorson-455, 5-Boat-451, 6-Golobic-407, 7-Macedo-387, 8-Daum-349, 9-Robinson-327, 10-Walker-286.
NEXT USAC MIDGET NATIONAL CHAMPIONSHIP RACE: August 2 – Fairbury, Nebraska – Jefferson County Speedway – "Tuesday Night Thunder"