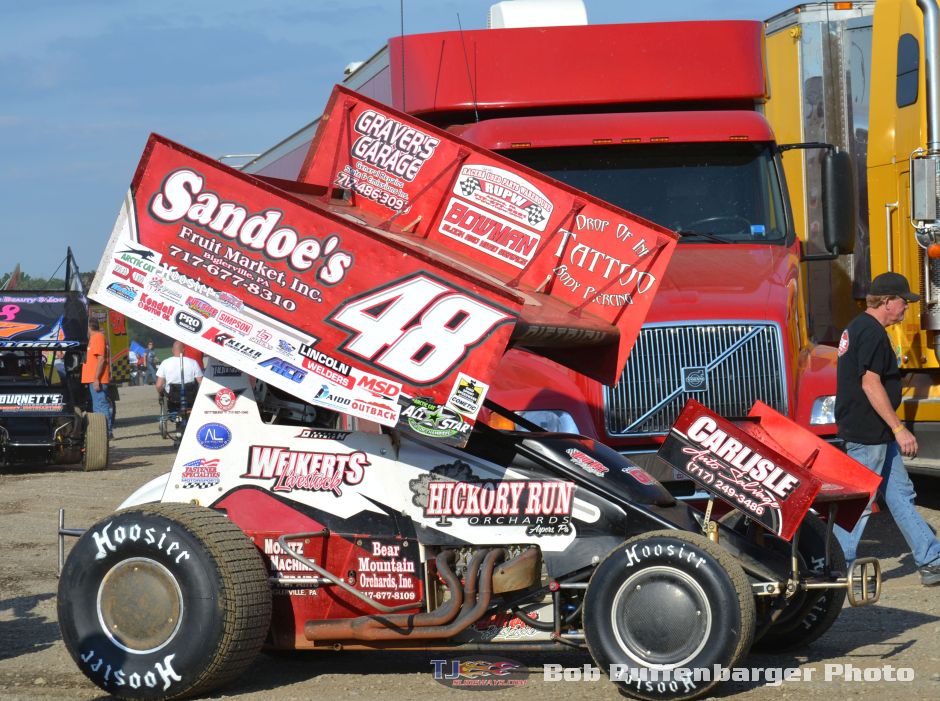 From Steve Inch
Selinsgrove, PA — (July 3, 2016) — Danny Dietrich of Gettysburg started from the front row looking to claim his first PA Speedweek title in Sunday's 30-lap Jan Opperman/Dick Bogar Memorial Speedweek finale at Selinsgrove Speedway. Dietrich and second-place points driver Greg Hodnett traded off six point advantages after time trials and heat races were completed going into the championship race.
Dave Blaney was the night's Fast Tees Fast Qualifier and led the field to the green flag in the night's $5,000-to-win feature event. Dietrich wasted no time jumping into the race lead from his second starting spot and led lap one. Greg Hodnett quickly worked his way back into the thick of the battle going by Blaney for the second spot on a lap three restart.
Brent Marks was also on the move working into the top five on the restart and soon passed Blaney for the third spot. Lucas Wolfe mounted a charge back to the front of the field during the green flag run. Dietrich was soon in lap traffic and his challenge grew as his throttle spring broke on his car. Hodnett began to close in on the leader on lap 19 as Dietrich tried to maneuver around the tail end of the lead lap cars.
Wolfe went by Marks on lap 20 and closed in on Hodnett on lap 21. At that point in the race the top four on the speedway were the top four in PA Speedweek points with Dietrich leading Hodnett, Wolfe, and Marks. Then Marks blew a tire on lap 22 to bring out the yellow flag. Hondett would get the restart he was hoping for behind Dietrich. Hodnett began to apply pressure right away on Dietrich, but Dietrich remained unshaken and began to drive away as Blane Heimbach drove by Wolfe into the top three.
Dietrich pulled away to the win. Much like Stevie Smith did a year ago, Dietrich clinched the Speedweek crown with a win in the finale. Hodnett was second followed by Heimbach. Wolfe and 13th place starter Aaron Ott were the top five finishers. Blaney came across the line in sixth followed by Ryan Smith, Doug Esh, Steve Buckwalter, and Tim Shaffer.
The Pa Sprint Series 305 Sprint Car feature was to follow the 410 Sprint race. Dave Brown took the race lead at the start and was leading when driver Jake Waters was involved in a wreck in turn one that resulted in a fire. Waters was extricated from his car and transported to the Lehigh Valley Medical Center with undisclosed injuries.
Because the Purple K extinguisher formula used to put out the fire was nearly depleted and with the speedway surface saturated with racing fuel, the balance of the racing program was ended by track and safety officials.
Selinsgrove Speedway
Selinsgrove, PA
Saturday July 3, 2016
Qualifications:
1. 71m – Dave Blaney, 16.613
2. 48 – Danny Deitrich, 16.667
3. 1 – Lucas Wolfe, 16.704
4. 27 – Greg Hodnett, 16.719
5. 94 – Ryan Smith, 16.741
6. 12 – Blane Heimbach, 16.788
7. 3z – Brock Zearfoss, 16.808
8. 13 – Tim Shaffer, 16.816
9. 19m – Brent Marks, 16.844
10. 17B – Steve Buckwalter, 16.850
11. 17W – Bryan Clauson, 16.865
12. 21R – Kyle Reinhardt, 16.883
13. 25 – Aaron Ott, 16.890
14. 29 – Jason Shultz, 16.958
15. 7 – Doug Esh, 17.010
16. 5 – Dylan Cisney, 17.031
17. 3 – James McFadden, 17.078
18. 23 – TJ Stutts, 17.417
19. 5B – Justin Barger, 17.467
20. 33w – Michael Walter II, 17.507
21. 75 – Frankie Herr, 17.533
22. 24B – Dustin Baney, 17.719
23. 35 – Daryl Stimeling, 17.797
24. I07 – Jordan Givler, 18.521
25. 19W – Colby Womer, NT
26. 38 – Scott Wilson, NT
Heat Race #1:
1. 27 – Greg Hodnett
2. 17B – Steve Buckwalter
3. 3z – Brock Zearfoss
4. 25 – Aaron Ott
5. 71m – Dave Blaney
6. 5B – Justin Barger
7. 24B – Dustin Baney
8. 5 – Dylan Cisney
DNS. 19W – Colby Womer
Heat Race #2:
1. 17W – Bryan Clauson
2. 94 – Ryan Smith
3. 13 – Tim Shaffer
4. 48 – Danny Deitrich
5. 3 – James McFadden
6. 29 – Jason Shultz
7. 33w – Michael Walter II
8. 35 – Daryl Stimeling
9. 38 – Scott Wilson
Heat Race #3:
1. 19m – Brent Marks
2. 21R – Kyle Reinhardt
3. 12 – Blane Heimbach
4. 1 – Lucas Wolfe
5. 7 – Doug Esh
6. 23 – TJ Stutts
7. 75 – Frankie Herr
8. I07 – Jordan Givler
Feature:
1. 48 – Danny Deitrich
2. 27 – Greg Hodnett
3. 12 – Blane Heimbach
4. 1 – Lucas Wolfe
5. 25 – Aaron Ott
6. 71m – Dave Blaney
7. 94 – Ryan Smith
8. 7 – Doug Esh
9. 17B – Steve Buckwalter
10. 13 – Tim Shaffer
11. 3 – James McFadden
12. 21R – Kyle Reinhardt
13. 23 – TJ Stutts
14. 17W – Bryan Clauson
15. 29 – Jason Shultz
16. 5B – Justin Barger
17. 33w – Michael Walter II
18. 19m – Brent Marks
19. 3z – Brock Zearfoss
20. 75 – Frankie Herr
21. 35 – Daryl Stimeling
22. 24B – Dustin Baney
23. I07 – Jordan Givler
24. 5 – Dylan Cisney
25. 38 – Scott Wilson
26. 19W – Colby Womer