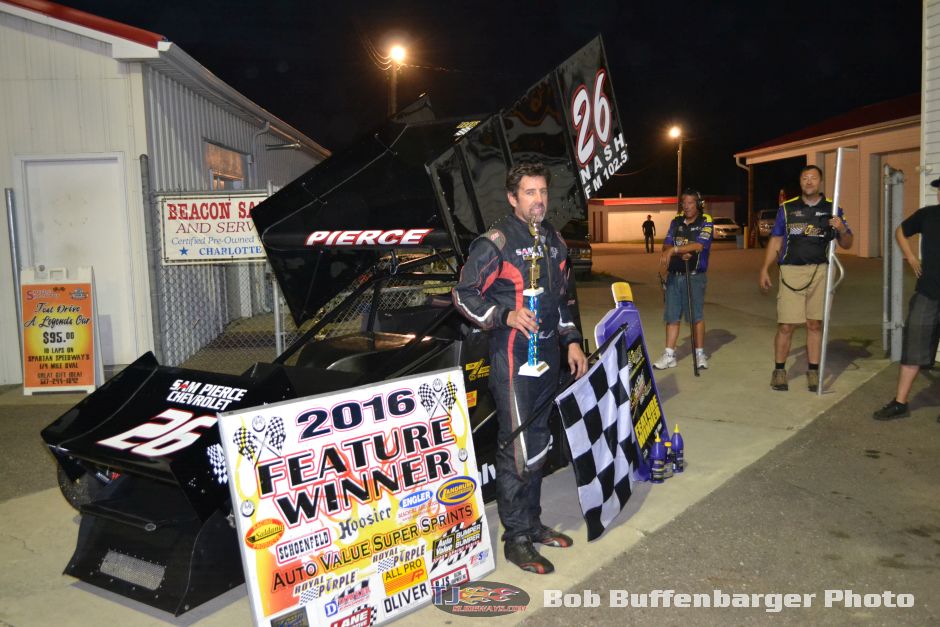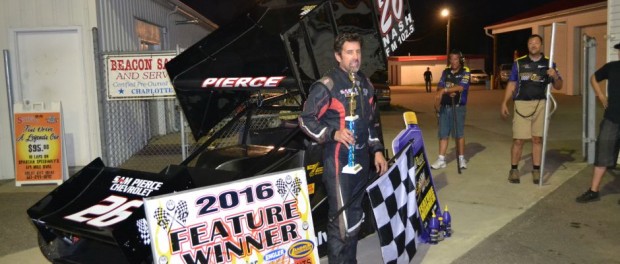 By Bob Buffenbarger
MASON, Mich. — (July 29, 2016) — Aaron Pierce chased down Ryan Gillenwater and took home the top prize in the 40 lap Auto Value Bumper to Bumper Super Sprints presented by Royal Purple feature at Spartan Speedway during the Butch Dowker Memorial Friday night in front of a nice crowd.
Gillenwater started on the pole with Doug Dietsch along side for the main event. As the green flew, the #45 of Gillenwater shot out to lead the initial circuit and was literally "off to the races". With five laps in the books, Gillenwater appeared to be in command leaving the remainder of the field to fight for second. It was Gillenwater, Dough Dietsch, Bobby Santos, Geoff Kaiser and Pierce.
Lap 15 found Gillenwater with a straight away advantage over a battle for 2nd between Santos and Dietsch with Pierce right on their heels waiting for an opening with Geoff Kaiser close behind this trio. At the half way mark, Gillenwater still had things well in hand with Santos holding 2nd with Pierce all over him. Pierce made the pass on Santos moving into 2nd on lap 23.
With no yellows to slow action it still looked to be Gillenwater's race but Pierce was about to make a charge. Laps were clicking off at a torrid pace and at the 30 lap mark Pierce's black #26 was closing on Gillenwater as he was approaching lapped traffic. Two laps later Pierce was all over the leader but still couldn't complete the pass. Finally on lap 37 Pierce made a move to the high side of Gillenwater and then went low and passed for the lead. Pierce led the remaining three laps over Gillenwater, Santos, Kaiser and Jason Blonde. The 40 lap feature went caution free in 8 minutes and 14 seconds.
Heats were picked up by Doug Dietsch and Gillenwater. Kaiser was fast time for the night. Things got off to a rough start during hot laps as Jeff Bllom appeared to have his throttle stick as he jumped over a wheel of Derek Snyder with both cars slamming hard into the turn two wall with both suffering heavy damage. After some time, Bloom emerged from his car and was transported for observation.
Butch Dowker Memorial
Auto Value / Bumper to Bumper Super Sprints
Spartan Speedway
Mason, MI
Friday July 29, 2016
Qualifications: 1. 99 Geoff Kaiser 11.485 2. 26 Aaron Pierce 11.637 3. 42 Jason Blonde 11.652 4. 64 Tyler Roahrig 11.665 5. 22a Bobby Santos III 11.680 6. 61 Kevin Feeney 11.773 7. 0 Doug Dietsch 11.798 8. 45 Ryan Gillenwater 11.837 9. 11g Tom Geren 12.324 10. 25 Doug Stepke 12.553 11. 5 Don Dietsch 12.587 12. 100 Tom Paterson 12.946 13. 1r Christopher Randolph n/t 14. 22 Derek Snyder n/t 15. 26 Jeff Bloom n/t
Heat Race #1: 1. 0 Doug Dietsch 2. 42 Jason Blonde 3. 22a Bobby Santos III 4. 99 Geoff Kaiser 5. 11g Tom Geren 6. 5 Don Dietsch
Heat Race #2: 1. 45 Ryan Gillenwater 2. 61 Kevin Feeney 3. 26 Aaron Pierce 4. 64 Tyler Roahrig 5. 25 Doug Stepke 6. 1 Christopher Randolph 7. 100 Tom Patterson
40 lap A-main: 1. 26 Aaron Pierce 2. 45 Ryan Gillenwater 3. 22a Bobby Santos III 4. 99 Geoff Kaiser 5. 42 Jason Blonde 6. 0 Doug Dietsch 7. 61 Kevin Feeney 8. 64 Tyler Roahrig 9. 25 Doug Stepke 10. 11g Tom Geren 11. 100 Tom Patterson 12. 5 Don Dietsch 13. 1r Chris Randolph