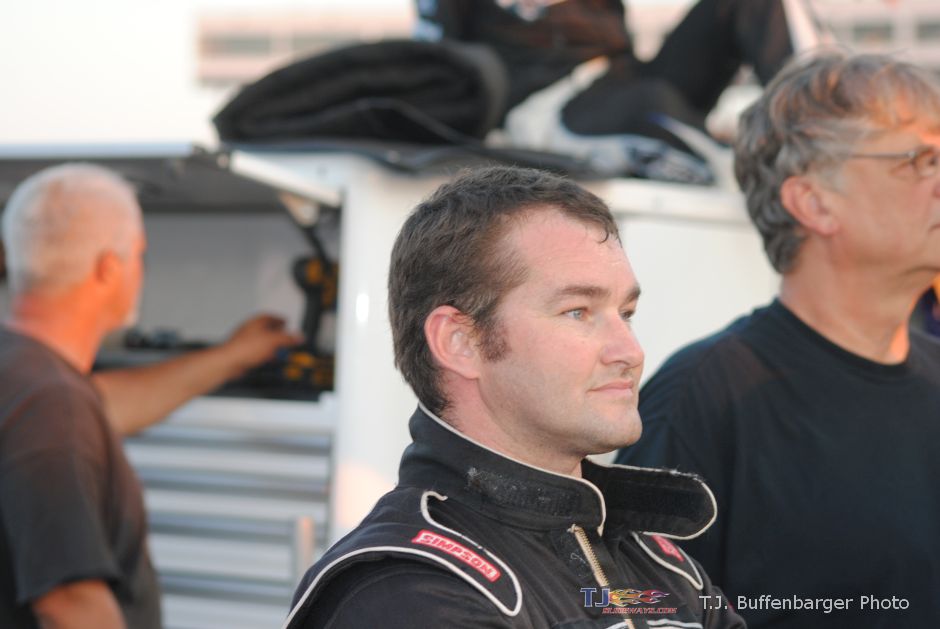 From Kaleb Hart
ALGER, Wash. (July 29, 2016) — The hottest day of the year at Skagit Speedway produced sizzling results for Roger Crockett. The Medford, OR driver took the lead with four laps to go to win the opening night of the Bob's Burgers & Brew Summer Nationals and in the process, locked himself into a top eight start for Saturday night's $10,000 to win finale.
Colton Heath led from the outset of the main with Jason Solwold chasing. Solwold took the lead from Heath on lap three and began his march into lapped cars, as Heath and Crockett experimented with their racing lines behind him. Solwold had put three lapped cars between himself and his stalkers before disaster happened coming to complete lap 12. Three cars collected up in the middle of turn four and the leader had nowhere to go, as Jason collected into Robbie Price, Mack Brown and Bud Ashe, causing a red flag. The three other drivers would be finished for the evening, while Solwold was forced to the pits for repairs. He'd return to rally back up to eighth place. In the interim, Heath resumed the lead with Crockett hot on his heels. Heath appeared to be getting away from Crockett until a lap 13 caution for Cam Smith tightened the field again. Another restart saw Colton once again stretch and advantage on Roger, but a lap 17 yellow for Jared Ridge bunched them one final time. Crockett had been mimicking Heath's line around the track but on the restart, he changed his line to go high around the turns. This paid dividends, as Roger built a huge head of steam and crossed underneath Colton on the back straight on lap 21 to take the lead. From there, Roger returned to the high groove where he held strong and grabbed the win. Heath was second with Evan Margeson third and Jared Peterson fourth.
Crockett was fast time on the night. Heat winners were Margeson, Travis Rilat, Solwold and Peterson. Jared Ridge and Nate Vaughn won the B Mains. Of note, Solwold made it back up to eighth after his accident.
The top four finishers from the A Main have locked into the top eight redraw for tomorrow night's 40 lap, $10,000 to win. The remaining competitors will run a full format with qualifying, heats, and b mains. The top four qualifiers who transfer through their heats will join the top four from Friday night in the redraw. Joining the show for Saturday night will be the ever popular Triple X Northwest Focus Midget Series.
360 Sprints
Fast Time – Roger Crockett 12.103
Heat 1 – Evan Margeson, Roger Crockett, Justin Youngquist, Bud Ashe, David Miller, Robbie Price, Luke Didiuk, Tristen Spiers
Heat 2 – Travis Rilat, Cam Smith, Henry Van Dam, Colton Heath, Jake Helsel, Steve Reeves, Devin Madonia, Brandon Harkness
Heat 3 – Jason Solwold, Chase Goetz, Travis Jacobson, Mack Brown, Jared Ridge, Nate Vaughn, Lance Sargent, Jason Reed
Heat 4 – Jared Peterson, JJ Hickle, Eric Fisher, Bricen James, Trevor Cook, Cody Ridge, Steve James, Reece Goetz
B Main 1 – Jared Ridge, Price, C Ridge, Didiuk, Harkness, Sargent, Reed, Spiers
B Main 2 – Nate Vaughn, Helsel, Miller, Madonia, Reeves, Cook, S James
A Main – Roger Crockett, Heath, Margeson, Peterson, Rilat, Youngquist, Van Dam, Solwold, Hickle, Jacobson, Fisher, B James, Helsel, C Goetz, Vaughn, J Ridge, Smith, Miller, Brown, Ashe, C Ridge, Price
Lap Leaders – Heath 1-2 Solwold 3-11 Heath 12-20 Crockett 21-25