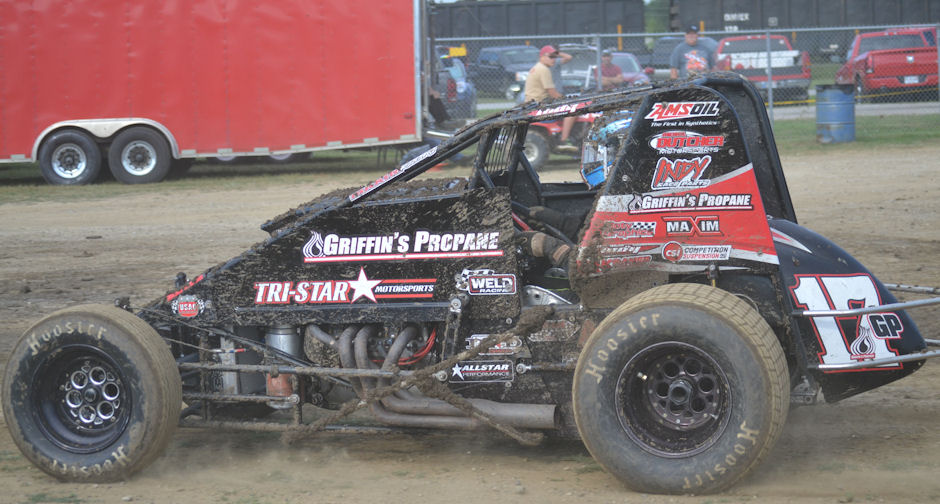 By Bob Buffenbarger
Kokomo,In (8-7-2016)-Thomas Meseraull led all 30 laps capturing the "Bob Darland Memorial" Sunday evening on a well groomed Kokomo Speedway. T-Mez started outside front row as Jarrett Andretti was on the pole and fell in behind the 17GP of Meseraull.
Meseraull quickly stretched his lead over Andretti with Robert Ballou, CJ Leary and Dave Darland in pursuit. The running order remained the same for several laps until Max McGhee passed Darland and then Leary.
Meanwhile, Andretti was putting pressure on T-Mez with Ballou hanging with Andretti. A lap 22 caution bunched the field again with Andretti and Ballou racing for 2nd with Andretti's #18 still strong and keeping Ballou at bay.
Just as it appeared Meseraull had things in hand, Andretti was right on his bumper once again. With only a few laps remaining, Ballou mounted another charge on Andretti but couldn't make the pass stick. A yellow flew with one lap left and set up a sprint to the checkers with Meseraull holding off a valiant effort by Andretti and Ballou with McGhee and Leary rounding out the top five.
Meseraull completed a successful weekend of leading 60 laps of feature racing in two different cars and picked up $3,000 in each for his efforts. His always entering interviews didn't disappoint as he took the microphone and thanked his sponsors as he walked around his winning mount.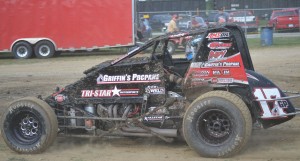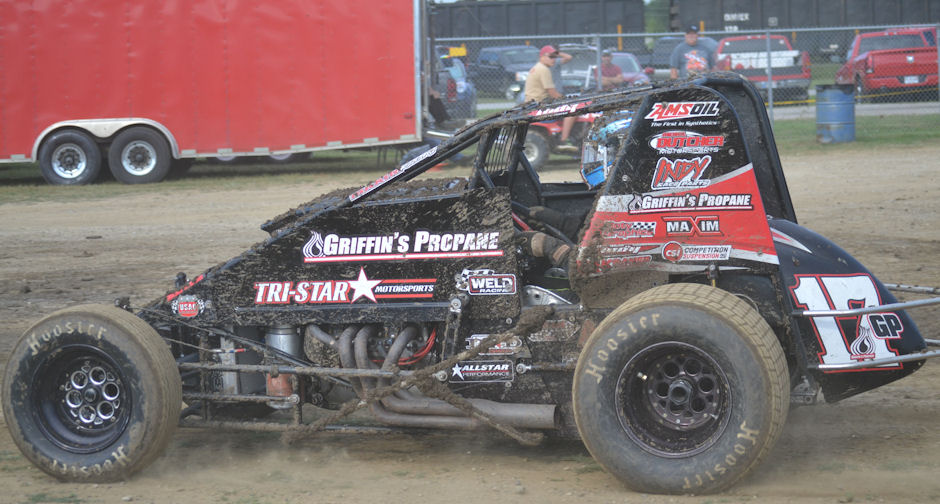 Kokomo Speedway
Kokomo, IN
Sunday August 7, 2016
Heat Race #1:
1. 1 – Robert Ballou
2. 39 – Matt Goodnight
3. 1RL – Colten Cottle
4. 97X – Tyler Hewitt
5. 17G – Mike Gass
6. 20T – Steve Thomas
7. 29 – Logan Jarrett
Heat Race #2:
1. 17GP – Thomas Meseraull
2. 18A – Jarett Andretti
3. 17M – Max Mcghee
4. 10E – Jerry Coons
5. 4 – Tyler Thomas
6. 17R – Kyle Robbins
7. 16C – Billy Cribbs
Heat Race #3:
1. 4J – Kevin Thomas Jr
2. 11X – Dave Darland
3. 5W – Chris Windom
4. 66C – Cj Leary
5. 57H – Shane Cottle
6. 19 – Joe Bares
7. 66J – Josh Spencer
30 Lap Bob Darland Memorial Sprint Car Feature
1. 17pg Thomas Meseraull
2. 18 Jarett Andretti
3. 1 Robert Ballou
4. 17m Max McGhee
5. 4j Kevin Thomas, Jr.
6. 11 Dave Darland
7. 10e Jerry Coons, Jr.
8. 5 Chris Windom
9. 66j Josh Spencer
10. 17r Kyle Robbins
11. 17g Mike Gass
12. 16c Billy Cribbs
13. 19 Joe Bares
14. 29 Logan Jarrett
15. 04 Tyler Thomas
16. 20 Steve Thomas
17. 57 Shane Cottle
18. 97 Tyler Hewitt
19. 66 CJ Leary
20. 39 Matt Goodnight
21. 1rl Colten Cottle