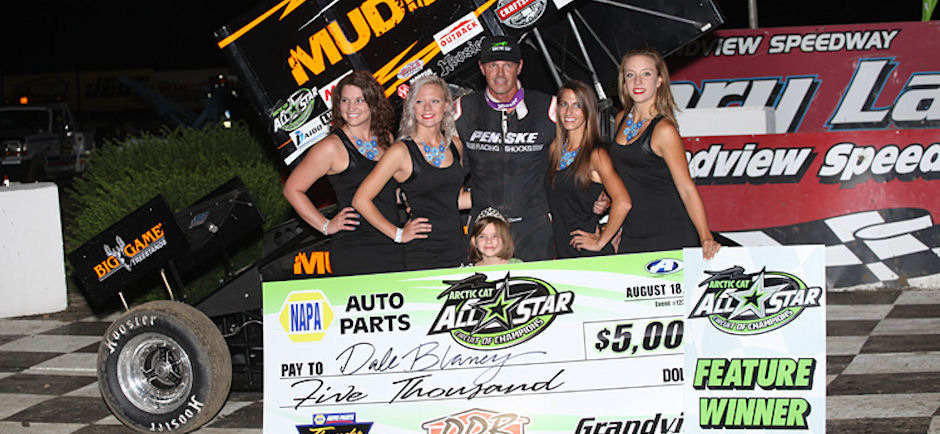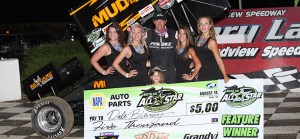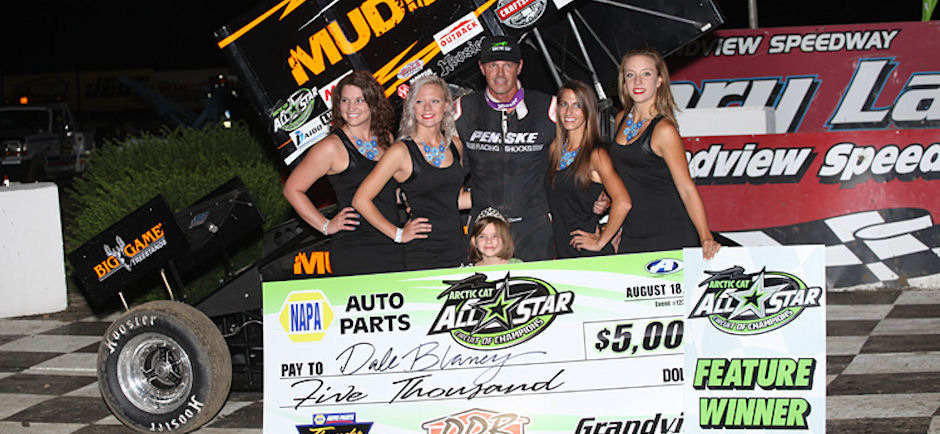 By Tyler Altmeyer
BECHTELSVILLE, PA. (August 18, 2016) – The "Low Rider" Dale Blaney helped the Arctic Cat All Star Circuit of Champions keep the "Pennsylvania Posse" out of victory lane in Central Pennsylvania, scoring the Arctic Cat All Star win at the Grandview Speedway in Bechtelsville on Thursday night, August 18. The pilot of the GoMuddy.com/Big Game Treestands/CH Motorsports/No.1 entry held off charges by Lucas Wolfe, Stevie Smith, and fellow National Sprint Car Hall of Fame inductee Sammy Swindell during the course of the 35-lap main event, scoring his seventh victory of the 2016 season, raising his career win total to 134 with the Arctic Cat All Stars. Blaney also used his victory to chip away at Chad Kemenah's championship point lead, dropping to a 36-point margin from 50.
"My guys gave me a great car here tonight," Dale Blaney explained. "Donny, Skippy, and George did an awesome job. Big Game Treestands and Muddy have been behind us the last couple of years. Janet Holbrook and CH Motorsports give us great race cars and a great opportunity to come out here and race every weekend. To win out here, and to have Sammy (Swindell) finish second with BIg Game and Muddy on his car, too, is pretty cool."
Lucas Wolfe and Dale Blaney brought the 24 feature starters to green on Thursday night at Grandview Speedway. Wolfe jumped out to the early advantage, leading lap one over a pair of hall of famers, Dale Blaney and Sammy Swindell. Those three drivers held the pace out in front of the field for the first five circuits, not reaching traffic for the first time until lap six.
Intense traffic around the bottom of the speedway, the leader's preferred line, allowed Blaney to chip away at Wolfe's advantage, making a bid for the top spot on lap seven and again on lap eight, ultimately igniting a near-five-lap, side-by-side battle between Dale Blaney and Lucas Wolfe. By lap 11, Blaney established himself at the front of the field, only to be halted by the main event's first caution on lap 12.
When green flag conditions returned, Blaney reopened his advantage at the front of the field, followed by Lucas Wolfe and now Stevie Smith, who drove around Swindell just before caution flags appeared. A pair of cautions, including a red flag involving four main event starters, would halt action for Dale Blaney on lap 16 and lap 18.
After an open-red resulting from the four-car incident involving Cap Henry, Kraig Kinser, Danny Dietrich, and Greg Hodnett, green flag conditions returned once again. Dale Blaney resumed his place at the front of the field, now followed by Stevie Smith, who moved around Lucas Wolfe just before the lap 18 caution.
Despite a lengthy advantage, Stevie Smith eventually reeled in Dale Blaney using the topside of the speedway. A two-car battle would eventually ensue, Smith on the topside and Blaney on the bottom, racing nearly side-by-side for multiple circuits. Smith poked his nose to the outside of Blaney at the exit of turn two and turn four on several occasions, but the effort was not enough.
"I just wasn't comfortable those first seven or eight laps," Blaney said. "I had to start slowing myself down a little bit to get faster. Stevie (Smith) and I had a pretty good battle there for a while toward the later portion of the race, but I was able to get myself off of four; really kept my speed up and run through on the middle on exit. I was fortunate enough to clear a lapped car there toward the end that probably helped us out a little bit. Overall, we are thrilled with everything."
Blaney moved on to score the Grandview Speedway victory worth $5,000, followed by Sammy Swindell and Stevie Smith. Swindell, who had dropped well outside of the top-three during the middle segment of the main event due to a damaged nose wing, moved by Smith with less than five circuits remaining.
"I think we may have had something for Blaney," Sammy Swindell said. "I was able to find a great line off of two and four. A lot of guys were missing that line, really opening the door for us to capitalize. I just had to be patient and start working back around those guys. We were there and coming. The car was definitely fast."
Ryan Smith and Sheldon Haudenschild rounded out the top-five, followed by Lucas Wolfe, Chad Kemenah, JJ Grasso, Brent Marks, and Ryan Taylor.
The Arctic Cat All Star Circuit of Champions will continue their four-day swing through Pennsylvania and New York with a visit to the world-famous Williams Grove Speedway in Mechanicsburg, Pennsylvania, on Friday night, August 19. The 34th annual Jack Gunn Memorial will highlight competition at the half-mile paperclip, awarding a $5,000 top prize after 30 laps of green flag competition. Much like Grandview Speedway, it will be the first and only Williams Grove Speedway appearance by the Arctic Cat All Star Circuit of Champions in 2016, continuing an All Star versus "Pennsylvania Posse" tradition that dates back to 1970 when Bobbie Adamson picked up the victory.
Williams Grove Speedway will open pit gates at 5:00 pm on Friday night, August 19. A drivers meeting will be conducted at 6:30, with hot laps scheduled to begin at 7:10. Additional information can be found online at www.williamsgrove.com.
Contingency Awards/Results: Grandview Speedway – Thursday, August 18, 2016:
EMi Driver's Meeting: 27 entries
State Water Heaters Warm-Ups: Stevie Smith – 11.751 seconds
Lincoln Electric Fast Qualifier: Dale Blaney – 11.899 seconds
Kistler Racing Products Heat #1: Lucas Wolfe
All Pro Aluminum Cylinder Heads Heat #2: Ryan Smith
Hunt Brothers Pizza Heat #3: Sheldon Haudenschild
JE Pistons Dash: Lucas Wolfe
Daido Engine Bearings Main Event Winner: Dale Blaney
MSD Performance Hard Charger Award: Chad Kemenah (+8)
Outback Steakhouse A-Main 5th Place Finisher: Sheldon Haudenschild
Outback Steakhouse A-Main 10th Place Finisher: Ryan Taylor
Outback Steakhouse A-Main 15th Place Finisher: Andrew Palker
(Lincoln Electric, Daido Engine Bearings, MSD Performance, Outback Steakhouse; Need decal to qualify for contingency award)
8/18/2016 at Grandview Speedway
410 Sprints – Winged | All Star Circuit of Champions
A Feature 1 (35 Laps): 1. 1-Dale Blaney[2]; 2. 1S-Sammy Swindell[4]; 3. 51S-Stevie Smith[3]; 4. 94-Ryan Smith[5]; 5. 93-Sheldon Haudenschild[8]; 6. 1Z-Lucas Wolfe[1]; 7. 10H-Chad Kemenah[15]; 8. 37-J.J. Grasso[18]; 9. 19M-Brent Marks[10]; 10. 20-Ryan Taylor[13]; 11. 747-Davey Sammons[21]; 12. 8M-T.J. Michael[17]; 13. 13-Tim Shaffer[19]; 14. 70-Danny Holtgraver[14]; 15. 57X-Andrew Palker[16]; 16. 40-Caleb Helms[20]; 17. 21-Cap Henry[12]; 18. 11K-Kraig Kinser[9]; 19. 27-Greg Hodnett[6]; 20. 48-Danny Dietrich[7]; 21. 51-Freddie Rahmer[11]; 22. 81-Kenny Jacobs[22]; 23. 88-Brandon Rahmer[23]; 24. 11-Steve Kinser[24]
B Feature 1 (12 Laps): 1. 13-Tim Shaffer[1]; 2. 37-J.J. Grasso[2]; 3. 747-Davey Sammons[3]; 4. 40-Caleb Helms[7]; 5. 88-Brandon Rahmer[5]; 6. 81-Kenny Jacobs[6]; 7. 60-Kory Crabtree[4]; 8. 49H-Bradley Howard[8]; 9. 87-Alan Krimes[9]
Dash 1 (6 Laps): 1. 1Z-Lucas Wolfe[1]; 2. 1-Dale Blaney[2]; 3. 51S-Stevie Smith[3]; 4. 1S-Sammy Swindell[5]; 5. 94-Ryan Smith[4]; 6. 27-Greg Hodnett[6]; 7. 48-Danny Dietrich[7]; 8. 11-Steve Kinser[8]
Heat 1 (10 Laps): 1. 1Z-Lucas Wolfe[2]; 2. 1-Dale Blaney[4]; 3. 11-Steve Kinser[1]; 4. 51S-Stevie Smith[3]; 5. 48-Danny Dietrich[5]; 6. 70-Danny Holtgraver[7]; 7. 13-Tim Shaffer[6]; 8. 37-J.J. Grasso[8]; 9. 60-Kory Crabtree[9]
Heat 2 (10 Laps): 1. 94-Ryan Smith[1]; 2. 27-Greg Hodnett[4]; 3. 51-Freddie Rahmer[2]; 4. 1S-Sammy Swindell[3]; 5. 21-Cap Henry[5]; 6. 8M-T.J. Michael[6]; 7. 40-Caleb Helms[7]; 8. 49H-Bradley Howard[8]; 9. 87-Alan Krimes[9]
Heat 3 (10 Laps): 1. 93-Sheldon Haudenschild[1]; 2. 11K-Kraig Kinser[2]; 3. 19M-Brent Marks[4]; 4. 20-Ryan Taylor[3]; 5. 10H-Chad Kemenah[5]; 6. 57X-Andrew Palker[6]; 7. 747-Davey Sammons[7]; 8. 81-Kenny Jacobs[9]; 9. 88-Brandon Rahmer[8]
Qualifying 1 (2 Laps): 1. 1-Dale Blaney, 11.899; 2. 51S-Stevie Smith, 11.958; 3. 1Z-Lucas Wolfe, 11.987; 4. 27-Greg Hodnett, 12.052; 5. 11-Steve Kinser, 12.083; 6. 1S-Sammy Swindell, 12.102; 7. 48-Danny Dietrich, 12.123; 8. 13-Tim Shaffer, 12.135; 9. 51-Freddie Rahmer, 12.140; 10. 19M-Brent Marks, 12.157; 11. 94-Ryan Smith, 12.204; 12. 20-Ryan Taylor, 12.252; 13. 70-Danny Holtgraver, 12.263; 14. 11K-Kraig Kinser, 12.265; 15. 21-Cap Henry, 12.276; 16. 93-Sheldon Haudenschild, 12.287; 17. 10H-Chad Kemenah, 12.325; 18. 57X-Andrew Palker, 12.330; 19. 8M-T.J. Michael, 12.355; 20. 37-J.J. Grasso, 12.356; 21. 747-Davey Sammons, 12.374; 22. 60-Kory Crabtree, 12.434; 23. 88-Brandon Rahmer, 12.436; 24. 81-Kenny Jacobs, 12.458; 25. 40-Caleb Helms, 12.461; 26. 49H-Bradley Howard, 12.771; 27. 87-Alan Krimes, 20.236