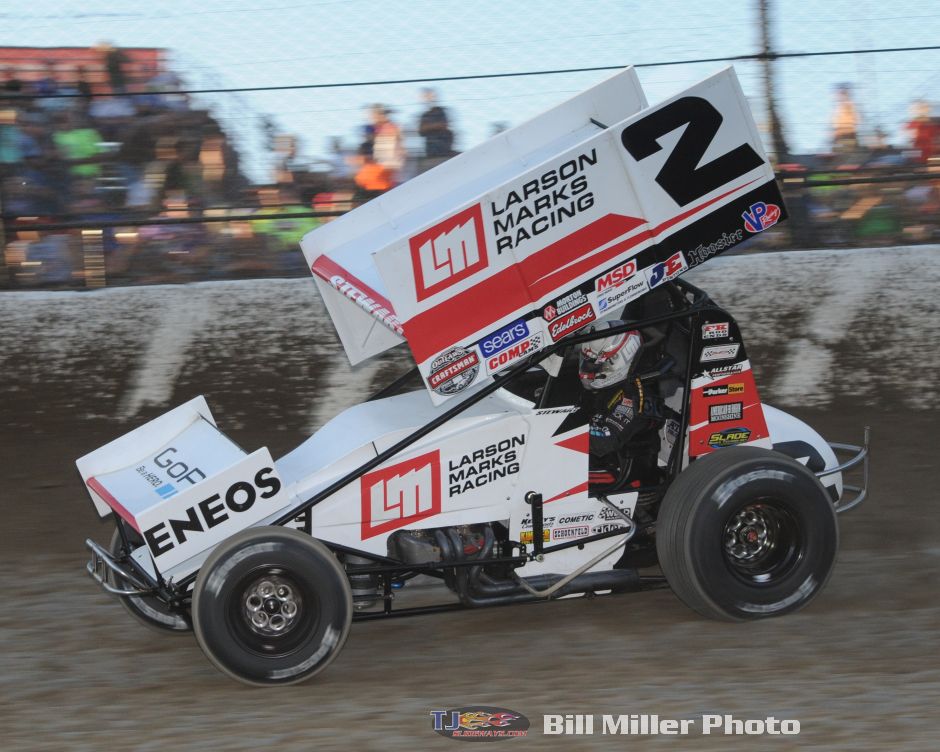 From Gary Thomas
CHICO, Cal. (September 9, 2016) — Putting a recent string of bad luck behind him Bixby, Oklahoma's Shane Stewart proceeded to score an emphatic victory on opening night of the World of Outlaws Craftsman® Sprint Car Series sanctioned Gold Cup Race of Champions at Silver Dollar Speedway on Friday.
Stewart has shown immense speed during the Western Swing, and it paid off with his sixth victory of the 2016 season aboard the Larson Marks Racing No. 2 machine. It was also the second straight season he opened the Gold Cup Race of Champions in victory lane.
"This has always been one of those events that I've wanted to win, so hopefully we can come back tomorrow and do the same," Stewart commented following the race. "We've had some tough luck, but have gained a lot of speed lately, which has given me a lot of confidence. These races are so hard to win with the competition that it's always a big deal when you can do it. My guys have worked really hard so I can't thank them enough. We got through traffic pretty well in the main event, and the cautions fell our way. We'll now try and do it again tomorrow."
Stewart took the lead from Brownsburg, Indiana's Joey Saldana on lap 11 in traffic and led the remaining distance without worries, except for one slight moment with a couple laps left when he got over the back stretch. It allowed Saldana to close, but Stewart was able to hang on and take the checkered flag by 0.680 seconds.
Saldana himself was locked in a closely fought battle with Wooster, Ohio's Jac Haudenschild. The two former Gold Cup champions ran closely together the final half of the race, which ended with Saldana claiming second at the stripe.
Saldana had taken the lead at the waving of the green flag over pole sitter Mason Moore of Princeton, California. "My guys worked really hard tonight and it's nice to be back up here on the front stretch," said the driver of the Roth Motorsports No. 83 mount.
"Having a shot to win is all you can ask for and we were right there tonight. Shane [Stewart] did a good job in traffic and he had some really nice restarts. We'll come back tomorrow and try to get one spot better."
Haudenschild came home in third to continue what has been a solid week driving for California car owner Paul Silva. He hounded Saldana's rear bumper for a number of laps, but couldn't quite find a way by.
"Paul Silva gave me a great car again, so I want to give him a huge thanks. It's nice to be back at the Gold Cup. I've always loved coming here to Chico over the years. It would mean a lot if we can get another one tomorrow."
Owasso, Oklahoma's Daryn Pittman claimed a fourth place finish for the second race in a row, with Fargo North, Dakota's Donny Schatz rounding out the top-five. The remainder of the top-10 was completed by Grass Valley, California's Brad Sweet; Fremont, California's Shane Golobic; St. Mary's NSW, Australia's Kerry Madsen; Eunice, Louisiana's Jason Johnson and Watertown, Connecticut's David Gravel.
One red flag period occurred during the feature when a multi-car pileup was seen in turn three on lap 12. Rutherford, California's Rico Abreu and Nashville, Tennessee's Paul McMahan both got upside down during the melee, but were okay. Also involved were Jacob Allen, Logan Schuchart, Kyle Hirst and Jason Johnson.
As noted, Mason Moore won the Craftsman Club® Dash, while Hanford, California's DJ Netto captured the C-main and Clarksburg, California's Justyn Cox claimed the Last Chance Showdown. Four 10-lap heat races were held during the night, with victories going to Joey Saldana, Mason Moore, Jac Haudenschild and Shane Stewart.
With 38 cars signing in for opening night of the Gold Cup, split qualifying was used. Daryn Pittman set fast time in the opening group, while Rico Abreu set fast time in group two. Abreu's lap of 11.652 was the overall quick time for the night.
The World of Outlaws Craftsman Sprint Car Series will return to action tomorrow night for the finale of the 63rd annual Gold Cup Race of Champions at Silver Dollar Speedway in Chico.
World of Outlaws Craftsman® Sprint Car Series Statistical Report; Silver Dollar Speedway, Calif.; Sept 9, 2016
Feature – (30 Laps) – 1. 2-Shane Stewart [4] [$8,000]; 2. 83-Joey Saldana [2] [$4,000]; 3. 57-Jac Haudenschild [3] [$2,500]; 4. 9-Daryn Pittman [5] [$2,200]; 5. 15-Donny Schatz [9] [$2,100]; 6. 49-Brad Sweet [6] [$2,000]; 7. 22-Shane Golobic [10] [$1,800]; 8. 83JR-Kerry Madsen [12] [$1,600]; 9. 41-Jason Johnson [24] [$1,500]; 10. 5-David Gravel [8] [$1,300]; 11. 41X-Dominic Scelzi [11] [$1,200]; 12. OO-Cory Eliason [13] [$1,100]; 13. O-Bud Kaeding [17] [$1,000]; 14. 7S-Jason Sides [23] [$700]; 15. 92-Andy Forsberg [15] [$600]; 16. 1S-Logan Schuchart [22] [$600]; 17. 31BC-Justyn Cox [21] [$600]; 18. 22M-Mason Moore [1] [$600]; 19. M21-Kalib Henry [20] [$600]; 20. 1A-Jacob Allen [19] [$600]; 21. 24-Rico Abreu [7] [$600]; 22. 77-Kyle Hirst [14] [$600]; 23. 7-Paul McMahan [18] [$600]; 24. 29-Willie Croft [16] [$600]. Lap Leaders: Joey Saldana 1-11, Shane Stewart 12-30; KSE Hard Charger Award: 41-Jason Johnson [+15].
Qualifying – 1. 24-Rico Abreu, 11.652; 2. 2-Shane Stewart, 11.699; 3. 57-Jac Haudenschild, 11.826; 4. 49-Brad Sweet, 11.885; 5. 9-Daryn Pittman, 11.928; 6. 22M-Mason Moore, 11.956; 7. 83-Joey Saldana, 11.968; 8. 77-Kyle Hirst, 12.012; 9. 5-David Gravel, 12.016; 10. 29-Willie Croft, 12.023; 11. 22-Shane Golobic, 12.056; 12-13. 83JR-Kerry Madsen and OO-Cory Eliason, 12.084; 14-15. 31BC-Justyn Cox and 7-Paul McMahan, 12.088; 16. M21-Kalib Henry, 12.099; 17. 15-Donny Schatz, 12.101; 18. 1A-Jacob Allen, 12.106; 19. 44W-Austen Wheatley, 12.114; 20. 21-Robbie Price, 12.131; 21. 92-Andy Forsberg, 12.132; 22-23. O-Bud Kaeding and 1S-Logan Schuchart, 12.141; 24. 11AU-Toby Bell Bowen, 12.142; 25. 41X-Dominic Scelzi, 12.188; 26. 7S-Jason Sides, 12.215; 27. 75-Sean Becker, 12.222; 28. 19-Chase Majdic, 12.255; 29. 41-Jason Johnson, 12.268; 30. 12-Jarrett Soares, 12.296; 31. 3C-DJ Netto, 12.318; 32. 98-Sean Watts, 12.406; 33. OOX-Jason Statler, 12.591; 34. W20-Greg Wilson, 12.645; 35. 1H-Billy Wallace, 12.740; 36. 12C-Brian Mcgahan, 12.824; 37. 22A-Cori Andrews, 13.256; 38. 13-Clyde Knipp, 13.432
Heat 1 – (10 Laps – Top 5 finishers transfer to the A-feature) – 1. 83-Joey Saldana [2]; 2. 9-Daryn Pittman [1]; 3. 15-Donny Schatz [4]; 4. OO-Cory Eliason [3]; 5. O-Bud Kaeding [6]; 6. 44W-Austen Wheatley [5]; 7. 7S-Jason Sides [7]; 8. 41-Jason Johnson [8]; 9. OOX-Jason Statler [9]; 10. 22A-Cori Andrews [10]
Heat 2 – (10 Laps – Top 5 finishers transfer to the A-feature) – 1. 22M-Mason Moore [1]; 2. 5-David Gravel [2]; 3. 41X-Dominic Scelzi [6]; 4. 92-Andy Forsberg [5]; 5. 1A-Jacob Allen [4]; 6. 19-Chase Majdic [7]; 7. 98-Sean Watts [8]; 8. 12C-Brian Mcgahan [9]; 9. 31BC-Justyn Cox [3]
Heat 3 – (10 Laps – Top 5 finishers transfer to the A-feature) – 1. 57-Jac Haudenschild [2]; 2. 24-Rico Abreu [1]; 3. 22-Shane Golobic [4]; 4. 77-Kyle Hirst [3]; 5. 7-Paul McMahan [5]; 6. 21-Robbie Price [6]; 7. 11AU-Toby Bell Bowen [7]; 8. 13-Clyde Knipp [10]; 9. W20-Greg Wilson [9]; 10. 12-Jarrett Soares [8]
Heat 4 – (10 Laps – Top 5 finishers transfer to the A-feature) – 1. 2-Shane Stewart [1]; 2. 49-Brad Sweet [2]; 3. 83JR-Kerry Madsen [4]; 4. 29-Willie Croft [3]; 5. M21-Kalib Henry [5]; 6. 3C-DJ Netto [8]; 7. 1S-Logan Schuchart [6]; 8. 75-Sean Becker [7]; 9. 1H-Billy Wallace [9]
Craftsman Club Dash – (6 Laps, finishing order determined first 8 starting positions of A-feature) – 1. 22M-Mason Moore [3]; 2. 83-Joey Saldana [1]; 3. 57-Jac Haudenschild [2]; 4. 2-Shane Stewart [4]; 5. 9-Daryn Pittman [5]; 6. 49-Brad Sweet [8]; 7. 24-Rico Abreu [6]; 8. 5-David Gravel [7]
C-Main – (10 Laps – Top 2 finishers transfer to the Last Chance Showdown) – 1. 3C-DJ Netto [2] [-]; 2. 98-Sean Watts [1] [-]; 3. W20-Greg Wilson [4] [$150]; 4. OOX-Jason Statler [3] [$150]; 5. 12C-Brian Mcgahan [5] [$150]; 6. 22A-Cori Andrews [7] [$125]; 7. 13-Clyde Knipp [8] [$125]; 8. 1H-Billy Wallace [6] [$125]
Last Chance Showdown – (12 Laps – Top 4 finishers transfer to the A-feature) – 1. 31BC-Justyn Cox [1] [-]; 2. 1S-Logan Schuchart [4] [-]; 3. 7S-Jason Sides [5] [-]; 4. 41-Jason Johnson [9] [-]; 5. 21-Robbie Price [2] [$300]; 6. 3C-DJ Netto [11] [$250]; 7. 19-Chase Majdic [7] [$225]; 8. 75-Sean Becker [8] [$200]; 9. 12-Jarrett Soares [10] [$200]; 10. 98-Sean Watts [12] [$200]; 11. 11AU-Toby Bell Bowen [6] [$200]; 12. 44W-Austen Wheatley [3] [$200]