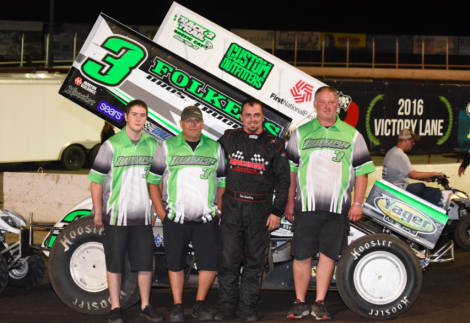 PETERSEN MEDIA
Putting an exclamation point on a strong 360 season as the Badlands Motor Speedway, Tim Kaeding was crowned the track champion on Sunday night as he picked up a third place finish.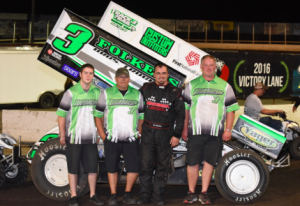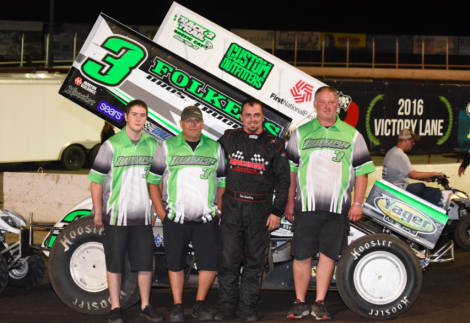 "It is a great accomplishment for this team to come out and win this 360 championship at Badlands," Tim Kaeding said. "We also ended up second in 410ci points so it was truly a great season for this team."
Picking up a win during his heat race on Sunday night, the San Jose, CA driver would line the Folkens Bros. Trucking/Dammer Trucking/Mihm Trucking No. 3 machine up in the fourth row for the 20-lap feature event.
Just as he has done all year long, TK was on a mission as he quickly carved his way to the front. Making quick work of Aaron Reutzel, Carson McCarl, and Jody Rosenboom, TK took over the third spot as he chased after Terry McCarl and Justin Henderson.
Unable to get to get around either of the lead duo, Kaeding would enjoy his track title with his third place finish.
One night before, Kaeding came into the 410ci season finale with an outside shot of also winning that championship. Coming out guns blazing, Kaeding would set the standard in qualifications, before going on to win his heat race.
Jumping into the second spot when the race came to life Kaeding laid it all on the line as he chased after the early race leader, Logan Forler. While chasing down Forler, Kaeding would soon feel pressure form Ian Madsen by the 12th lap.
Continuing to push his machine to the limits, Kaeding would get into the wall on the 15th lap and cause some damage to his machine and it would relegate him to a 14th place finish.
"It is great to give Dave Lunstra a championship, and we actually have a chance to win another one this weekend," TK added. "We will go out and try to win the race, and let the points take care of themselves."
The Lunstra Motorsports team would like to thank Folkens Bros. Trucking, Dammer Trucking, Mihm Trucking, Yager Agriculture Supply, Matt's Repair, and Trac2Trail Arctic Cat for their support in 2016.
ON TAP: TK and the Lunstra Motorsports are set to take on the World of Outalws in Spencer, IA on Friday night, and take to the Park Jefferson Speedway on Saturday night.
2016 BY THE NUMBERS: Races-52, Wins-9, Top-5's-31, Top-10's-46
STAY CONNECTED: Stay connected to Tim by following him on Twitter at @TKaedingracing, or by clicking over to https://www.facebook.com/pages/Lunstra-Motorsports/127617420603580.
PETERSEN MEDIA: Petersen Media is a promotional agency that can handle your public relations, marketing, and any other media needs. Petersen Media utilizes multiple tactics to help you reach your intended audience, and boost awareness.