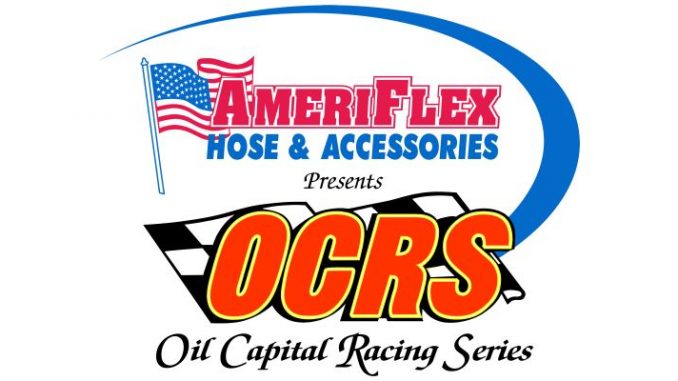 From OCRS
CANEY, Kan. (October 15, 2016) — Coming into the Ameri-Flex Hose and Accessories / Oil Capital Racing Series season finale at the Caney Valley Speedway with the most wins for the season at six, Sheldon Barksdale had no intentions of spreading the wealth as he powered his Barksdale Overhead Door / Maxim Chassis / Wells Racing Engines to capture his seventh win of the year.
In the meantime, Robert Sellers provided some drama in holding off Whit Gastineau to repeat as series champion.
Barksdale would start the 30-lap A-Feature on the pole with crowd favorite and Caney Valley native Andrew Deal on the outside of the front row. The race would be stopped as soon as it started as Gastineau got out of shape in turn two and fought to keep his car from turning over. In doing so, Alex DeCamp and Jimmy Taylor were collected with DeCamp regulated to the infield for the duration of the race and Taylor flipped but was uninjured.
Back underway, Barksdale and Deal waged a torrid battle for the lead on a super heavy racetrack that asked for all the power a car could give. With Barksdale leading, Deal would time and time again take shots at obtaining the lead but Barksdale would repel each attempt. At times, the duo would split lapped traffic simultaneously for a jaw dropping experience for the fans who would witness the tense battle.
Drama developed even before the A-Feature as Sellers, who entered the night with a 30-point lead over Gastineau for the title, had a rear end failure in the A1 Machine Shop heat race which resulted in the defending champion to not finish the race. The team worked feverishly with the assistance of the Zach Chappell team to change the rear end and make other repairs.
Coupled with Gastineau's third place finish in the Drive Shaft Inc, heat race, the spread was 28-points headed to the main event.
Gastineau, who started in the fourth row, spent the bulk of the feature battling for the third and fourth positions with Matt Sherrell. Sellers, who was scheduled to start outside of row seven instead started two rows further back. Sellers would explain later that he thought officials were trying to get cars to get around him for the start since he fell out of his heat race when in fact officials were trying to position Sellers in his scheduled position.
Sellers would bide his time in the Checkered Flag Trucking / Cothran Construction / F&F Farms / Brand Racing Engines / XXX chassis number 4x and begin to pick off cars little by little as he edged his way upward towards the front of the field. Mike Goodman was doing the same thing from his sixth row starting spot the the Window World / Premier Homes number 4am.
The heated battle between Barksdale and Deal would come to an end when Deal bicycled his mount in turn two with just a couple of laps remaining. Deal would come to a stop to bring out a caution and the 2014 champion would be unable to continue. Barksdale would finish off the remaining laps to earn the win while Goodman would steal second from Sherrell as he nipped Sherrell at the flagstand. Gastineau would finish fourth but the title was not meant to be as Sellers was on Gastineau's bumper as the pair finished of another remarkable season.
"I saw him (Deal) a few times and just kept doing all I could to win tonight," explained Barksdale in victory lane.
"This has been an unbelievable season and I just have to thank my dad (Rick) for all he has done to put us in this position. To win seven features is just amazing."
As for Sellers, he was very candid about how he felt going into the feature.
"I'll be honest, I was really concerned about my car after working so hard just to get it out here. I have to thank the Chappell's for their help or I may not have made it."
"Our luck hasn't been the greatest lately but we did just enough to get the job done. This sure wasn't how we wanted to do this (win the championship) but it all worked out in the end."
Sellers will receive his second Harold Leep Championship trophy at the awards banquet on November 19th.
Ameri-Flex / OCRS Official Results
Caney Valley Speedway / Caney, Kansas
Saturday October 15, 2016
Car count: 22
(Pos-Car-Driver-Start)
Drive Shaft Inc. Heat (8 laps)
1) 20s-Sheldon Barksdale [2]. 2) 1-Layne Himebaugh [1]. 3) 2w-Whit Gastineau [5]. 4) 55-Johnny Kent [4]. 5) 4am-Mike Goodman [3]. 6) 53-Brett Wilson [6]. 7) 23-Jimmy Taylor [8]. 8) 17-Cody Cole [7].
A1 Machine Shop Heat (8 laps)
1) 15d-Andrew Deal [1]. 2) 5$-Danny Smith [6]. 3) 5x-Matt Sherrell [3]. 4) 7f-Roy Larkin [4], 5) 4x-Robert Sellers [5]. 6) 51m-Kevin Cummings [2]. 7) 20-Richard Barksdale DNS
Car & Fleet Heat (8 laps)
1) 9$-Kyle Clark [2]. 2) 31-Casey Wills [4]. 3) 84-Alex DeCamp [1]. 4) 87f-Sean McClelland [6]. 5) 50z-Zach Chappell [5]. 6) 79-Tim Kent [3]. 7) 22t-Frank Taft [7].
Ameri-Flex Hose & Accessories A-Feature
1) 20s-Sheldon Barksdale [1], 2) 4am-Mike Goodman [12]. 3) 5x-Matt Sherrell [9]. 4) 2w-Whit Gastineu [8]. 5) 4x Robert Sellers [18], 6) 50z-Zach Chappell [13], 7) 9$-Kyle Clark [6]. 8) 1-Layne Himebaugh [7]. 9) 55-Johnny Kent [11]. 10) 53-Brett Wilson [14]. 11) 22t Frank Taft [17]. 12) 79-Tim Kent [15]. 13) 15d-Andrew Deal [2]. 14) 31-Casey Wills [4]. 15) 5$-Danny Smith [3]. 16) 87f-Sean McClelland [5]. 17) 7f-Roy Larkin [20]. 18) 17-Cody Cole [19]. 19) 84-Alex DeCamp [10] 20) 23-Jimmy Taylor [16]. DNS: 51m-Kevin Cummings
Lap Leaders: Sheldon Barksdale 1-30