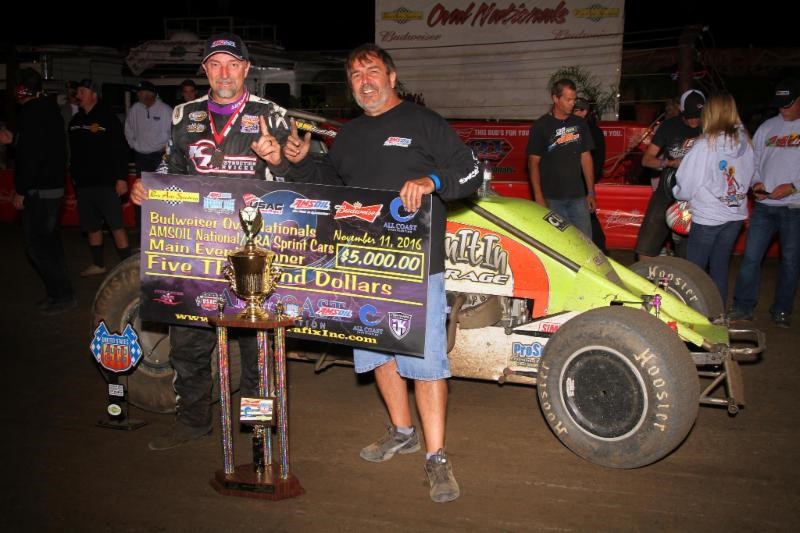 From Richie Murray
PERRIS, Calif. (November 11, 2016) — From the earliest moments of the race, Dave Darland made a commitment to run the top.
Even though it appeared the race was going to become a bottom-feeding procession in the first several laps, the veteran driver blazed his own trail on the cushion as he methodically picked his way through the field to take the lead at the halfway point, then held off a hard-charging Richard Vander Weerd to win his record-extending 59th career USAC AMSOIL National Sprint Car feature on night two of the 21st Budweiser "Oval Nationals" presented by All Coast Construction at southern California's Perris Auto Speedway.
The victory was the Lincoln, Indiana native's first in the series since April at Lawrenceburg (Ind.) Speedway in his Jeff Walker-Curb-Agajanian Racing/Jam-It-In Storage – Hoosier Tire/Maxim/Claxton. In what has, at times, been a trying season for the winningest driver in the history of the USAC National Sprint division, the three-time "Oval Nationals" champ showed he can still get the job done, even when the deck is stacked against him.
"I went to the bottom early," Darland recalled. "I started on the outside and didn't get too good of a start. I was a little bit scared of that cushion to start with, but by the time I got the chance to go to the bottom, I was tenth! I took a chance going up there, but everybody was bottled up around the bottom and not going very fast, so I opted to go to the top and tried to make it work to get a groove going up there. A couple of guys ahead of me went up there and got away from it, so I was up there by myself. It worked out great! I got up there and made my own lane and went by guys when I could."
"Oval Nationals" opening night winner Chad Boespflug began the race from the pole position and immediately sprinted out to a five-car-length lead by the end of the first lap with Brody Roa and Bud Kaeding in tow.
The night's scariest moment occurred on the fourth lap as Kaeding began to slow dramatically in the middle of the racetrack between turns three and four. Flames began to rise out of the cockpit, forcing Kaeding to evacuate through the top of the rollcage. As Kaeding bailed out of his still-moving machine, both of his legs were engulfed in flames. As the tense seconds ticked away, the fire was extinguished and Kaeding managed to walk away from the scene, albeit in discomfort.
By lap seven, several of the frontrunners remained in single-file formation on the bottom of the racetrack. However, Darland led the topside brigade from the seventh position, awakening the upper groove as he worked his way to sixth by lap nine and fifth on lap 12.
On a restart following Ryan Bernal's climb of the wall on lap 14, the top-four all stuck to the bottom, but not Darland. The 1999 USAC National Sprint Car titlist rode the cushion to rip past Vander Weerd between turns one and two, then outpaced R.J. Johnson off the fourth corner to take third at the stripe.
On lap 15, Darland picked off Roa for second and, one lap later, recorded his fastest lap of the race as he ran down Boespflug to take over the lead, nipping him at the line as the two passed underneath the crossed flags signaling the halfway mark.
Boespflug instantly came right back at Darland with a turn one slider, but Darland stayed on the throttle and narrowly escaped between the concrete and Boespflug's right side wheels to retain the race lead.
Boespflug migrated to the top and stayed within reach of Darland with less than ten to go while Vander Weerd worked the low groove in the third position.
On lap 25, though, Boespflug's race came to a crashing halt after tagging the wall at the exit of turn two, sending him tumbling down the back straightaway. Fortunately, Boespflug walked away uninjured from his battered racecar.
With six laps remaining and the half-mile dirt oval slicked off and widened out from the berm to the concrete wall, it was a tale of two strategies at play with Darland holding steady on the top and Vander Weerd alternating between the top and bottom lines.
The two ran wheel-to-wheel on the first lap following the restart with Darland able to cling to the lead by the smallest of margins. Vander Weerd made a run at him at the entrance of turn one on the 26th lap, but slid up through the middle of the racetrack and over the turn cushion, disrupting his charge to the front for the time being.
However, Vander Weerd came right back at Darland, running as low as possible through the third and fourth turns with the front wheels scraping the top of the berm with Darland in his crosshairs.
Meanwhile, USAC National Sprint point leader Brady Bacon entered the fray, poking his nose underneath Darland and Vander Weerd on the bottom entering turn one.
As Darland and Vander Weerd received the white flag separated by a mere half-car-length, the two ran nose-to-tail on the outside entering the first turn with Bacon on the inside. Vander Weerd ducked to the bottom in turn three for one last try on the final lap, but Darland kept his foot in it and used the momentum to propel himself to the victory by a single car length over Vander Weerd with Bacon a car length back of Vander Weerd in third.
Visalia, California's Richard Vander Weerd just narrowly missed his first career USAC National victory, taking second in his Ron Vander Weerd/Vander Weerd Construction – Stone Gate Development/Maxim/Shark.
"We were all running the bottom at the beginning," Vander Weerd explains. "It was too scary to jump to the top. You definitely want to wait until the bottom slows down a little bit before you jump to the top. Darland went to the top first and we went there second. Darland and I went side-by-side there with about three or four laps to go. I didn't have enough momentum and I knew that if I slid him, it probably wouldn't have been clean, so I just backed out of it, followed him and waited until the last lap. I knew if I was going to win, I had to hit my marks just perfect. We didn't make that corner perfect on the last lap and he got the win."
Brady Bacon of Broken Arrow, Oklahoma grabbed his second-straight third place result at Perris in as many nights in his Dynamics, Inc./Mean Green – Lykins Oil/Triple X/Williams Mopar.
"Our weakness has been starting back in the pack," Bacon admits. "We started 12th last night and 14th tonight. Fortunately, we put ourselves in a position that we don't have to start that far back on Saturday. We've had a really good car both nights. Hopefully, we can just keep it underneath us and get 40 good laps tomorrow."
"We were pretty good on the bottom, but there was just always someone there," Bacon said. "We just had to go where the guy in front of us wasn't. That's why it took us a little while to get going. We were jammed up in the back and there wasn't a place for me to go. Finally, it got slick enough that guys in front of me were messing up. Then, we could sneak around them on the bottom. It got pretty technical there at the end. If I would've ran the last three laps perfect, I might've been able to pull it off, but it was just so slick down there and the window was so small. We put ourselves in a position to win at the end despite being handicapped a bit at the beginning. That's what you have to do in these point accumulation deals; you just have to make the most of what's given to you and try not to mess up too bad."
Contingency award winners Friday night at Perris Auto Speedway included Jake Swanson (ProSource/Woodland Auto Display Fast Qualifier), Hunter Schuerenberg (Simpson Race Products/Extreme Mufflers First Heat Winner), Chris Windom (Competition Suspension, Inc. (CSI)/DJ Safety Second Heat Winner), A.J. Bender (Benic Enterprises/Circle Track Performance Third Heat Winner), Kevin Thomas, Jr. (Indy Race Parts/Stand 21 Racer Goes Safer Foundation Fourth Heat Winner), Brady Bacon (Keizer Aluminum Wheels Fifth Heat Winner and KSE Racing Products/BR Motorsports/King Racing Products Hard Charger), Ryan Bernal (Brown & Miler Racing Solutions Semi Winner) and Josh Hodges (Wilwood Brakes 13th Place Feature Finisher).
—————————————————————————
USAC AMSOIL NATIONAL & CRA SPRINT CAR RACE RESULTS: November 11, 2016 – Perris, California – Perris Auto Speedway – 21st Budweiser "Oval Nationals" presented by All Coast Construction
PROSOURCE/WOODLAND AUTO DISPLAY QUALIFYING: 1. Jake Swanson, 92, Sertich-16.417; 2. Damion Gardner, 4, Alexander-16.484; 3. Chase Stockon, 32, 32 TBI-16.630; 4. Carson Macedo, 42, Cheney-16.764; 5. Bud Kaeding, 16, Martin-16.810; 6. Brody Roa, 91R, BR-16.844; 7. Chad Boespflug, 98E, NineEight/EZR-16.853; 8. R.J. Johnson, 51, Martin-16.872; 9. Dave Darland, 11, Walker/Curb-Agajanian-16.942; 10. Richard Vander Weerd, 10, Vander Weerd-16.997; 11. C.J. Leary, 30, Leary-17.003; 12. Chris Windom, 5, Baldwin-17.004; 13. Jon Stanbrough, 81, Stanbrough-17.016; 14. Joe Stornetta, 3T, Finkenbinder-17.037; 15. Brady Bacon, 69, Dynamics-17.045; 16. Danny Faria, Jr., 17v, Faria-17.060; 17. Mike Spencer, 4s, Gansen-17.092; 18. Austin Williams, 2, Jory-17.140; 19. Kevin Thomas, Jr., 1, Ballou-17.159; 20. Ryan Bernal, 56, Phulps-17.165; 21. Hunter Schuerenberg, 19, Reinbold/Underwood-17.177; 22. Josh Hodges, 17, McGhee-17.267; 23. Logan Williams, 5w, Jory-17.279; 24. Parker Colston, 64, Gore-17.322; 25. Thomas Meseraull, 42x, Bates-17.381; 26. Aaron Farney, 17GP, Dutcher-17.421; 27. Tommy Malcolm, 5x, Napier-17.445; 28. A.J. Bender, 21, Bender-17.448; 29. Cody Williams, 44, Jory-17.455; 30. Max Adams, 5m, Adams-17.468; 31. Colton Slack, 3F, Finkenbinder-17.494; 32. Isaac Chapple, 52, LNR-17.623; 33. Jeremy Ellertson, 98, Ellertson-17.656; 34. Bret Mellenberndt, 97, Mellenberndt-17.764; 35. Kyle Edwards, 39E, Edwards-17.804; 36. Cody Majors, 81x, Watt-17.867; 37. Randy Waitman, Y69, Waitman-17.873; 38. Verne Sweeney, 98v, Tracy-17.917; 39. Troy Rutherford, 4D, Gansen-17.937; 40. Eddie Tafoya, 51T, Tafoya-18.160; 41. Anthony Lopiccolo, 36, Springstead-18.188; 42. Chris Gansen, 4G, Gansen-18.314; 43. Matt McCarthy, 55, McCarthy-18.383; 44. Austin Liggett, 83, Liggett-NT.
SIMPSON RACE PRODUCTS/EXTREME MUFFLERS FIRST HEAT: (10 laps) 1. Schuerenberg, 2. Leary, 3. Swanson, 4. Roa, 5. Farney, 6. Slack, 7. Lopiccolo, 8. Majors, 9. Faria. NT
COMPETITION SUSPENSION (CSI)/DJ SAFETY SECOND HEAT: (10 laps) 1. Windom, 2. Boespflug, 3. Hodges, 4. Gardner, 5. Chapple, 6. Gansen, 7. Waitman, 8. Spencer, 9. Malcolm. NT
BENIC ENTERPRISES/CIRCLE TRACK PERFORMANCE THIRD HEAT: (10 laps) 1. Bender, 2. Stockon, 3. L. Williams, 4. Stanbrough, 5. Johnson, 6. A. Williams, 7. Sweeney, 8. McCarthy, 9. Ellertson. 2:55.31
INDY RACE PARTS/STAND 21 RACER GOES SAFER FOUNDATION FOURTH HEAT: (10 laps) 1. Thomas, 2. Darland, 3. Stornetta, 4. Liggett, 5. Rutherford, 6. Colston, 7. Macedo, 8. Mellenberndt, 9. C. Williams. NT
KEIZER ALUMINUM WHEELS FIFTH HEAT: (10 laps) 1. Bacon, 2. Meseraull, 3. Vander Weerd, 4. Kaeding, 5. Adams, 6. Bernal, 7. Edwards, 8. Tafoya. 2:53.01
BROWN & MILLER RACING SOLUTIONS SEMI: (12 laps) 1. Bernal, 2. Johnson, 3. Spencer, 4. Faria, 5. A. Williams, 6. Farney, 7. Adams, 8. Chapple, 9. Edwards, 10. Mellenberndt, 11. Majors, 12. Gansen, 13. Waitman, 14. Sweeney, 15. Tafoya, 16. Lopiccolo, 17. McCarthy, 18. Macedo, 19. Rutherford, 20. Colston, 21. Malcolm, 22. Slack, 23. Ellertson. NT
EVELYN PRATT FEATURE: (30 laps) 1. Dave Darland, 2. Richard Vander Weerd, 3. Brady Bacon, 4. Chris Windom, 5. Brody Roa, 6. C.J. Leary, 7. Chase Stockon, 8. Damion Gardner, 9. Kevin Thomas, Jr., 10. Jon Stanbrough, 11. R.J. Johnson, 12. Joe Stornetta, 13. Josh Hodges, 14. Thomas Meseraull, 15. Ryan Bernal, 16. Jake Swanson, 17. A.J. Bender, 18. Hunter Schuerenberg, 19. Austin Williams, 20. Logan Williams, 21. Austin Liggett, 22. Chad Boespflug, 23. Mike Spencer, 24. Danny Faria, Jr., 25. Max Adams, 26. Bud Kaeding. NT
—————————-
**Macedo flipped during the fourth heat. Boespflug flipped on lap 25 of the feature.
FEATURE LAP LEADERS: Laps 1-15 Boespflug, Laps 16-30 Darland.
KSE RACING PRODUCTS/BR MOTORSPORTS/KING RACING PRODUCTS HARD CHARGER: Brady Bacon (14th to 3rd)
NEW USAC AMSOIL SPRINT CAR NATIONAL CHAMPIONSHIP POINTS: 1-Bacon-2618, 2-Stockon-2316, 3-Darland-2202, 4-Windom-2159, 5-Meseraull-2143, 6-Boespflug-2106, 7-Leary-2015, 8-Robert Ballou-1919, 9-Thomas-1378, 10-Farney-1360.
NEW USAC/CRA AMSOIL SPRINT CAR CHAMPIONSHIP POINTS: 1-D. Gardner-1575, 2-Vander Weerd-1409, 3-Swanson-1291, 4-Roa-1281, 5-A. Williams-1215, 6-Spencer-1028, 7-Adams-915, 8-L. Williams-801, 9-C. Williams-749, 10-Gansen-698.
NEXT USAC AMSOIL NATIONAL & CRA SPRINT CAR CHAMPIONSHIP RACE: November 12 – Perris, California – Perris Auto Speedway – 21st Annual Budweiser "Oval Nationals"