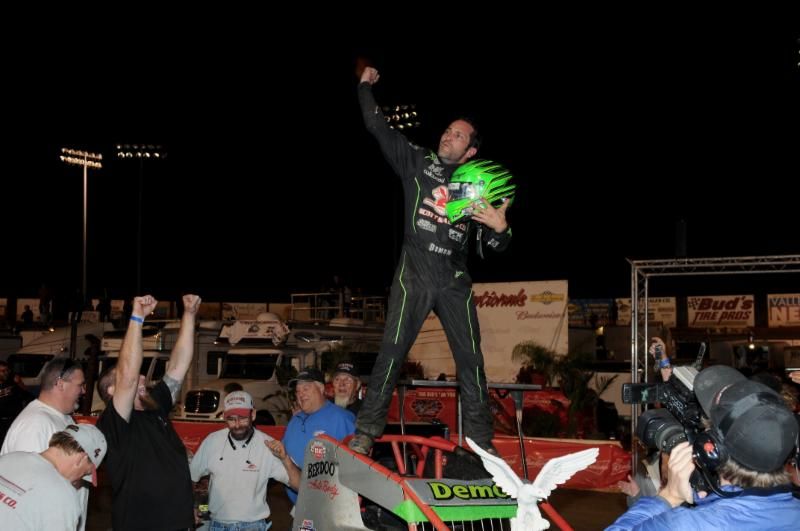 From Richie Murray
PERRIS, Calif. (November 12, 2016) — On a night in which he had been awarded the hardware of a hard-earned USAC/CRA AMSOIL Sprint Car season title, Damion Gardner collected the biggest single-night reward of his championship season – a $25,000 check and the addition of his name to the list of the only three-time winners in the 21-year history of the Budweiser "Oval Nationals" presented by All Coast Construction at Perris Auto Speedway.
Gardner, of Concord, California, trailed for all of one half-straightaway Saturday night before retaking the lead from Richard Vander Weerd on the back straightaway with 13 laps remaining and cruising to a one-second victory in his Mark Alexander/Scott Sales Company – Weld Racing/Spike/J & D.
Gardner, who also won in 2009 and 2011, joined Bud Kaeding and Dave Darland as the only drivers to capture an "Oval Nationals" crown for a third-time in the richest dirt-track race in the state of California. Furthermore, Gardner kept the Eagle trophy in the hands of a USAC/CRA regular for the first time since Mike Spencer in 2012.
"We worked together really well tonight," Gardner said. "We made some big decisions tonight and did some different things and, ultimately, that's what won us the race. I looked at the track and knew it was going to be middle/bottom. I just didn't know if the top would come late. I knew it would slow down enough on the bottom that the top would come late, but I just wasn't sure when. It's tough being out front for 40 laps because you just don't know where to go. On the same hand, running second or third is tough when you have one of these guys running out front. Getting to them and getting around them is a tough task. I knew I was pretty fast and I knew it was slowing down, but I was getting really good runs off the corner. They gave me a good car and, everywhere it went, it worked. Mark and Steve (Alexander) always talk about having bad luck at the 'Oval Nationals' and I wanted to be the one to turn it around for them. That meant a lot to me."
Bad luck plagued Gardner throughout the early portion of the USAC/CRA schedule. It wasn't until late August when Gardner finally broke through for his first triumph of the season. Prior to this year's campaign, the latest Gardner has gone through a season as a full-time USAC/CRA competitor before scoring his first win was mid-April of 2013, but despite the setback, Gardner and the Alexanders persevered to win five races in the final two-and-a-half months of the season to take their fourth consecutive series title together as a team.
"Mark and Steve and everybody on the team have stuck together and kept digging," a prideful Gardner said. "It's been a tough season, not because we haven't been fast, but because we've had to go to the back I don't know how many times and it wasn't because of our doings. Maybe a couple of them, but we always managed to fight back and have a decent finish. We missed the first race, but we battled back and those guys stuck with me. I knew we could do it, but to win the championship and the 'Oval Nationals' in one year is huge."
In a battle of supremacy between USAC's CRA and National Sprint Car divisions in the season finales for both series, two west coast regulars – Brody Roa and Gardner – occupied the front row for the highest-paying National event on the USAC calendar.
Gardner got the best of Roa on the opening lap as he used the inside line on the back straight to surge ahead before sliding up in front of Roa at the exit of four to take the top spot.
On the second lap, Roa slapped the concrete with the right-side tires on the back straightaway, scrubbing off enough speed to allow Vander Weerd to get by for second.
Following a lap eight yellow flag for Josh Hodges' contact with the wall between turns one and two, the front of the field settled into a groove in the middle of the racetrack, but Vander Weerd peeked at the topside of turns one and two, nearly making it work to his advantage. Gardner hammered the throttle, pointed his front wheels to the sky and shot out in front of Vander Weerd to retain the lead.
Near the midway point, Gardner and the rest of the front runners met the tail-end of lapped traffic. Second-running Vander Weerd and third-place Roa managed to catch Gardner as he became hung up in the gridlock. But, on lap 28, Vander Weerd slipped under Gardner between the first and second turn to spurt to the lead. Gardner instantly countered to the inside of Vander Weerd off turn two to blast back to the front of the pack.
Lappers continued to be a bear, but a lap 33 caution for the slowing car of Chris Gansen gave the front of the field a clear sight ahead for the eight-lap shootout to the finish. However, Gardner could not be contained in the final laps as he distanced himself from second-running Vander Weerd. Although, the surging Chris Windom made a late charge on the cushion to spring from fourth to second past Roa and Vander Weerd on the final lap to grab second.
Meanwhile, up ahead, Gardner took the checkered flag for his first USAC National win since 2012 as well as his record-extending 70th career USAC/CRA victory by 1.040 seconds over Windom, Vander Weerd, Roa and 2016 USAC AMSOIL National Sprint Car champion Brady Bacon.
Damion Gardner celebrates in victory lane after winning Saturday night's "Oval Nationals" at Perris – his 70th career USAC/CRA AMSOIL Sprint Car victory and his first USAC National Sprint victory since Port Royal (PA) Speedway in 2012.
(MIKE GROSSWENDT PHOTO)
Chris Windom, of Canton, Illinois, took the runner-up spot in his Baldwin Brothers Racing/Fox Paving – AMSOIL/DRC/Claxton Mopar, finishing off a historic run of results that never saw him finish outside the top-six in any USAC National points-paying race through the last four months of the season.
"I found that line late," Windom admits. "I wish I would've found it a few laps sooner; I think we might've had a shot at it at the end. But Derek Claxton is the best crew chief in the country. He works his butt off every night and so does Billy (Grace). We've been rolling the last half of the year really well. It's unfortunate the season's over; I'd like to keep it going. We'll start back up strong going into Florida next year."
Visalia, California's Richard Vander Weerd led briefly coming out of turn two on lap 28, but in the end, settled for a solid third-place run to follow up Friday night's runner-up finish in his Ron Vander Weerd/Vander Weerd Construction – Stone Gate Development/Maxim/Shark.
"I knew we were in a tough position and I knew it was going to be a hard track to pass on," Vander Weerd explained. "We were able to get to second right at the start. Brody (Roa) pushed a little bit on the first corner and we got around him and then Brady (Bacon) and that got us into second. We just followed Damion (Gardner) for most of the first 30 laps, then I got underneath him and he crossed me back over coming off the top of the corner. He had a little more speed down the back straightaway and he got back underneath me, but I knew lapped traffic would come into play and I knew that was the only way we were going to get back by him. We stayed right with him, but those yellows hurt us. We just got so tight toward the end and, on the last lap, I could hear somebody coming behind me. I thought Chris (Windom) was coming on the inside, but I guess he was running the top. He got me right there at the line. But a third-place finish in the 'Oval Nationals' is awesome!"
Contingency award winners Saturday night at Perris Auto Speedway included Bud Kaeding (ProSource/Woodland Auto Display Fast Qualifier), Chase Stockon (Simpson Race Products/Extreme Mufflers First Heat Winner), Chad Boespflug (Competition Suspension, Inc. (CSI)/DJ Safety Second Heat Winner), Joe Stornetta (Benic Enterprises/Circle Track Performance Third Heat Winner and Wilwood Brakes 13th Place Feature Finisher), Jon Stanbrough (Indy Race Parts/Stand 21 Racer Goes Safer Foundation Fourth Heat Winner), Brody Roa (Keizer Aluminum Wheels Super Six Dash Winner), Kevin Thomas, Jr. and Jake Swanson (Brown & Miler Racing Solutions Semi Winners) and Austin Williams (KSE Racing Products/BR Motorsports/King Racing Products Hard Charger).
—————————————————————————
USAC AMSOIL NATIONAL & CRA SPRINT CAR RACE RESULTS: November 12, 2016 – Perris, California – Perris Auto Speedway – 21st Budweiser "Oval Nationals" presented by All Coast Construction
PROSOURCE/WOODLAND AUTO DISPLAY QUALIFYING: (Top 6 in points excluded – No Points) 1. Bud Kaeding, 16, Martin-16.587; 2. Austin Williams, 2, Jory-16.634; 3. Josh Hodges, 17, McGhee-16.645; 4. C.J. Leary, 30, Leary-16.665; 5. Kevin Thomas, Jr., 1, Ballou-16.754; 6. Mike Spencer, 4s, Gansen-16.768; 7. Hunter Schuerenberg, 19, Reinbold/Underwood-16.810; 8. Jake Swanson, 92, Sertich-16.851; 9. Chase Stockon, 32, 32 TBI-16.881; 10. Chad Boespflug, 98E, NineEight/EZR-16.903; 11. Joe Stornetta, 3T, Finkenbinder-16.921; 12. Danny Faria, Jr., 17v, Faria-16.956; 13. Isaac Chapple, 52, LNR-16.960; 14. R.J. Johnson, 51, Martin-16.967; 15. Colton Slack, 3F, Finkenbinder-16.979; 16. Jon Stanbrough, 81, Stanbrough-16.994; 17. Ryan Bernal, 56, Phulps-17.093; 18. Logan Williams, 5w, Jory-17.141; 19. A.J. Bender, 21, Bender-17.171; 20. Austin Liggett, 83, Liggett-17.191; 21. Tommy Malcolm, 5x, Napier-17.260; 22. Thomas Meseraull, 42x, Bates-17.270; 23. Troy Rutherford, 4D, Gansen-17.273; 24. Cody Williams, 44, Jory-17.318; 25. Carson Macedo, 42, Cheney-17.345; 26. Aaron Farney, 17GP, Dutcher-17.364; 27. Chris Gansen, 4G, Gansen-17.370; 28. Kyle Edwards, 39E, Edwards-17.476; 29. Max Adams, 5m, Adams-17.546; 30. Parker Colston, 64, Gore-17.548; 31. Jeremy Ellertson, 98, Ellertson-17.730; 32. Cody Majors, 81x, Watt-17.763; 33. Verne Sweeney, 98v, Tracy-17.787; 34. Anthony Lopiccolo, 36, Springstead-17.817; 35. Randy Waitman, Y69, Waitman-17.881; 36. Eddie Tafoya, 51T, Tafoya-17.965; 37. Matt McCarthy, 55, McCarthy-18.227.
SIMPSON RACE PRODUCTS/EXTREME MUFFLERS FIRST HEAT: (10 laps) 1. Stockon, 2. Kaeding, 3. Chapple, 4. Bernal, 5. Thomas, 6. Macedo, 7. Adams, 8. Malcolm. NT
COMPETITION SUSPENSION (CSI)/DJ SAFETY SECOND HEAT: (10 laps) 1. Boespflug, 2. Johnson, 3. A. Williams, 4. Spencer, 5. L. Williams, 6. Farney, 7. Colston, 8. Meseraull. NT
BENIC ENTERPRISES/CIRCLE TRACK PERFORMANCE/KEIZER ALUMINUM WHEELS THIRD HEAT: (10 laps) 1. Stornetta, 2. Schuerenberg, 3. Hodges, 4. Rutherford, 5. Gansen, 6. Bender, 7. Slack, 8. Ellertson. NT
INDY RACE PARTS/STAND 21 RACER GOES SAFER FOUNDATION FOURTH HEAT: (10 laps) 1. Stanbrough, 2. Leary, 3. Faria, 4. Swanson, 5. Liggett, 6. Majors, 7. Edwards, 8. C. Williams. 2:54.53
KEIZER ALUMINUM WHEELS SUPER SIX DASH: (6 laps) 1. Roa, 2. Gardner, 3. Bacon, 4. Vander Weerd, 5. Windom, 6. Darland. NT
BROWN & MILLER RACING SOLUTIONS FIRST SEMI: (12 laps) 1. Thomas, 2. Hodges, 3. Bernal, 4. Liggett, 5. Chapple, 6. Farney, 7. L. Williams, 8. Majors, 9. Sweeney, 10. Ellertson, 11. McCarthy, 12. Lopiccolo, 13. Tafoya. NT
BROWN & MILLER RACING SOLUTIONS SECOND SEMI: (12 laps) 1. Swanson, 2. Meseraull, 3. A. Williams, 4. Spencer, 5. Gansen, 6. Malcolm, 7. C. Williams, 8. Slack, 9. Edwards, 10. Rutherford, 11. Waitman, 12. Faria. NT
FEATURE: (40 laps) 1. Damion Gardner, 2. Chris Windom, 3. Richard Vander Weerd, 4. Brody Roa, 5. Brady Bacon, 6. Bud Kaeding, 7. Chad Boespflug, 8. Dave Darland, 9. Chase Stockon, 10. R.J. Johnson, 11. Kevin Thomas, Jr., 12. Austin Williams, 13. Joe Stornetta, 14. Jon Stanbrough, 15. Mike Spencer, 16. Austin Liggett, 17. Jake Swanson, 18. Hunter Schuerenberg, 19. Isaac Chapple, 20. Chris Gansen, 21. Aaron Farney, 22. C.J. Leary, 23. Thomas Meseraull, 24. Logan Williams, 25. Max Adams, 26. Josh Hodges, 27. Ryan Bernal. NT
—————————-
**Macedo and Adams flipped during the first heat. Slack flipped during the third heat. Tafoya flipped during the first semi. Faria flipped during the second semi. Bernal flipped on lap 5 of the feature.
FEATURE LAP LEADERS: Laps 1-40 Gardner.
KSE RACING PRODUCTS/BR MOTORSPORTS/KING RACING PRODUCTS HARD CHARGER: Austin Williams (20th to 12th)
FINAL USAC AMSOIL SPRINT CAR NATIONAL CHAMPIONSHIP POINTS: 1-Bacon-2676, 2-Stockon-2362, 3-Darland-2251, 4-Windom-2226, 5-Meseraull-2166, 6-Boespflug-2158, 7-Leary-2038, 8-Robert Ballou-1919, 9-Thomas-1419, 10-Farney-1383.
FINAL USAC/CRA AMSOIL SPRINT CAR CHAMPIONSHIP POINTS: 1-D. Gardner-1645, 2-Vander Weerd-1473, 3-Roa-1342, 4-Swanson-1320, 5-A. Williams-1254, 6-Spencer-1061, 7-Adams-938, 8-L. Williams-824, 9-C. Williams-759, 10-Gansen-721.
USAC LINKS
Visit USAC's official website at www.USACracing.com
Follow USAC on Twitter at www.twitter.com/usacnation
Like USAC on Facebook at www.facebook.com/usacracing
Be sure to like the USAC page on Instagram at www.instagram.com/usacnation
Subscribe to www.loudpedal.tv to view replays of this year's races as well as historical USAC action from the past.
CONTACTS
Richie Murray | richie@usacracing.com
United States Auto Club
4910 West 16th Street | Speedway, Indiana | 46224
(317) 247-5151 | www.usacracing.com