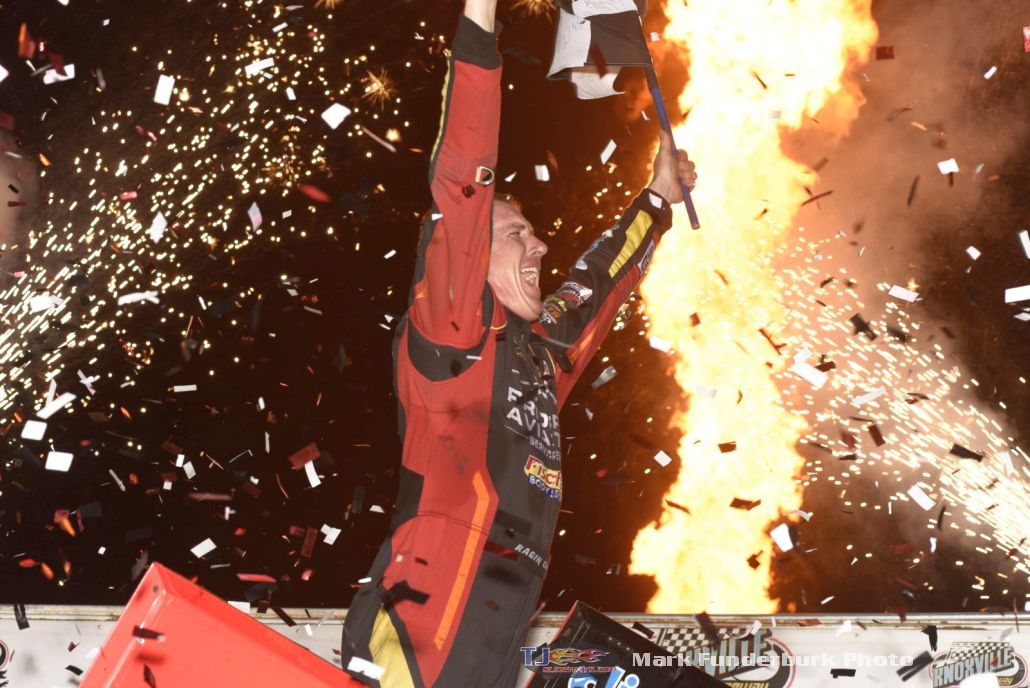 From Lonnie Wheatley
NOBLESVILLE, Ind. (December 7, 2016) – The Clauson-Marshall Racing team for next January's Chili Bowl Nationals in Tulsa, OK, continues to come together as it was announced that reigning Knoxville Nationals champion Jason Johnson will be among the "Dream Team" that Bryan Clauson had envisioned.
This August, "The Ragin' Cajun" from Eunice, LA, denied Donny Schatz a sixth consecutive Knoxville Nationals crown in a dramatic finish. Schatz has already been announced as a Clauson-Marshall rep for the Chili Bowl along with Ricky Stenhouse, Jr., and Tyler Courtney.
"I am delighted for this opportunity to be a part of the initial Clauson-Marshall Racing Chili Bowl campaign with more determination to represent Bryan Clauson in many fashions, beyond just on the racetrack," Johnson commented.
It's a partnership that was unknowingly triggered nearly three years ago when Stenhouse, Jr., introduced Johnson to Richard and Jennifer Marshall at the 2014 Chili Bowl.
"We subsequently dipped our toes in the water with sponsoring Jason's ASCS Sprint Car program," Richard Marshall explained. "I was immediately impressed with his diehard work ethic and attention to detail."
Johnson went on to a fifth consecutive ASCS title that year including his fourth overall as a driver and the decision was made. "We agreed that the World of Outlaws was a logical next step," Marshall says.
Johnson broke his back early in his rookie campaign, but that didn't slow the team.
"Jason kept the team running with an even more focused, diehard attitude," Marshall recalls. "Never ending improvement was the daily goal. I suddenly realized I was getting a front row seat to the how big races and championship wins are earned."
Marshall watched on in elation as Johnson carry the Priority Aviation colors to victory lane at this year's Knoxville Nationals.
"Jason's fight back to contention as a driver/owner, building to his Knoxville Nationals win this summer was the kind of stuff that book are written about," Marshall comments. "To say that Jason has earned a seat on BC's Dream Team is an understatement. I am proud to call Jason a friend and even more proud to see him continue his momentum in our car."
Team co-owner Tim Clauson has known Johnson casually for several years, but it wasn't until this year's Knoxville Nationals that Tim, "Got to know Jason the person as well as Jason the racer."
Convinced by wife Diana to get out of the house on Saturday night of the Nationals, Tim agreed upon dinner with friends. But only on one condition; they had to watch the Knoxville Nationals, even if racing wasn't really the friends' big interest.
"As we watched driver intros, our friends made note of how one of the drivers had a BC Forever hat and had the same sponsor on the car – Priority Aviation," Tim Clauson recalls.
That car piloted by Jason Johnson went on to the memorable win.
"After the race I called my friend and partner Richard who is also a partner in the No. 41 JJR team to wish him congrats," Clauson says. "He immediately handed the phone to Jason, who in the middle of his biggest moment and with pure chaos going on all around him, stopped for just a minute and had one of the most heartfelt conversations with me that will stay between him and I."
"Someone has a picture of him leaning on the trophy and him on the phone while pandemonium went on around him," Clauson continues. "I will never be able to thank him enough for that moment, but if you see the picture, you can feel the emotion."
Clauson goes on to say that, "Since that night, I have learned we have a lot more in common than just wanting to win races and we look so forward to having him as a part of BC's Dream Team."
Already an established Sprint Car ace, Johnson made his first Chili Bowl start in 2014. It was then that Stenhouse, Jr., introduced him to Richard and Jennifer Marshall, and all was set in motion.
"While carrying the Priority Aviation colors for specific ASCS races in 2014, Richard and Jennifer along with Bobbi and I shared our dream and goals where we all wanted to be in the years to come," Johnson explains of the burgeoning relationship.
"Richard, an inspiring individual to have as a friend, started the motion to pursue our ultimate dream and proceed with stepping up to race with the World of Outlaws," Johnson relates. "In the meantime, Jennifer was supportive of providing an opportunity for myself to join their Priority Aviation Chili Bowl venture of having a four-car team owned by Bryan Clauson for the 2015 Chili Bowl."
The magnitude of the opportunity wasn't lost on the Louisiana native.
"Boy, not only was this a golden opportunity, it was an opportunity of a lifetime to drive for one of the elite Midget teams," Johnson recalls.
It also gave one champion an opportunity to get to know another champion as Johnson worked with Clauson throughout the week.
"Bryan was such a class act to provide pointers all week long along with encouraging words, even though I didn't really set the world on fire," Johnson says.
Johnson's original Chili Bowl in 2014 offered up a moment that will be etched in his memory.
"Bryan won the 2014 Chili Bowl in dominating fashion, and, under the cautions, I would provide him signals we had discussed beforehand," Johnson recalls. "After he pulled off the popular victory, he came down the backstretch pointing up at us standing in the VIP section.
"It's a lifetime memory that will always be close to the heart!" Johnson exclaims.
It's also a connection that has led to his inevitable position among BC's Dream Team.
"Thank you Tim Clauson for the call to be a part of this elite team," Johnson says in appreciation. "And thank you to Richard and Jennifer Marshall for another great Chili Bowl opportunity along with their Priority Aviation Services commitment to JJR."
It's yet another piece of the puzzle that will make the Clauson-Marshall Racing team a "must-see" part of next month's Chili Bowl action at the Tulsa Expo Raceway.
Additional information regarding the Clauson-Marshall Racing team and upcoming Chili Bowl plans will be available in the coming weeks.