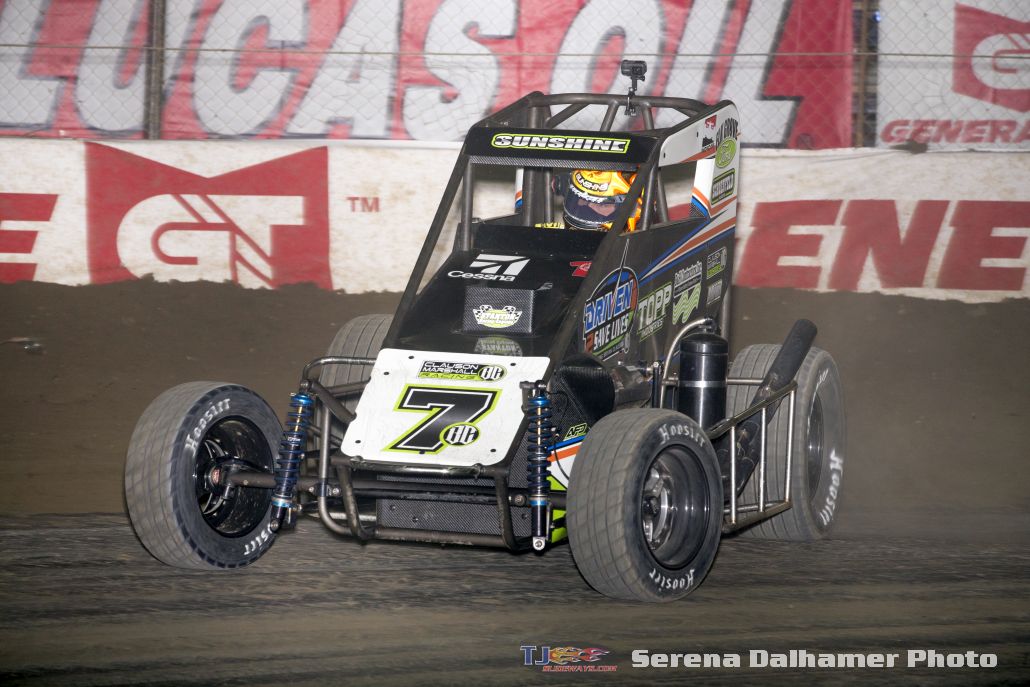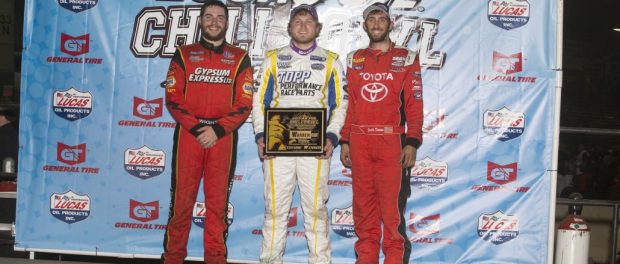 By T.J. Buffenbarger
TULSA, Okla. (January 10, 2017) — Tyler Courtney used to hang around the Clauson family's race shop in hopes of learning to get an opportunity in racing. Tuesday night at the Chili Bowl Nationals Courtney from Indianapolis used that experience to drive an entry for Clauson-Marshall racing to victory lane. Courtney held off multiple challenges from Kyle Larson for the victory.
"Parked it man," were Courtney's first words following his victory as a tribute to the late Bryan Clauson.
"Its pretty special. I've been close to making the show here quite a bit, just never could get it done. Tim (Clauson) Richard and Jennifer (Marshall) and these guys put a heck of a car underneath me," said Courtney following the victory. "The least I could is to come out here and win for them and make them proud."
Tyler Courtney and Mike Hess started on the front row for the 25-lap preliminary feature. Courtney took the lead at the start with Matt Sherrell driving by Hess for the second spot. One lap later Sherrell passed Courtney for the lead. Behind them Larson moved past Hess for the third spot.
After Courtney dropped back to third he regained some momentum and passed Larson and Sherrell to go from third to first on lap six. Larson and Sherrell continued to race side by side for second until Larson took the spot. Sherell then found himself shuffled back to fourth Chase Briscoe drove by on the bottom of the track.
After a caution on lap 12 for Tony Bruce Jr. stopped in turn four Larson kept on Courtney's back bumper. Larson had a run under Courtney on lap 15 going into turn one, but could not make the pass. After a lap 16 caution for debris Larson had another shot at Courtney, but could not make the pass.
After a pair of cautions bunched the field up again Larson got a run under Courtney for the lead, but could not make the pass. Behind them Larry Wight moved up to the third spot around Briscoe.
The battle for the lead headed up on lap 17 when Larson and Courtney exchanged slide jobs in turn three. This came to an end when Larson got sideways with Larson got two high in turn three and ended up upside down, collecting Matt Westfall in the process. Westfall's car sustained heavy damage while Larson went to the work area.
"I was not expecting to see (Larson) there spun around," said Courtney. "It is what it is. He's come back from further than where he's going to be, so he's still going to be one of the guys to beat on Saturday."
With eight laps to go Courtney pulled away from Wight and 2016's Tuesday feature winner Alex Bright. With four laps to go Bright found himself under fire from Zac Daum for the final transfer spot into Saturday's A-Main. Daum drove around the top of Bright for third on lap 22.
Up front though Courtney pulled away for the feature win. Wight held onto second to lock himself into Saturday's feature in only his second start in a midget. Daum claimed the third and final spot to lock into Saturday's feature. Bright and Jonathan Beason rounded out the top five.
31st Annual Chili Bowl Nationals
Warren CAT Qualifying Night
River Spirit Exposition Center
Tulsa, OK
Tuesday January 10, 2017
Heat Race #1 (8 Laps): 1. 37T – Seth Bergman [2]; 2. 14W – Matt Westfall [1]; 3. 0A – Aaron Schuck [4]; 4. 93 – Dustin Morgan [5]; 5. 7S – Pat Schudy [7]; 6. 17G – Dustin Golobic [8]; 7. 05 – Brad Loyet [9]; 8. 03 – Shayle Bade [3]; 9. (DNF) 7SS – Wade Seiler [6]
Heat Race #2 (8 Laps): 1. 77 – Alex Bright [1]; 2. 5H – Aaron Reutzel [3]; 3. 15X – Mason Moore [6]; 4. 66 – Kevin Thomas Jr [9]; 5. 92L – Austin Lambert [2]; 6. 25P – Dylan Peterson [4]; 7. (DNF) 77U – Chris Urish [8]; 8. (DNF) 21T – Ty Hulsey [7]; 9. (DNF) 777 – Bailey Huges [5]
Heat Race #3 (8 Laps): 1. 18 – Tony Bruce Jr [3]; 2. 9$ – Kyle Clark [6]; 3. 99W – Larry Wight [5]; 4. 4R – Ryan Greth [8]; 5. 7AB – Austin Brown [1]; 6. 11F – Floyd Alvis [4]; 7. 3 – Jake Neal [7]; 8. (DNF) 6A – Ray Seach [2]
Heat Race #4 (8 Laps): 1. 8J – Jonathan Beason [4]; 2. 71R – Nick Chivello [2]; 3. 33K – Kyle Offill [3]; 4. 1K – Brayton Lynch [5]; 5. 0G – Glenn Styres [7]; 6. 7W – Scott Walton [6]; 7. (DNF) 7U – Joe B. Miller [1]; (DNS) 5J – Jeff Crook
Heat Race #5 (8 Laps): 1. 3H – Mike Hess [2]; 2. 71K – Kyle Larson [5]; 3. 17E – Blake Edwards [8]; 4. 51J – R.J. Johnson [7]; 5. 9D – Mack DeMan [1]; 6. 77D – Dean Drake Jr [4]; 7. 71WG – Weston Gorham [6]; 8. 14I – Isaac Schreurs [3]
Heat Race #6 (8 Laps): 1. 5D – Zach Daum [1]; 2. 25MP – Michael Pickens [6]; 3. 17K – Michael Koontz [2]; 4. 118 – Scott Evans [8]; 5. 13 – Glen Saville [4]; 6. 16 – Ryan Ruhl [5]; 7. 69B – Bryan Debrick [3]; 8. 15S – Gavin Stout [7]
Heat Race #7 (8 Laps): 1. 7BC – Tyler Courtney [4]; 2. 2ND – Jeb Sessums [3]; 3. 2 – Ryan Hall [2]; 4. 77K – Kevin Olson [1]; 5. 16K – Chris Dyson [5]; 6. 57J – Jake Bubak [8]; 7. 88W – Dustin Weland [6]; 8. 76J – Davey Jones [7]
Heat Race #8 (8 Laps): 1. 78 – Nick Wean [3]; 2. 17 – Joey Saldana [8]; 3. 4H – Tom Harris [7]; 4. 45J – C.J. Johnson [1]; 5. 46 – Kenney Johnson [4]; 6. 9U – Doug McCune [2]; 7. 7RS – Merril Lamb [6]; 8. (DNF) 27MK – Kyle Keeler [5]
Heat Race #9 (8 Laps): 1. 35 – Matt Sherrell [3]; 2. 44X – Wesley Smith [5]; 3. 97K – Spencer Bayston [8]; 4. 99P – Dillon Welch [6]; 5. 74 – Zach Merritt [1]; 6. 72 – Cameron Hagin [7]; 7. 0B – Ross Wece [4]; 8. 56V – Matt Veatch [2]
Heat Race #10 (8 Laps): 1. 82M – Steven Shebester [2]; 2. 5CB – Chase Briscoe [4]; 3. 1PW – Paul White [1]; 4. 71D – Domain Ramsay [6]; 5. 91S – Klint Simpson [8]; 6. 11J – Justin Melton [5]; 7. (DNF) 7AU – Lee Redmond [7]; 8. (DNF) 30T – Larry Bratti [3]
Heat Race #11 (8 Laps): 1. 67F – Kyle O'Gara [1]; 2. 91A – Chris Andrews [3]; 3. 2S – Travis Scott [7]; 4. 5BB – Bobby Brewer [2]; 5. 3CC – Raven Culp [8]; 6. 13JR – Koty Adams [4]; 7. 7CH – Brandon Matus [6]; 8. 2M – Austin Odell [5]
D Feature #1 (10 Laps, Taking Top 2): 1. 71WG – Weston Gorham [2]; 2. 3 – Jake Neal [1]; 3. 21T – Ty Hulsey [4]; 4. 76J – Davey Jones [5]; 5. 56V – Matt Veatch [8]; 6. 03 – Shayle Bade [6]; 7. 7RS – Merril Lamb [3]; 8. 30T – Larry Bratti [7]; (DNS) 0B – Ross Wece; (DNS) 27MK – Kyle Keeler; (DNS) 777 – Bailey Huges
D Feature #2 (10 Laps, Taking Top 2): 1. 7AU – Lee Redmond [1]; 2. 2M – Austin Odell [7]; 3. 88W – Dustin Weland [2]; 4. 7CH – Brandon Matus [3]; 5. 6A – Ray Seach [9]; 6. 14I – Isaac Schreurs [8]; 7. 7SS – Wade Seiler [10]; 8. (DNF) 7U – Joe B. Miller [6]; 9. (DNF) 15S – Gavin Stout [5]; 10. (DNF) 69B – Bryan Debrick [4]; (DNS) 5J – Jeff Crook
C Feature #1 (12 Laps, Taking Top 4): 1. 05 – Brad Loyet [8]; 2. 0G – Glenn Styres [3]; 3. 77U – Chris Urish [12]; 4. 46 – Kenney Johnson [7]; 5. 77K – Kevin Olson [5]; 6. 13JR – Koty Adams [14]; 7. 1PW – Paul White [2]; 8. 71WG – Weston Gorham [15]; 9. 17G – Dustin Golobic [4]; 10. 16K – Chris Dyson [6]; 11. 3 – Jake Neal [16]; 12. 74 – Zach Merritt [10]; 13. (DNF) 11F – Floyd Alvis [13]; 14. (DNF) 7AB – Austin Brown [9]; 15. (DNF) 93 – Dustin Morgan [1]; 16. (DNF) 16 – Ryan Ruhl [11]
C Feature #2 (12 Laps, Taking Top 4): 1. 57J – Jake Bubak [4]; 2. 11J – Justin Melton [11]; 3. 13 – Glen Saville [6]; 4. 9D – Mack DeMan [9]; 5. 45J – C.J. Johnson [5]; 6. 25P – Dylan Peterson [12]; 7. 5BB – Bobby Brewer [3]; 8. 7AU – Lee Redmond [15]; 9. 77D – Dean Drake Jr [13]; 10. 92L – Austin Lambert [8]; 11. 2M – Austin Odell [16]; 12. 9U – Doug McCune [14]; 13. 1K – Brayton Lynch [1]; 14. 7W – Scott Walton [10]; 15. (DNF) 72 – Cameron Hagin [7]; 16. (DNF) 7S – Pat Schudy [2]
Qualifying Race #1 (10 Laps): 1. 82M – Steven Shebester [2]; 2. 77 – Alex Bright [1]; 3. 99W – Larry Wight [8]; 4. 78 – Nick Wean [4]; 5. 4H – Tom Harris [3]; 6. 17 – Joey Saldana [6]; 7. 25MP – Michael Pickens [5]; 8. 118 – Scott Evans [7]; 9. 3CC – Raven Culp [10]; 10. 0A – Aaron Schuck [9]
Qualifying Race #2 (10 Laps): 1. 5D-Zach Daum[1]; 2. 35-Matt Sherrell[4]; 3. 66-Kevin Thomas Jr[2]; 4. 8J-Jonathan Beason[6]; 5. 17E-Blake Edwards[5]; 6. 51J-R.J. Johnson[8]; 7. 5H-Aaron Reutzel[7]; 8. 33K-Kyle Offill[10]; 9. 2S-Travis Scott[3]; 10. 99P-Dillon Welch[9]
Qualifying Race #3 (10 Laps): 1. 5CB-Chase Briscoe[2]; 2. 71K-Kyle Larson[4]; 3. 7BC-Tyler Courtney[6]; 4. 97K-Spencer Bayston[5]; 5. 67F-Kyle O'Gara[1]; 6. 37T-Seth Bergman[3]; 7. 2ND-Jeb Sessums[7]; 8. 71R-Nick Chivello[8]; 9. 17K-Michael Koontz[10]; 10. 71D-Domain Ramsay[9]
Qualifying Race #4 (10 Laps): 1. 3H – Mike Hess [3]; 2. 4R – Ryan Greth [1]; 3. 18 – Tony Bruce Jr [5]; 4. 14W – Matt Westfall [8]; 5. 44X – Wesley Smith [4]; 6. 91S – Klint Simpson [9]; 7. 91A – Chris Andrews [7]; 8. 2 – Ryan Hall [10]; 9. (DNF) 9$ – Kyle Clark [6]; 10. (DNF) 15X – Mason Moore [2]
B Feature #1 (12 Laps, Taking Top 4): 1. 17 – Joey Saldana [1]; 2. 51J – R.J. Johnson [3]; 3. 44X – Wesley Smith [2]; 4. 05 – Brad Loyet [13]; 5. 2ND – Jeb Sessums [6]; 6. 77U – Chris Urish [15]; 7. 37T – Seth Bergman [5]; 8. 99P – Dillon Welch [12]; 9. 71R – Nick Chivello [9]; 10. 33K – Kyle Offill [8]; 11. 91S – Klint Simpson [4]; 12. 46 – Kenney Johnson [16]; 13. (DNF) 3CC – Raven Culp [10]; 14. (DNF) 0G – Glenn Styres [14]; 15. (DNF) 9$ – Kyle Clark [7]; 16. (DNF) 0A – Aaron Schuck [11]
B Feature 2 (12 Laps, Taking Top 4): 1. 5H – Aaron Reutzel [5]; 2. 25MP – Michael Pickens [3]; 3. 4H – Tom Harris [2]; 4. 17E – Blake Edwards [1]; 5. 118 – Scott Evans [7]; 6. 57J – Jake Bubak [11]; 7. 11J – Justin Melton [14]; 8. 67F – Kyle O'Gara [4]; 9. 2S – Travis Scott [9]; 10. 2 – Ryan Hall [8]; 11. 13 – Glen Saville [13]; 12. 17K – Michael Koontz [10]; 13. 9D – Mack DeMan [15]; 14. 91A – Chris Andrews [6]; 15. 71D – Domain Ramsay [12]; (DNS) 15X – Mason Moore
A Feature (25 Laps): 1. 7BC – Tyler Courtney [1]; 2. 99W – Larry Wight [7]; 3. 5D – Zach Daum [10]; 4. 77 – Alex Bright [12]; 5. 8J – Jonathan Beason [9]; 6. 5CB – Chase Briscoe [6]; 7. 4H – Tom Harris [22]; 8. 82M – Steven Shebester [5]; 9. 35 – Matt Sherrell [3]; 10. 17 – Joey Saldana [17]; 11. 25MP – Michael Pickens [20]; 12. 5H – Aaron Reutzel [18]; 13. 05 – Brad Loyet [23]; 14. 51J – R.J. Johnson [19]; 15. 97K – Spencer Bayston [11]; 16. 66 – Kevin Thomas Jr [16]; 17. 4R – Ryan Greth [13]; 18. 44X – Wesley Smith [21]; 19. 3H – Mike Hess [2]; 20. 78 – Nick Wean [15]; 21. 71K – Kyle Larson [4]; 22. 14W – Matt Westfall [14]; 23. 18 – Tony Bruce Jr [8]; 24. 17E – Blake Edwards [24]