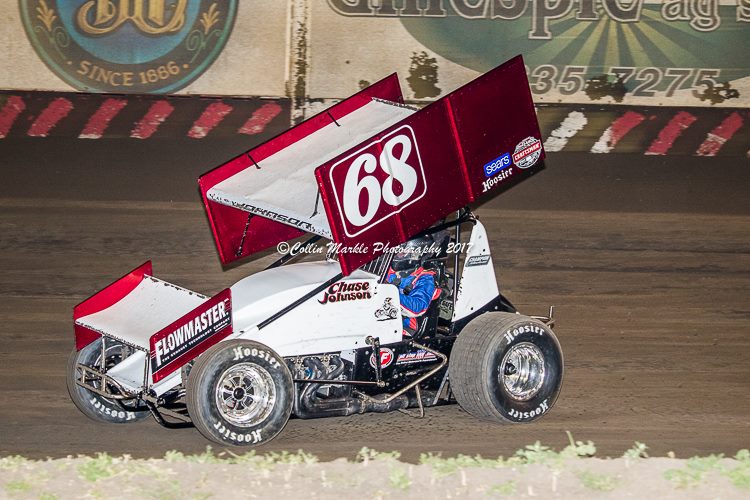 Inside Line Promotions 

BAKERSFIELD, Calif. (April 10, 2017) – Chase Johnson started strong during the inaugural King of the West-NARC Fujitsu Sprint Car Series event at Kern County Raceway Park last Saturday.
Johnson and the Shawn and Cyndi Thomas owned team set quick time and a new track record during qualifying out of the 24 competitors at the bullring.
"It started off really well," Johnson said. "We always like going to a new track, especially when it's new for everyone else. We feel like that's our disadvantage when we show up to one of the regular tracks. These teams and drivers have been around so long and have so much knowledge on these tracks they've been to so many times. When we show up to a new track it's an even playing field and we took advantage.
"The car felt great in hot laps. We made a few minor changes for qualifying and the crew just nailed it. We put it all together and went quick time in qualifying."
Johnson then used a late-race pass to advance from fourth to third place in a heat race to lock into the dash.
"I was running fourth for the majority of the race and with three laps to go I got up to third," he said. "We were gaining on him slowly and were faster. I knew I had to get it done to get in the dash or else our quick time would be wasted."
The dash inversion was a zero, meaning the dash started heads up with Johnson on the pole.
"The dash went well," he said. "We didn't get a great start and we settled into second. We went into the A Main starting on the front row."
Johnson's runner-up result in the dash lined him up on the outside of the front row for the main event.
"Right away I could tell that we were a little on the loose side," he said. "As the track continued to get wider and slicker, we started slowing way down and everyone else was getting faster. We ended up backing up. We were running seventh and I got fed a right rear wheel and ended up getting upside down."
Johnson, who ran second for the first stage of the race, was in seventh place with three laps remaining when another competitor ran into him entering turn three. He got upside down, which ended the night early with an 18th-place finish.
"I want to thank Shawn and Cyndi Thomas as well as the crew for a great car and great opportunity," he said. "It was definitely a night to build on."
Johnson and the team will compete this Saturday at Bakersfield Speedway in Bakersfield, Calif., with the USAC/CRA Sprint Car Series. It will be his first non-wing sprint car race at the track and the first of 11 scheduled non-wing races for the team this season.
QUICK RESULTS –
April 8 – Kern County Raceway Park in Bakersfield, Calif. – Qualifying: 1; Heat race: 3 (4); Dash: 2 (1); Feature: 18 (2).
SEASON STATS –
11 races, 1 win, 3 top fives, 3 top 10s, 3 top 15s, 5 top 20s
UP NEXT –
Saturday at Bakersfield Speedway in Bakersfield, Calif., with the USAC/CRA Sprint Car Series
MEDIA LINKS –
Website: http://www.ChaseJohnsonRacing.com
Twitter: https://twitter.com/ChaseJohnson24
Facebook: https://www.facebook.com/Chase.Johnson.Racing1
APPAREL –
Johnson has No. 68 t-shirts and sweatshirts as well as Chase Johnson shirts for sale at his race trailer at every race he competes in this season. T-shirts are $25 each and hoodies are $35 apiece.
SPONSOR SPOTLIGHT – VanLare Steering Repair
"VSR has supported myself as well as my family for many years," Johnson said. "Jimmy at VSR constantly makes sure that I have a positive feel in my steering for all of my race cars. If your steering box gets broken in a crash or you just want it checked, choose to have VSR repair it and get you back out onto the track quick. Vanlare Steering Repair is well known in the racing business and to carry the VSR name is a privilege."
Johnson would also like to thank Newman Freeman Racing, Johnny Franklin's Mufflers, PitStopUSA, Flowmaster, Woodland NAPA Auto Parts, Wesmar Racing Engines, Bell Helmets, Champion Machine, Swift Metal Finishing, Shifty Illusions, Oroville Cycle and Chevron Pro-Gas for their continued support.
INSIDE LINE PROMOTIONS –
Inside Line Promotions specializes in affordable public relations and media management for motor sports drivers, teams, sponsors, tracks, series, events, organizations and manufacturers. ILP Founder Shawn Miller leverages professional journalism with new media technologies and social networking to improve your exposure and the return on investment for your sponsors.
To meet the media relations needs of your program by joining Team ILP, contact Shawn at 541-510-3663 or Shawn@InsideLinePromotions.com . For more information on Inside Line Promotions, visit http://www.InsideLinePromotions.com.