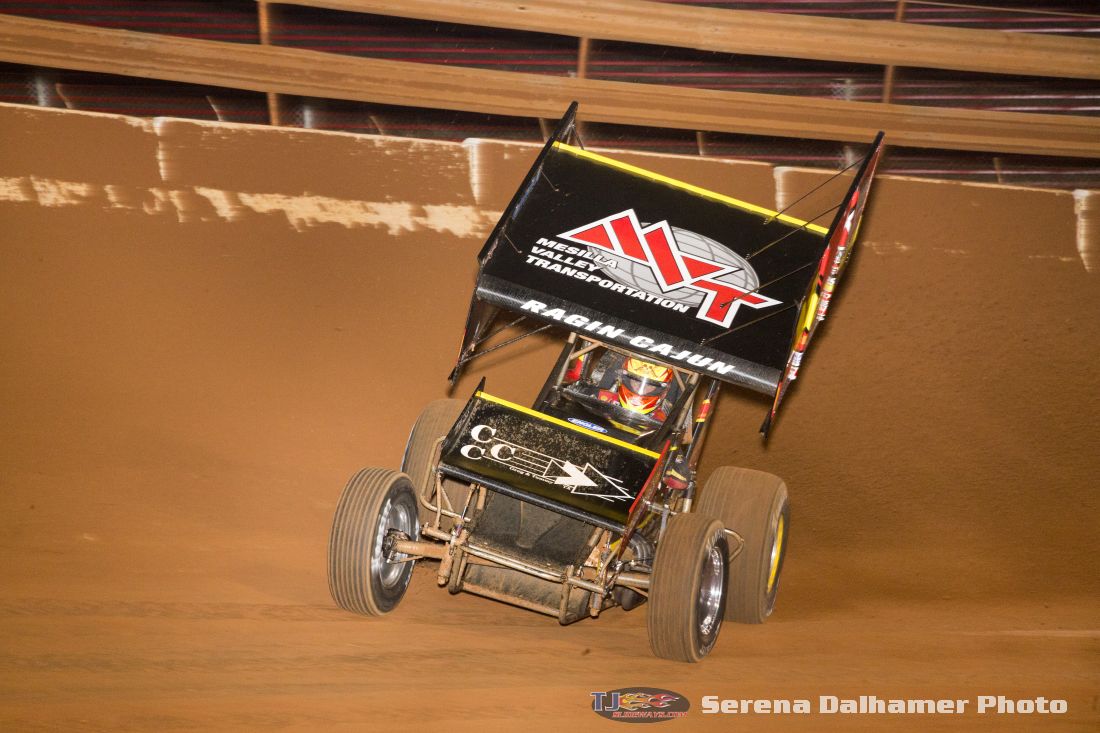 MESQUITE, Tx. (April 15, 2017) – Jason "the Ragin' Cajun" Johnson dominated night one of the Texas Outlaw Nationals at Devil's Bowl Speedway, leading all 25 laps of the evening's Feature after winning the Craftsman Club Dash from the pole and running fastest in qualifying.
"It's one of these nights you always imagine and you dream of," said Johnson from Victory Lane. "We set quicktime, won a heat, won a dash, won a feature. That's a first for me, so hats off to this crew: Jeff, Jacob, Phillip. They're working their tails off, and it's a lot of fun to drive right now," he continued with a chuckle. "It feels great to be back in Victory Lane."
Johnson's second win of the season leaves him fourth in points standings and finally puts a little distance between him and Daryn Pittman. It's also his seventh career series victory, the first one having been at Texas Motor Speedway fourteen years ago.
While Johnson led flag-to-flag, Brad Sweet was patiently working his Napa Auto Parts/ Kasey Kahne Racing No. 49 up from five to make a late-race push for the lead. Running the bottom, he made a pass for second over Jason Sides between turns three and four, but then chose to follow Johnson on the top and came in after him.
"It was a fine line. I moved up to the top a little bit," explained Sweet. "I think if I would have committed to the bottom and hit it a few more times we would have been a lot closer there at the end. Or maybe I would have been able to get in there. But hats off to [Jason Johnson]. He did a great job."
Sides, who had been running second throughout the race, lost steam in the final laps and dropped back to eight, leaving the final podium spot to Logan Schuchart, who had been running in fourth.
Meanwhile, it wasn't a stellar day for the expected superstars on the field. NASCAR stars Tony Stewart and Kasey Kahne came in 22 and 11 respectively, both falling back two spots from their starting positions. And eight-time Series Champion Donny Schatz washed way up the track in the first half of lap one and never fully recovered.
The previous night's winner, David Gravel, managed to work his way up from the back, but it just wasn't enough, leaving him in 14. But last year's night one winner, Joey Saldana barely missed the podium with a fourth place finish.
The World of Outlaws Craftsman Sprint Car Series will return to action tomorrow for the final night of the Texas Outlaw Nationals at Devil's Bowl Speedway in Mesquite, TX.
World of Outlaws Craftsman Sprint Car Series
Devil's Bowl Speedway
Mesquite, TX
Friday April 14, 2017
Feature (25 Laps) – 1. 41-Jason Johnson [1][$8,000]; 2. 49-Brad Sweet [5][$4,000]; 3. 1S-Logan Schuchart [4][$2,500]; 4. 17-Joey Saldana [6][$2,200]; 5. 11K-Kraig Kinser [12][$2,100]; 6. 2-Shane Stewart [8][$2,000]; 7. 9-Daryn Pittman [14][$1,800]; 8. 7S-Jason Sides [2][$1,600]; 9. 19-Brent Marks [11][$1,500]; 10. 33-Danny Lasoski [13][$1,300]; 11. 4K-Kasey Kahne [9][$1,200]; 12. 99-Brady Bacon [17][$1,100]; 13. 2C-Wayne Johnson [7][$1,000]; 14. 5-David Gravel [21][$700]; 15. 4-Paul McMahan [15][$600]; 16. 15-Donny Schatz [10][$600]; 17. 93-Sheldon Haudenschild [22][$600]; 18. 67-Christopher Bell [3][$600]; 19. 82-Cap Henry [23][$600]; 20. 2X-Parker Price-Miller [16][$600]; 21. 81W-Danny Wood [18][$600]; 22. 14-Tony Stewart [20][$600]; 23. 1A-Jacob Allen [19][$600]; 24. 29-Travis Rilat [24][$600]; Lap Leaders: Jason Johnson 1-25; KSE Hard Charger Award: 11K-Kraig Kinser[+7]
Qualifying – 1. 41-Jason Johnson, 13.707; 2. 7S-Jason Sides, 13.78; 3. 67-Christopher Bell, 14.076; 4. 1S-Logan Schuchart, 14.135; 5. 49-Brad Sweet, 14.166; 6. 11K-Kraig Kinser, 14.229; 7. 2C-Wayne Johnson, 14.253; 8. 2-Shane Stewart, 14.263; 9. 17-Joey Saldana, 14.27; 10. 15-Donny Schatz, 14.308; 11. 19-Brent Marks, 14.367; 12. 4K-Kasey Kahne, 14.44; 13. 33-Danny Lasoski, 14.465; 14. 9-Daryn Pittman, 14.479; 15. 13-Clyde Knipp, 14.49; 16. 1A-Jacob Allen, 14.501; 17. 14-Tony Stewart, 14.519; 18. 81W-Danny Wood, 14.52; 19. 2X-Parker Price-Miller, 14.552; 20. 99-Brady Bacon, 14.564; 21. 4-Paul McMahan, 14.584; 22. 5-David Gravel, 14.588; 23. W20-Greg Wilson, 14.612; 24. 82-Cap Henry, 14.686; 25. 93-Sheldon Haudenschild, 14.754; 26. 99T-Skylar Gee, 14.92; 27. 29-Travis Rilat, 15.237; 28. 1X-Gary Taylor, 23.157; 29. 84-Scott Bogucki, 23.278
Heat #1 (8 Laps) – Top 6 Transfer – 1. 41-Jason Johnson [1]; 2. 1S-Logan Schuchart [2]; 3. 2C-Wayne Johnson [3]; 4. 15-Donny Schatz [4]; 5. 33-Danny Lasoski [5]; 6. 2X-Parker Price-Miller [7]; 7. 1A-Jacob Allen [6]; 8. 93-Sheldon Haudenschild [9]; 9. 5-David Gravel [8]; 10. 1X-Gary Taylor [10]
Heat #2 (8 Laps) – Top 6 Transfer – 1. 7S-Jason Sides [1]; 2. 49-Brad Sweet [2]; 3. 2-Shane Stewart [3]; 4. 19-Brent Marks [4]; 5. 9-Daryn Pittman [5]; 6. 99-Brady Bacon [7]; 7. 14-Tony Stewart [6]; 8. W20-Greg Wilson [8]; 9. 99T-Skylar Gee [9]; 10. 84-Scott Bogucki [10]
Heat #3 (8 Laps) – Top 6 Transfer – 1. 67-Christopher Bell [1]; 2. 17-Joey Saldana [3]; 3. 4K-Kasey Kahne [4]; 4. 11K-Kraig Kinser [2]; 5. 4-Paul McMahan [7]; 6. 81W-Danny Wood [6]; 7. 29-Travis Rilat [9]; 8. 82-Cap Henry [8]; 9. 13-Clyde Knipp [5]
Craftsman Club Dash (6 Laps) – 1. 41-Jason Johnson [1]; 2. 7S-Jason Sides [2]; 3. 67-Christopher Bell [3]; 4. 1S-Logan Schuchart [4]; 5. 49-Brad Sweet [5]; 6. 17-Joey Saldana [6]
Last Chance Showdown (12 Laps) – Top 6 Transfer – 1. 1A-Jacob Allen [2][-]; 2. 14-Tony Stewart [3][-]; 3. 5-David Gravel [4][-]; 4. 93-Sheldon Haudenschild [7][-]; 5. 82-Cap Henry [6][-]; 6. 29-Travis Rilat [9][-]; 7. 99T-Skylar Gee [8][$300]; 8. W20-Greg Wilson [5][$250]; 9. 1X-Gary Taylor [10][$225]; 10. 13-Clyde Knipp [1][$200]; 11. 84-Scott Bogucki [11][$200]