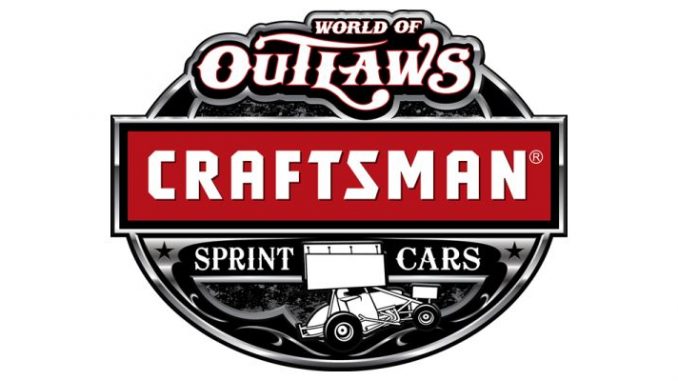 MESQUITE, Tx (April 15, 2017) – For the second night in a row, Brad Sweet worked his Kasey Kahne Racing 49 machine along the bottom of the high-banked half-mile oval at Devil's Bowl Speedway, this time sticking it out for the win. With only five laps to go, Sweet stole the win from David Gravel, who had led all previous laps but was having some trouble getting his CJB Motorsports No. 5 out of lap traffic.
"Awesome race there with David [Gravel]," said Sweet. "Lap traffic was just crucial. My car seemed like it was a little bit better. We were just right on him. Once I got a little clean air I was able to start picking off those lap cars and it felt good."
Gravel had been working on the bottom all race, but he got caught behind Shane Stewart and met his demise when he tried to go high to pass him.
"I cleared a lot of lap cars really good, and then I got to Shane and I just could't do anything with him," said Gravel. "He was running the bottom in 3 and 4. I tried to pass him on the outside, and obviously the bottom of three and four was the best lane to be in. That's where Brad was. That's just the advantage sometimes of sitting back there watching, seeing what happens."
Third through the checkers was Danny "The Dude" Lasoski, who took his position from Christopher Bell early in the race and held it through the checkers. Lasoski, the 2001 World of Outlaws Sprint Car Series Champion, has previous wins at Devil's Bowl in 1999 and 2000. He was also right there at Devil's Bowl Speedway in 1978 for the first-ever World of Outlaws Sprint Car race.
This year's Texas Outlaw Nationals was a tribute to the late Lanny Edwards. A number of superstars – including Tony Stewart, Kasey Kahne, Johnny Rutherford, and Christopher Bell – joined the Outlaws to honor the legendary promoter and World of Outlaws co-founder (along with Ted Johnson).
"Lanny went out on a limb and really got something going that has been pretty spectacular and pretty amazing," said Tony Stewart during the opening ceremony, "and definitely pretty entertaining for all of America to watch."
The opening ceremony continued with World of Outlaws CEO Brian Carter presenting the Ted Johnson Award to the Edwards family in recognition of their outstanding contribution to sprint car racing.
"We really want to recognize all of the people that helped us get to where we are today," said Carter. "We are the World of Outlaws: the fans here, the community, the racers, the teams, everybody here. We are what the World of Outlaws was meant to be 40 years ago. What happened here 40 years ago next year impacts sprint car racing around the world; all were impacted by Ted Johnson and Lanny Edwards."
The World of Outlaws Craftsman Sprint Car Series will return to action Friday, April 21 for the Bull Ring Outlaw Blitz at Riverside International Speedway in West Memphis, AK.
World of Outlaws Craftsman Sprint Car Series
Devil's Bowl Speedway
Mesquite, TX
Saturday April 15, 2017
Feature (30 Laps) – 1. 49-Brad Sweet [4][$20,000]; 2. 5-David Gravel [1][$6,000]; 3. 33-Danny Lasoski [5][$3,750]; 4. 67-Christopher Bell [3][$3,250]; 5. 93-Sheldon Haudenschild [2][$2,750]; 6. 41-Jason Johnson [10][$2,500]; 7. 19-Brent Marks [8][$2,400]; 8. 7S-Jason Sides [7][$2,300]; 9. W20-Greg Wilson [6][$2,200]; 10. 15-Donny Schatz [14][$2,100]; 11. 1S-Logan Schuchart [19][$1,700]; 12. 9-Daryn Pittman [11][$1,400]; 13. 4-Paul McMahan [12][$1,300]; 14. 11K-Kraig Kinser [13][$1,200]; 15. 82-Cap Henry [18][$1,100]; 16. 4K-Kasey Kahne [15][$1,000]; 17. 1A-Jacob Allen [9][$1,000]; 18. 2-Shane Stewart [21][$1,000]; 19. 17-Joey Saldana [16][$1,000]; 20. 2X-Parker Price-Miller [22][$1,000]; 21. 1X-Gary Taylor [23][$1,000]; 22. 14-Tony Stewart [20][$1,000]; 23. 99-Brady Bacon [17][$1,000]; 24. 13-Clyde Knipp [24][$1,000]; Lap Leaders: David Gravel 1-25, Brad Sweet 26-30; KSE Hard Charger Award: 1S-Logan Schuchart[+8]
Qualifying – 1. 7S-Jason Sides, 13.706; 2. 49-Brad Sweet, 13.711; 3. 67-Christopher Bell, 13.714; 4. 33-Danny Lasoski, 13.754; 5. 93-Sheldon Haudenschild, 13.76; 6. 1A-Jacob Allen, 13.784; 7. 11K-Kraig Kinser, 13.789; 8. 19-Brent Marks, 13.79; 9. 5-David Gravel, 13.807; 10. W20-Greg Wilson, 13.82; 11. 9-Daryn Pittman, 13.846; 12. 4K-Kasey Kahne, 13.866; 13. 17-Joey Saldana, 13.919; 14. 15-Donny Schatz, 13.93; 15. 4-Paul McMahan, 13.937; 16. 41-Jason Johnson, 13.937; 17. 99-Brady Bacon, 14.004; 18. 13-Clyde Knipp, 14.008; 19. 1S-Logan Schuchart, 13.968; 20. 14-Tony Stewart, 14.043; 21. 82-Cap Henry, 14.073; 22. 2-Shane Stewart, 14.081; 23. 1X-Gary Taylor, 14.153; 24. 2X-Parker Price-Miller, 14.225; 25. 81W-Danny Wood, 14.354; 26. 12W-Dale Wester, NT
Heat #1 (8 Laps) – Top 6 Transfer – 1. 33-Danny Lasoski [2]; 2. W20-Greg Wilson [4]; 3. 7S-Jason Sides [1]; 4. 41-Jason Johnson [6]; 5. 11K-Kraig Kinser [3]; 6. 17-Joey Saldana [5]; 7. 2-Shane Stewart [8]; 8. 1S-Logan Schuchart [7]; 9. 81W-Danny Wood [9]
Heat #2 (8 Laps) – Top 6 Transfer – 1. 49-Brad Sweet [1]; 2. 93-Sheldon Haudenschild [2]; 3. 19-Brent Marks [3]; 4. 9-Daryn Pittman [4]; 5. 15-Donny Schatz [5]; 6. 99-Brady Bacon [6]; 7. 1X-Gary Taylor [8]; 8. 14-Tony Stewart [7]; 9. 12W-Dale Wester [9]
Heat #3 (8 Laps) – Top 6 Transfer – 1. 67-Christopher Bell [1]; 2. 5-David Gravel [3]; 3. 1A-Jacob Allen [2]; 4. 4-Paul McMahan [5]; 5. 4K-Kasey Kahne [4]; 6. 82-Cap Henry [7]; 7. 2X-Parker Price-Miller [8]; 8. 13-Clyde Knipp [6]
Craftsman Club Dash (6 Laps) – 1. 5-David Gravel [1]; 2. 93-Sheldon Haudenschild [2]; 3. 67-Christopher Bell [4]; 4. 49-Brad Sweet [5]; 5. 33-Danny Lasoski [6]; 6. W20-Greg Wilson [3]
Last Chance Showdown (12 Laps) – Top 6 Transfer – 1. 1S-Logan Schuchart [2][-]; 2. 14-Tony Stewart [3][-]; 3. 2-Shane Stewart [4][-]; 4. 2X-Parker Price-Miller [6][-]; 5. 1X-Gary Taylor [5][-]; 6. 13-Clyde Knipp [1][-]; 7. 81W-Danny Wood [7][$300]; 8. 12W-Dale Wester [8][$250]