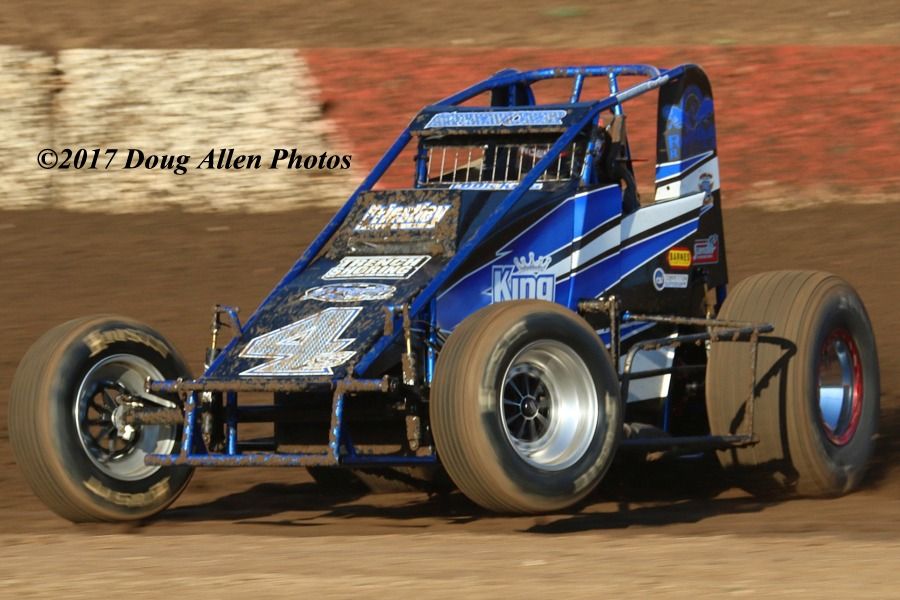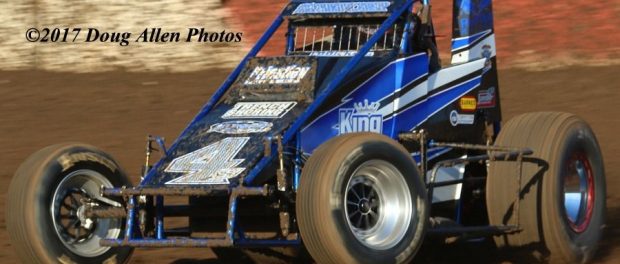 From Lance Jennings
VENTURA, ca. (May 3, 2017) — This Saturday, May 6th, the AMSOIL USAC/CRA Sprint Cars will travel to the Ventura County Fairgrounds and make their only appearance of the year at Ventura Raceway. Promoted by Jim Naylor, the fourth point race will also feature the VRA Senior Sprint Cars and Focus Midgets. The Pit Gates will open at Noon, the Front Gates will open at 3:00pm, with Racing scheduled for 5:30pm at "The Best Little Dirt Track in America."
NOTICE TO USAC/CRA COMPETITORS: The Hoosier 105/16 Medium is the ONLY legal right rear tire and all four corners must be Hoosier tires. The Hoosier 105/16 Medium is also the current legal tire with the USAC West Coast, USAC SouthWest, and VRA Sprint Cars. Cars must pass a tech inspection and one-way radios are mandatory for drivers. USAC/CRA charges a $25 entry fee to all competitors and the series rule book can be found online at www.usacracing.com. USAC MEMBERSHIPS ARE MANDATORY AT COMPETITOR'S FIRST RACE and can be purchased at the track or online at https://usacracing.redpodium.com/2017-usac-sprint-midget-sc.
Ventura Raceway has a strict mandated sound rule and the track legal mufflers are Extreme (Part #6014-3535 180 Degree, Part #3615-3535), Coast Fabrication (350x625x17-2sVRA), Spintech (180 Degree, 1545P Super Stock Series), B&B Performance (FRAC-0375-S, 180 Degree, with side outlet), Flowmaster (Hushpower, Suitcase- Part 53545-USAC.), and Schoenfeld (14272735). The Flowmaster "Suitcase" is also the legal muffler for Watsonville's Ocean Speedway, Petaluma Speedway, and Chico's Silver Dollar Speedway. Failure to comply with the Ventura muffler rule will risk disqualification from the event.
Since May 22, 2004, the Ventura County Fairgrounds has held eighteen USAC/CRA Sprint Car races. "The Ripper" Rip Williams won the Ventura USAC/CRA debut and "The Kruser" Cory Kruseman leads all series drivers with six victories. "The Bullet" Blake Miller set the USAC/CRA qualifying record of 11.675 on October 25, 2008 and "The Flying Shoe" Ron Shuman holds the all-time 410 non-wing record of 11.527 on October 1, 1994. Last year, Troy Rutherford raced to victory in his 360 cubic inch powered car and a complete series Ventura win list is at the bottom of this release.
Entering Saturday's event, "The Demon" Damion Gardner (Concord, California) has a twenty-nine point advantage after winning at Bakersfield on April 15th. Racing Mark Alexander's #4 Scott Sales Company / Weld Racing Spike, Gardner has two feature wins, two Woodland Auto Display Fast Time Awards, two heat race victories, three top-10 finishes, and 40 feature laps led on the season. The five-time champion leads all USAC/CRA drivers with 72 victories and will be looking to continue his championship bid with a Ventura win.
After running second at Bakersfield, Brody Roa (Garden Grove, California) has climbed to second in the point standings. Piloting the #91R BR Performance owned HD Industries / Frank Baldozier Racing Maxim, Roa has posted one heat race victory, three top-10 finishes, and six feature laps led to his credit. To date, last year's USAC West Coast Champion has one career USAC/CRA victory and will have his sights on adding Ventura to his resume.
Jake Swanson (Anaheim, California) ranks third in the chase for the championship. Driving Tom and Laurie Sertich's #92 Huntington Beach Glass & Mirror / Clackamas Rigging and Transfer XXX, Swanson claimed fourth in the Bakersfield feature. As this writing goes to press, the 2012 Rookie of the Year has one Woodland Auto Display Fast Time Award, one heat race victory, and three top-10 finishes on the season. Jake has one career USAC/CRA win and will be looking to gain valuable points with a Ventura Raceway triumph.
Mike Spencer (Temecula, California) has risen to fourth in the USAC/CRA point chase. Racing the Gansen Engineering Motorsports #4S Trench Shoring / Ram-Bull Racing Maxim, Spencer was ninth at the Bakersfield checkered flags. At press time, the five-time champion has two heat race victories and three top-10 finishes to his credit. Mike has thirty-seven career USAC/CRA wins and will have his sights on the Saturday night victory.
"The Cadillac" Cody Williams has climbed to fifth in the championship standings. Piloting Jack Jory's #44 John Jory Corporation / AMA Plastics Spike, Williams led the first thirteen laps at Bakersfield before scoring fifth. As this writing goes to press, the former Victorville Sprint Car Champion has posted three top-10 finishes in the campaign. "The Cadillac" has one career USAC/CRA victory and will be looking to gain valuable points with win at Ventura.
Currently twelfth in points, Matt McCarthy (Riverside, California) leads the chase for Rookie of the Year honors. Kyle Edwards (Fountain Valley, California) is also in contention.
Among the other drivers expected to be in action are "The Big Game Hunter" Austin Williams, Richard Vander Weerd, Tommy "Thunder" Malcolm, Logan Williams, Chris Gansen, "The Flying Peanut" Parker Colston, Jace Vander Weerd, "The Bear" Jeremy Ellertson, Eddie Tafoya, Verne Sweeney, Chase Johnson, and more.
Ventura Raceway is located on the Ventura County Fairgrounds at 10 West Harbor Blvd. in Ventura, California. Adult tickets are $25, Senior tickets (60 and older) are $15, Active Military tickets (ID Required) are $15, Student tickets (with ID) are $15, Kids tickets (7-12) are $10, and Children's tickets (6 and under) are FREE. For more event information, visit the track's website at www.venturaraceway.com or call 805.648.RACE.
The AMSOIL USAC/CRA Sprint Car Series thanks Hoosier Tire, All Coast Construction, BR Motorsports, Brown & Miller Racing Solutions, ButlerBuilt Professional Seat Systems, Circle Track Performance, Competition Suspension Incorporated, Extreme Mufflers, Keizer Aluminum Wheels, King Racing Products, Pyrotect Racing Cells, Rod End Supply, Saldana Racing Products, surfNsprint.com, Ultra Shield Race Products, and Woodland Auto Display for their support. If you or your company would like to become part of the series, contact PR Director Lance Jennings at lwjennings@earthlink.net.
For more information on USAC/CRA, visit the United States Auto Club (USAC) website at www.usacracing.com. You can also find exclusive content on the USAC/CRA Facebook, Twitter, Instagram, and Snapchat pages.
Loudpedal Productions has USAC/CRA DVDs and videos on demand available for purchase at www.loudpedal.tv and 805.407.7229.
———————————————–
AMSOIL USAC/CRA SPRINT CAR CHAMPIONS:
2004-Rip Williams, 2005-Damion Gardner, 2006-Cory Kruseman, 2007-Tony Jones, 2008-Mike Spencer, 2009-Mike Spencer, 2010-Mike Spencer, 2011-Mike Spencer, 2012-Mike Spencer, 2013-Damion Gardner, 2014-Damion Gardner, 2015-Damion Gardner, 2016-Damion Gardner.
2017 AMSOIL USAC/CRA SPRINT CAR WINS:
2-Damion Gardner, 1-Richard Vander Weerd.
VENTURA AMSOIL USAC/CRA SPRINT CAR WINS:
6-Cory Kruseman, 2-Damion Gardner, 2-Rip Williams, 1-Alan Ballard, 1-Tyler Brown, 1-Mike Kirby, 1-Blake Miller, 1-Troy Rutherford, 1-Mike Spencer, 1-Richard Vander Weerd, 1-Scotty Weir.
AMSOIL USAC/CRA SPRINT CAR POINT STANDINGS:
1. Damion Gardner-246, 2. Brody Roa-217, 3. Jake Swanson-208, 4. Mike Spencer-192, 5. Cody Williams-179, 6. Austin Williams-157, 7. Richard Vander Weerd-151, 8. Tommy Malcolm-150, 9. Logan Williams-136, 10. Chris Gansen-122, 11. Parker Colston-113, 12. Matt McCarthy-104, 13. Jace Vander Weerd-102, 14. Jeremy Ellertson-98, 15. Eddie Tafoya-96, 16. Verne Sweeney-86, 17. Kyle Edwards-76, 18. Danny Faria, Jr.-71, R.J. Johnson-71, 20. Chad Boespflug-51.