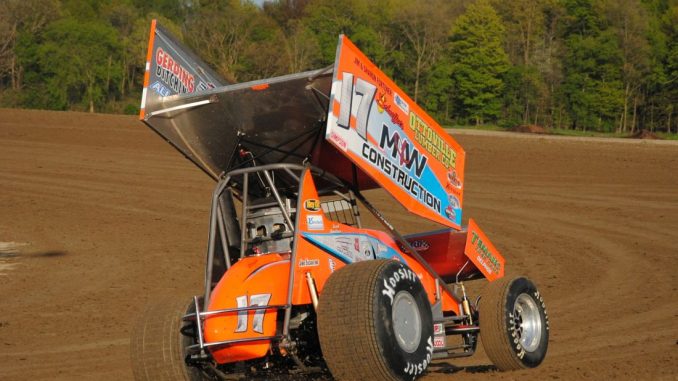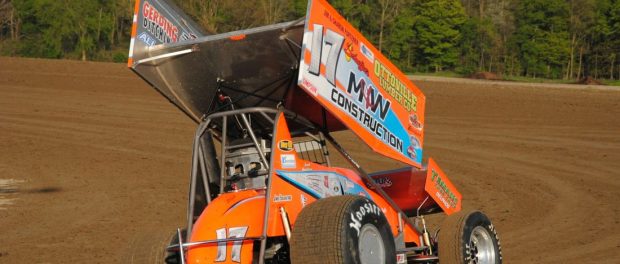 From Brian Liskai
ATTICA, Ohio – Cloverdale, Ohio's Jared Horstman dominated the return of 360ci sprint car racing to Attica Raceway Park Friday night, May 12. He took the lead in the Great Lakes Super Sprints (GLSS)/K&L Ready Mix National Racing Alliance (NRA) feature on lap three and, despite a caution with two laps to go, easily earned his first victory at "Ohio's Finest Racing" speedplant on Underground Utilities Inc. Night.
It was Horstman's third win of 2017 and his second GLSS win in a row as he took the season opener at I-96 Raceway in Michigan last Friday. It marked the first time 360ci sprint cars have competed at Attica Raceway Park since 2013.
"I put this thing on the cushion and just let it eat. I know that's the fast way around this place. The few laps we made earlier this year here helped out. We kept the fuel load light and with all those cautions I was kind of getting worried about that. I said I wanted to park it on the horse track and we did. The most features I've ever won in a season was nine. The way this car is going we are going for 10 or more this year," said Horstman beside his M&W Construction; Ottoville Lumber Co.; Kountry Kennels; K&L Ready Mix; Dale's Concrete; Schnipke Brothers Tire; Miller Precision; Vorst Paving; Miller Construction; Hume Supply; Elida Depot; Troy Rampe Construction backed #17.
In only his second night of racing in 2017, Cygnet, Ohio's Jeff Babcock took the lead from Casey Noonan after he made a bobble on lap 17, and drove to his 11th career Summit Racing Equipment UMP Late Model win. Babcock is tied for fourth in the division's all-time win list
"I ran this car once at Eldora…it's a pretty good piece. Noonan definitely had the race won. I couldn't quite get him and then he bobbled just a little in one and two to give me a shot at it. We're pretty happy to get this win with all the people who help us out…Craig Miller Trucking, Best Performance Motorsports and Sauce and all his crew and Josh Richards helps us out," Babcock said.
In the Fremont Fence 305 sprints it looked like Nate Dussel was headed to his second win of the year but a mechanical issue sidelined him with five laps in. Then Jordan Ryan seemed to have the field covered until something went amiss with his car with eight laps to go. Fremont, Ohio's Paul Weaver was there to take advantage as he drove to his fourth win of the year and 39th of his career at Attica. He now has five total 305 sprint victories in 2017 out of the six races he has competed in, with only an engine failure a month ago stopping his sweep.
"They gave that one to me. Dussel had me covered and then lapped traffic got first and second bottled up. I was happy with fourth but if they want to give me the win I'll take it. They're all back in the pits whining and bitching for them to tech me. Go ahead and tech me and them…they'll all be slowed down but me," said Weaver beside his M&L Excavating; Hampshire Racing Engines; Schiets Motorsports, Weaver Performance Center; Tender Touch Car Wash; Miller Rigging backed #1W.
In the 360ci sprint feature Devon Dobie and Kyle Sauder led the field to green but a Gregg Dalman spin would necessitate another start. On the second attempt Mike Burkin lost a wheel and Noah Dunlap spun. The third try for a start was the charm as Sauder grabbed the lead over Dobie, Horstman, Chase Ridenour, Dustin Daggett, Phil Gressman and Nate Dussel. Horstman drove into second on lap two and immediately pressured Sauder for the lead, grabbing the top spot on lap three.
Butch Schroeder brought out the caution when he stopped on lap six just as Horstman was entering lapped traffic. When the green appeared Horstman drove away while Sauder ran comfortably in second with Dobie third and a great battle for fourth between Daggett, Ridenour and Gressman. Dunlap spun on lap nine to wipe out Horstman's big advantage. Once again when the green flew Horstman drove away.
Horstman blasted into lapped traffic with 10 laps to go but Sauder and Dobie could not close. The leader made a daring move on lap 19, splitting two lapped cars in turns three and four to maintain his big advantage while Sauder and Dobie battled for second and Ridenour and Daggett continuing their battle for fourth. Brady Locke brought out the final caution with just two laps to go, once again erasing a huge Horstman lead.
On the restart Horstman pulled away while Dobie slipped off the track in turn two, allowing Sauder to ride comfortably in second. Horstman took the checkers over Sauder, Ridenour, Daggett and Gressman.
In the 25-lap late model feature – the first of the year in the Attica/Wayne County Speedway Late Model Series Challenge – Casey Noonan and Cody Scott paced the field to green with Noonan gaining the advantage. The first of several cautions during the first half of the race fell on lap three with Noonan leading Scott, Ryan Missler, Babcock and Doug Drown. Missler took second on lap four with Babcock moving into third on lap five. Babcock and Missler engaged in a torrid battle over the next handful of laps with Drown joining the fun by lap eight.
A caution for debris on lap 10 would spawn five more yellows over the next five laps. On a restart on lap 13 Babcock actually pulled off a great slider for the lead but the caution flew, giving Noonan back the top spot. Following another restart on lap 15, Noonan would bobble on the cushion in turns one and two and Babcock pounced, driving into the lead. Noonan then had his hands full from Drown and Ryan Markham with Scott and Matt Irey staying close.
Babcock hit lapped traffic with five laps to go and Drown and Markham closed. Babcock picked his way through and drove to the win over Drown, Markham, Scott and Noonan.
Kyle Capodice and Nate Dussel brought the field to green for the 25-lap 305ci sprint feature but Chase Baker stopped necessitating another start. When the green flew Dussel wasted little time driving away from the field while Capodice, Jordan Ryan and Kelsey Ivy battled for second. By lap four Dussel held a three second lead over Capodice, Ryan, Bobby Clark, Jamie Miller, Kelsey Ivy and Weaver. Heartbreak befell Dussel on lap five as his car coasted to a stop.
On the ensuing restart Ryan blasted around Capodice to take the lead with Clark, Weaver and Miller in tow. Ryan encountered heavy lapped traffic by lap 11 which allowed Capodice to close. Something broke on Ryan's mount on lap 18 as he coasted to a stop, just as Weaver had taken the lead. Weaver faced one more challenge with the caution flying on lap 21. He would get a great restart and drove to the win over Miller who got around Capodice on the final lap, Clark and Landon LaLonde rounding out the top five.
Attica Raceway Park will be back in action Friday, May 19 for the Eric Phillips 29th Anniversary Classic presented by American Powersports and Kear's Speed Shop. It will be an All Pro Aluminum Cylinder Heads FAST Championship Series presented by Ohio Logistics point night for the 410 sprints and a JLH General Contractor FAST 305 Championship Series presented by Engine Pro point night for the 305 sprints as they battle for $1,000 to win thanks to Gressman Powersports. The late models are also in action.
For more information go to www.atticaracewaypark.com or follow the track on Twitter @atticaracewyprk or on Facebook at www.facebook.com/atticaracewaypark and Instagram at attica_raceway_park.
Attica Raceway Park
Underground Utilities Inc. Night
Starting position [*]
GLSS/NRA 360 Sprints –
Qualifying
1.28-Phil Gressman, 13.590; 2.2S-Kyle Sauder, 13.626; 3.9-Jordan Ryan, 13.696; 4.17-Jared Horstman, 13.718; 5.16B-Max Stambaugh, 13.777; 6.6S-Nate Dussel, 13.788; 7.B20-Butch Schroeder, 13.804; 8.11R-Chase Ridenour, 13.808; 9.20B-Cody Bova, 13.821; 10.85-Dustin Daggett, 13.860; 11.11-Tim Allison, 13.881; 12.23-Devon Dobie, 13.923; 13.15-Brandon Ferguson, 13.948; 14.18-Todd Heuerman, 14.032; 15.49T-Gregg Dalman, 14.089; 16.57-Noah Dunlap, 14.280; 17.6-Sean Hosey, 14.320; 18.11H-Shawn Hubler, 14.549; 19.5W-Jeff Williams, 14.670; 20.48-Mike Burkin, 15.139; 21.4-Brady Locke, 15.468; 22.3T-Ralph Brakenberry, 15.609; 23.20I-Matt Foos, 99.980;
Heat 1 – (8 Laps)
1. 85-Dustin Daggett[1] ; 2. 17-Jared Horstman[3] ; 3. 28-Phil Gressman[4] ; 4. B20-Butch Schroeder[2] ; 5. 15-Brandon Ferguson[5] ; 6. 5W-Jeff Williams[7] ; 7. 57-Noah Dunlap[6] ; 8. 3T-Ralph Brakenberry[8]
Heat 2 – (8 Laps)
1. 2S-Kyle Sauder[4] ; 2. 11R-Chase Ridenour[2] ; 3. 11-Tim Allison[1] ; 4. 16B-Max Stambaugh[3] ; 5. 18-Todd Heuerman[5] ; 6. 6-Sean Hosey[6] ; 7. 48-Mike Burkin[7]
Heat 3 – (8 Laps)
1. 6S-Nate Dussel[3] ; 2. 23-Devon Dobie[1] ; 3. 20B-Cody Bova[2] ; 4. 9-Jordan Ryan[4] ; 5. 49T-Gregg Dalman[5] ; 6. 11H-Shawn Hubler[6] ; 7. 4-Brady Locke[7]
A-Main 1 – (25 Laps)
1. 17-Jared Horstman[4] ; 2. 2S-Kyle Sauder[2] ; 3. 11R-Chase Ridenour[3] ; 4. 85-Dustin Daggett[6] ; 5. 28-Phil Gressman[7] ; 6. 20B-Cody Bova[9] ; 7. 6S-Nate Dussel[5] ; 8. 9-Jordan Ryan[12] ; 9. 23-Devon Dobie[1] ; 10. 11-Tim Allison[8] ; 11. 18-Todd Heuerman[14] ; 12. 49T-Gregg Dalman[15] ; 13. B20-Butch Schroeder[10] ; 14. 5W-Jeff Williams[16] ; 15. 15-Brandon Ferguson[13] ; 16. 4-Brady Locke[21] ; 17. 57-Noah Dunlap[19] ; 18. 3T-Ralph Brakenberry[22] ; 19. 6-Sean Hosey[17] ; 20. 48-Mike Burkin[20] ; 21. 16B-Max Stambaugh[11]
Hard Charger: 4-Brady Locke +5
305 Sprints –
Heat 1 – (8 Laps, top 5 to A)
1. 2-Ricky Peterson[1] ; 2. 12-Kyle Capodice[2] ; 3. 66-Jamie Miller[5] ; 4. 1-Nate Dussel[8] ; 5. 94K-Kevin Mingus[3] ; 6. 36-Seth Schneider[7] ; 7. 09-Justin Adams[6] ; 8. 3X-Brad Keckler[4]
Heat 2 – (8 Laps, top 5 to A)
1. 8-Bobby Clark[2] ; 2. 11X-Jordan Ryan[3] ; 3. 1W-Paul Weaver[8] ; 4. 2L-Landon LaLonde[1] ; 5. 5JR-Jimmy McGrath[4] ; 6. 14-Luke Daugherty[7] ; 7. 42-Ray Thurston[5] ; 8. 9R-Dustin Rall[6]
Heat 3 – (8 Laps, top 5 to A)
1. 25-Jason Keckler[1] ; 2. 77I-John Ivy[6] ; 3. 19R-Steve Rando[4] ; 4. 20I-Kelsey Ivy[2] ; 5. 23-Chase Baker[3] ; 6. 66D-Chase Dunham[7] ; 7. 1X-Tyler Street[5] ; 8. 47-Matt Lucius[8]
B-Main 1 – (10 Laps, top 5 to A)
1. 36-Seth Schneider[1] ; 2. 66D-Chase Dunham[3] ; 3. 14-Luke Daugherty[2] ; 4. 3X-Brad Keckler[7] ; 5. 47-Matt Lucius[9] ; 6. 1X-Tyler Street[6] ; 7. 09-Justin Adams[4] ; 8. 9R-Dustin Rall[8] ; 9. 42-Ray Thurston[5]
A-Main 1 – (25 Laps)
1. 1W-Paul Weaver[7] ; 2. 66-Jamie Miller[9] ; 3. 12-Kyle Capodice[1] ; 4. 8-Bobby Clark[6] ; 5. 2L-Landon LaLonde[8] ; 6. 77I-John Ivy[5] ; 7. 36-Seth Schneider[16] ; 8. 2-Ricky Peterson[12] ; 9. 25-Jason Keckler[10] ; 10. 14-Luke Daugherty[18] ; 11. 19R-Steve Rando[11] ; 12. 3X-Brad Keckler[19] ; 13. 66D-Chase Dunham[17] ; 14. 20I-Kelsey Ivy[4] ; 15. 5JR-Jimmy McGrath[14] ; 16. 11X-Jordan Ryan[3] ; 17. 47-Matt Lucius[20] ; 18. 94K-Kevin Mingus[13] ; 19. 1-Nate Dussel[2] ; 20. 23-Chase Baker[15]
Hard Charger; 36-Seth Schneider +9
Late Models –
Heat 1 – (8 Laps)
1. 50Y-Ryan Missler[2] ; 2. 7B-Jeff Babcock[6] ; 3. 1N-Casey Noonan[4] ; 4. 69-Jeff Warnick[3] ; 5. 97-Brett Miller[7] ; 6. 30-Nate Potts[5] ; 7. 17X-Dustin Keegan[1]
Heat 2 – (8 Laps)
1. 5M-Ryan Markham[2] ; 2. 240X-Charlie Duncan[1] ; 3. 71-Dave Hornikel[4] ; 4. 19-Cody Scott[5] ; 5. 77-Steve Kester[7] ; 6. 03-Jim Gingery[6] ; 7. 8A-Rob Anderzack[3]
Heat 3 – (8 Laps)
1. 240-Doug Drown[4] ; 2. 51-Devin Shiels[2] ; 3. 15B-Mike Bores[3] ; 4. 36-Matt Irey[6] ; 5. 1-Ben Mott[7] ; 6. 12M-Bobby Michaels[1] ; 7. 59M-Andrew Myers[5]
A-Main 1 – (25 Laps)
1. 7B-Jeff Babcock[5] ; 2. 240-Doug Drown[9] ; 3. 5M-Ryan Markham[10] ; 4. 19-Cody Scott[4] ; 5. 1N-Casey Noonan[1] ; 6. 36-Matt Irey[8] ; 7. 77-Steve Kester[14] ; 8. 51-Devin Shiels[3] ; 9. 97-Brett Miller[13] ; 10. 03-Jim Gingery[17] ; 11. 69-Jeff Warnick[2] ; 12. 12M-Bobby Michaels[18] ; 13. 59M-Andrew Myers[21] ; 14. 15B-Mike Bores[11] ; 15. 1-Ben Mott[15] ; 16. 50Y-Ryan Missler[6] ; 17. 71-Dave Hornikel[7] ; 18. 30-Nate Potts[16] ; 19. 240X-Charlie Duncan[12] ; 20. 8A-Rob Anderzack[20] ; 21. 17X-Dustin Keegan[19]
Hard Charger: 59m-Andrew Myers +8