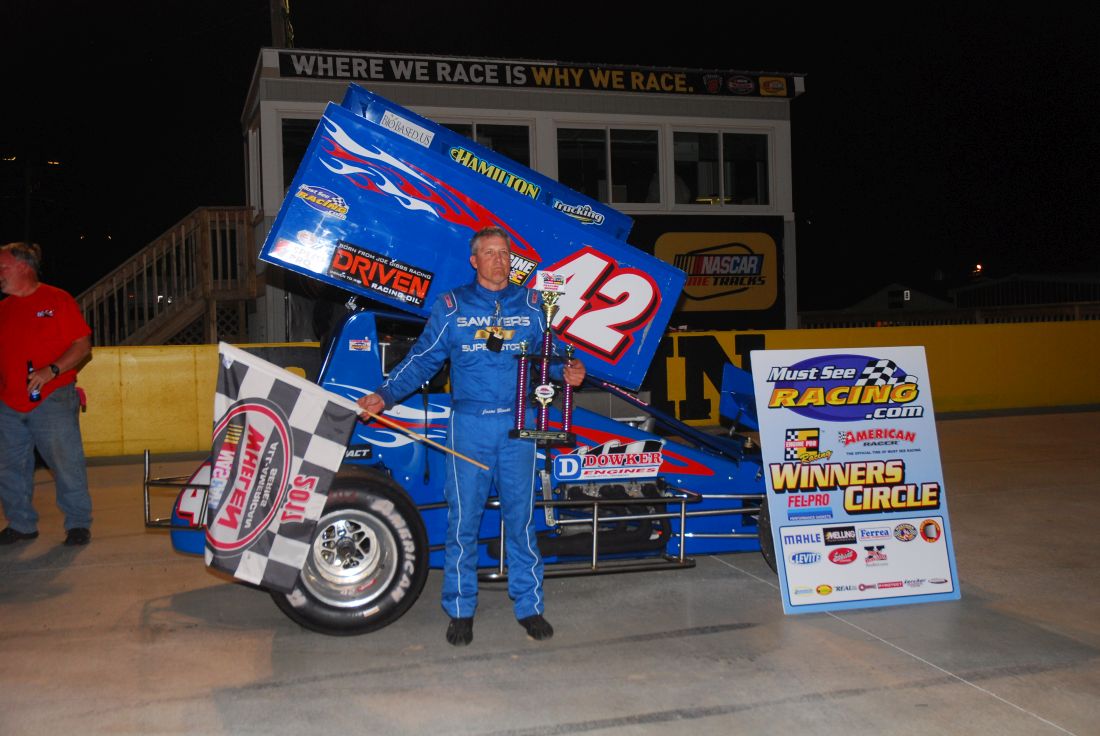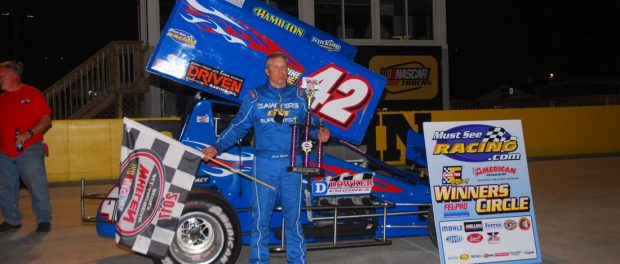 From Jacob Seelman, Must See Racing
MARNE, Mich. (May 13, 2017) – Jason Blonde smoked the field on Saturday night at Berlin Raceway for his first Must See Racing Sprint Car Series win of the season.
Blonde, who started on the outside pole for the night's 30-lap main event, surged to the top spot in the opening corners and never looked back.
The Litchfield, Mich. native led from start to finish in a caution-free affair that took just seven minutes and 13 seconds to complete, at an average race pace of 109.122 mph.
To add to the dominating performance, Blonde lapped all but the top three cars in scoring his fifth-career series victory.
"I'll tell you what, this car was absolutely on a rail tonight," said Blonde in victory lane. "There was a little bit of slipping and sliding tonight, but I didn't have to do much to this car to keep it where I needed to be, handling-wise. I maybe only pulled the (top) wing back an inch during the 30 laps. If you could hit your marks tonight, you were gonna be alright and even though I got a little high once or twice, we had good grip up there."
"You never know how traffic is going to go … you can gain a lot of spots or you can lose a lot of time real quick, so I knew I had to get going real quick. I just left it on the floor as long as I could and it paid off tonight."
Two-time defending series champion Jimmy McCune scored his best-career Berlin finish after several years of struggles at the seven-sixteenths-mile oval, coming home second by .875 of a second.
"I'm not so sure if tonight was a huge step forward for us at this place, but we had a good car," McCune said. "I just got caught back in the pack, and when someone like Jason gets out in clean air, he usually has pretty smooth sailing."
"I didn't catch traffic in a good place all night. I was just in the right place at the wrong time again and again and just kept losing car lengths."
Canadian Ryan Litt would have started from the pole of the feature, but a motor issue kept him from taking the green flag in his heat race and meant that he was relegated to the rear of the lineup.
He didn't stay there long.
Litt charged from 15th to eighth in just five laps, picking off car after car one lap at a time in a concerted and focused effort to move through the field.
He ultimately made it to the final step of the podium in third by the finish, but was barely safe on the lead lap, finishing more than 13 seconds adrift of Blonde.
"Tonight was pretty good for us, all things considered. I just needed a caution," Litt admitted. "My car was really good."
"I just screwed up before the heat race and put the (fuel feed) pill in backwards, so it's all my fault that we were even back there in the first place. We should have been on the pole and instead we had to come through traffic. I tried to make it up to my crew and just had too much ground to make up."
"I strongly feel, if we'd started where we should have tonight, that we'd have had a real shot at winning this one. That's racing, though."
Ryan Gillenwater and Anthony McCune completed the top five, ahead of Ike Beasley and first-time polesitter Kyle Edwards.
Fourth-starting Brian Gerster quickly moved into second off the initial green flag and gave chase to Blonde for the first half of Saturday night's feature, but a failing magneto sent him to the pit area at halfway and ended his chances for a record-tying 17th career victory.
Fast qualifier Bobby Santos met a similar fate, blowing the motor in his Dick Fieler-owned No. 22A just moments before Gerster peeled off into the infield.
The Must See Racing Sprint Car Series North division returns to action on July 1 at Owosso Speedway.
RESULTS: Must See Racing Sprint Car Series; Berlin Raceway; May 13, 2017
1-800-RADIATOR A-Feature (30 laps): 1. Jason Blonde, 2. Jimmy McCune, 3. Ryan Litt, 4. Ryan Gillenwater, 5. Anthony McCune, 6. Ike Beasley, 7. Kyle Edwards, 8. Jeff Bloom, 9. Teddy Alberts, 10. Jerry Caryer, 11. Chris Randolph, 12. Brian Gerster, 13. Bobby Santos III, 14. Tom Geren, 15. Tom Jewell