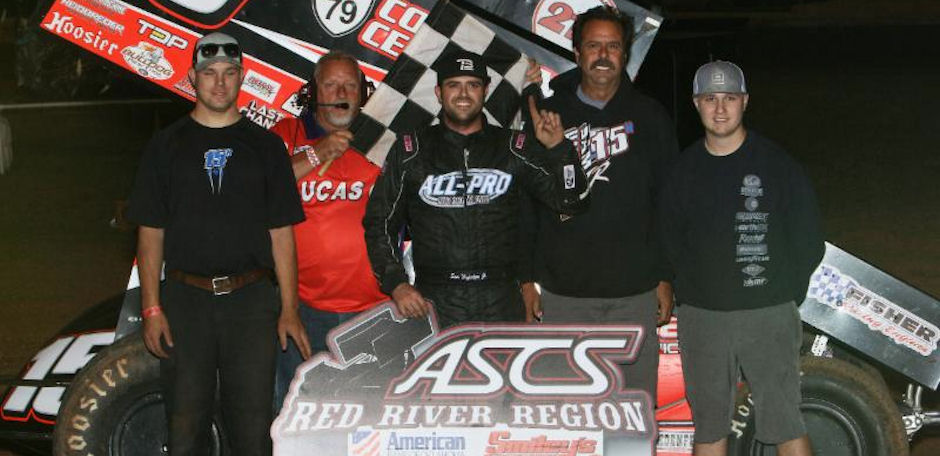 By Bryan Hulbert
LAWTON, Okla. (May 20, 2017) Topping a stout field of 29 drivers at Lawton Speedway with the American Bank of Oklahoma ASCS Red River Region presented by Smiley's Racing Products, Sam Hafertepe, Jr. won the battle through traffic to pick up $2,000 and his sixth ASCS sanctioned victory of the 2017 season.
| | |
| --- | --- |
| | |
| | (Mike Howard Photo) |
Taking off from the pole of Saturday's lineup, the opening lap lead fell into the hands of John Carney II, who rolled the outside of the front row. Working into traffic by the seventh round, Carney had opened up a comfortable advantage as the MVT No. 11x began weaving around back markers. Making moves as fast as Carney, the distance between first and second began to close.
Working low into the first and second turn on Lap 15, Carney hit the back straightaway with Hafertepe charging off the cushion. Turning down the track, Sam found the low side of turn three first, forcing Carney to the middle and in turn, to second off the fourth turn.
Caution working Lap 16, the field reverted back to the previously completed lap. Still showing Hafertepe on point, the green saw Carney dive the first turn in an attempt to slide Sam for the lead, but the move would be denied as John fell back in line.
High in one and two, and low and three and four, Sam Hafertepe, Jr. built a 1.5 second advantage over the No. 11x. Searching either end of the track, Carney began running the cushion at both ends. Picking up time on the No 15h, traffic again came into play; allowing Carney to close right on Hafertepe's back bumper with only three laps to go. Still able to thwart any attempts at the lead and again pull away, Sam cleared the checkered flag with a 1.415 second advantage.
Skipping over the cushion in the final turns, Carney would relinquish the runner-up spot to Oklahoma's Alex Sewell with John Carney II holding on to complete the podium. Seth Bergman fourth was joined by Wayne Johnson to round out the top-five. Blake Hahn crossed sixth with Matt Covington, Danny Jennings, Brandon Long, and Johnny Herrera rounding out the top-ten.
The American Bank of Oklahoma ASCS Red River Region presented by Smiley's Racing Products returns to Lawton Speedway on Wednesday, June 14 with the Lucas Oil ASCS National Tour presented by the MAVTV Motorsports Network for round four of the 2017 ASCS Sizzlin' Summer Speedweek.
For continued updates on the American Sprint Car Series, from the National Tour to any of the seven regional tours that make up the over 150 races across the ASCS Nation in 2017, log onto 
http://www.ascsracing.com
.
Race Results:
ASCS Red River Region
Lawton Speedway – Lawton, Okla.
Saturday, May 20, 2017
Car Count: 29
Heat 1: 1. 23-Seth Bergman[5]; 2. 1J-Danny Jennings[7]; 3. 95-Matt Covington[6]; 4. 44-Jared Sewell[2]; 5. 50Z-Zach Chappell[4]; 6. 10K-Kyle Ezell[3]; 7. 26M-Fred Mattox[1]; 8. 11-Nick Bates[8]
Heat 2: 1. 8-Alex Sewell[2]; 2. 11M-Jason McDougal[1]; 3. 11X-John Carney II[6]; 4. 45X-Johnny Herrera[7]; 5. 02-Brandon Long[4]; 6. 5-Joe Bob Lee[3]; 7. 90-Lance Norick[5]
Heat 3: 1. 07-Michael Bookout[2]; 2. 2C-Wayne Johnson[7]; 3. 52-Blake Hahn[6]; 4. 9$-Kyle Clark[5]; 5. 3-Brian Gramm[3]; 6. 25-Shane Sellers[1]; 7. 98-Ryan Padgett[4]
Heat 4: 1. 15H-Sam Hafertepe Jr[3]; 2. 5$-Danny Smith[1]; 3. 2-Mickey Walker[5]; 4. 21R-Andrew Deal[7]; 5. 31-Casey Wills[6]; 6. 17W-Harli White[4]; 7. 57-Kyle Chady[2]
B Feature (12 Laps): 1. 02-Brandon Long[5]; 2. 9$-Kyle Clark[1]; 3. 44-Jared Sewell[3]; 4. 26M-Fred Mattox[15]; 5. 50Z-Zach Chappell[4]; 6. 10K-Kyle Ezell[8]; 7. 3-Brian Gramm[6]; 8. 5-Joe Bob Lee[9]; 9. 98-Ryan Padgett[12]; 10. 57-Kyle Chady[14]; 11. 11-Nick Bates[13]; 12. 90-Lance Norick[11]; 13. 31-Casey Wills[2]; 14. 25-Shane Sellers[10]; 15. 17W-Harli White[7]
A Feature (25 Laps): 1. 15H-Sam Hafertepe Jr[1]; 2. 8-Alex Sewell[3]; 3. 11X-John Carney II[2]; 4. 23-Seth Bergman[8]; 5. 2C-Wayne Johnson[6]; 6. 52-Blake Hahn[9]; 7. 95-Matt Covington[4]; 8. 1J-Danny Jennings[7]; 9. 02-Brandon Long[15]; 10. 45X-Johnny Herrera[11]; 11. 11M-Jason McDougal[13]; 12. 5$-Danny Smith[14]; 13. 44-Jared Sewell[17]; 14. 2-Mickey Walker[10]; 15. 9$-Kyle Clark[16]; 16. 10K-Kyle Ezell[20]; 17. 50Z-Zach Chappell[19]; 18. 07-Michael Bookout[5]; 19. 21R-Andrew Deal[12]; 20. 26M-Fred Mattox[18]