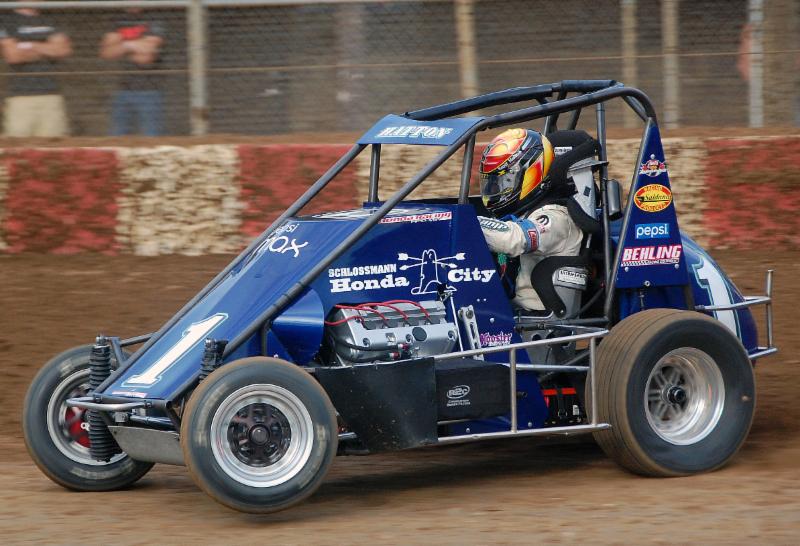 By Bryan Gapinski
Sun Prairie, WI, June 18—For the second straight week Scott Hatton won the 20-lap Mid-State Equipment/Zimbrick Chevrolet of Sun Prairie Badger Midget Racing Series feature, Sunday Night at Angell Park Speedway. Hatton set a new twenty-lap track record besting Billy Balog's two-year old mark by over fifteen seconds.
On the opening lap Hatton quickly moved from his inside row two starting position to take thelead. Third place running Casey Shuman retired from the event on the third lap. At the completion of lap 5, Hatton held a 2.2 second lead over the group battling for second place: Buddy Luebke, Robbie Ray, and Kevin Olson.
Two laps later Hatton began lapping the tail of the field. At the half-point of the event, Hatton had increased his advantage over Ray to nearly a half-lap.        Hatton ran the remainder of the event in lapped traffic, increasing his lead slightly every lap.
Hatton finished 9.16 seconds ahead of Ray driving his Stealth/Honda No.1 for his 36th career feature victory at the track. Kevin Olson, Brad Greenup, and Kurt Mayhew completed the top five. Fifteenth place finishing Casey Shuman won the Howard Law Cash Draw, a $200 bonus for a randomly selected feature finishing position.
"I had to be smooth and patient since I was in lapped traffic for so much of the race, the car was perfect the crew did a great job for me tonight " commented Hatton.
Badger returns to Angell Park Speedway on Sunday July 2 part of a four division show which features the Dirt Kings Late Model Series, Badger 600 Micro Series, and Wisconsin Dirt Racing Legends Series.
SUMMARY
20-lap Feature: 1. Scott Hatton; 2. Robbie Ray; 3. Kevin Olson; 4. Brad Greenup; 5. Kurt Mayhew; 6. Buddy Luebke; 7. Kevin Olson; 7. Mike Stroik; 8. Zach Boden; 9. Brian Peterson; 10. Kyle Koch; 11. Randy Reed; 12. John Smith; 13. Laura Smith; 14. Don Bigelow; 15. Casey Shuman.
8-lap Heat Race Winners: Ray, Hatton.