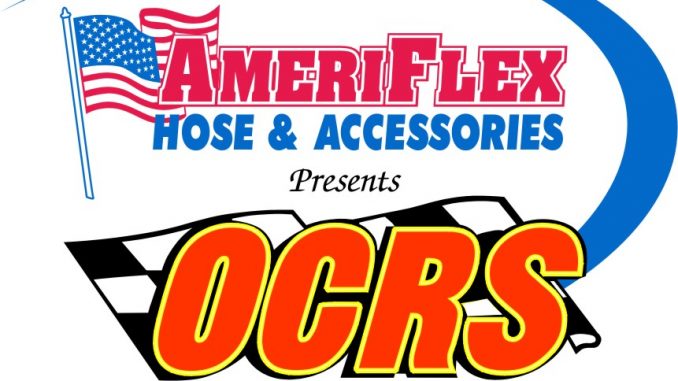 By John Lemon
Tulsa Okla. (June 20, 2017) – This Saturday night, the Ameri-Flex / OCRS sprint car series makes their 2017 debut at the fabulous Salina Highbanks Speedway in Salina Oklahoma. An annual tour stop for the winged sprinters, the Highbanks offers the racers a thrill of a lifetime with the track's steep banking and lightning quick lap speeds. Race fans will find no better amenities than that of the Highbanks.
In three visits to the Highbanks in 2016, Norman Oklahoma's Sheldon Barksdale won on each of the first two visits while Tuttle Oklahoma's Shayla Waddell scored on trip number three. Sellers comes into the event with the points lead while Talala's Zach Chappell sits in the second spot with Sapulpa's Mickey Walker third.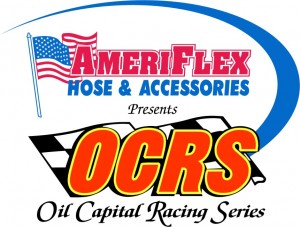 This Saturday's event is the first of two programs at the Highbanks for the series in 2017 as the Ameri-Flex Challenge II presented by Grand National Trailer will take place on August 26th. That event carries a monstrous purse as $3000 will go to the winner with drivers earning $1000 just to start the race. This weeks race will pay $1500 to the victor.
As always, a visit to the Finishline Restaurant & Bar that sits on the second level of the facility is a must. Rib Eye steaks, KC strip & sirloin steaks, fish & chips, grilled salmon, pasta dishes along with sandwiches and cheese burgers are just some of the offerings available. If you haven't been taking advantage of this, you really should give it a try as it will make your night extra special.
NUTZ n' BOLTZ
Easterners vs. Westerners
Since the Salina Highbanks reopened in 2011 after sitting idle waiting for new owners to buy the track, there have been 15 Ameri-Flex / OCRS events held. Drivers west of Interstate 35 have won 7 while 8 wins went to drivers east of the states divide. Western drivers have a 4 race win streak going at the present time. There have been 3 drivers that have 2 wins on Highbanks soil during this period. Sheldon Barksdale, Alex DeCamp and Shayla Waddell.
Love Going To Lanny's House
Alex Sewell's score at Lawton last weekend was his second such feat as he took the season opener at Lawton back in April. The two wins has earned Sewell over $3000. Sewell also earned over $700 in lap money at the Harold Leep Classic in May on top of his purse winnings. Not a bad time for Sewell to be earning some dough as he and his wife recently went into business together by opening up "Turn 2 Nutrition" in Broken Arrow Oklahoma.
Drivers Locked In The Zone
Two drivers are making the most of their starts through the early part of the season. Points leader Shane Sellers has one win (Oklahoma Sports Park) and has finished in the top 5 on 4 occasions from all 5 events the series has held. Sewell, with his 2 wins to date, has finished in the top 5 in all 4 events he has entered. If Sewell were to be given his average points earned for the one race he missed, he would be the point leader but it would by the narrowest of margins.
Highway Gypsies
Getting from race to race throughout the schedule requires determination and dedication. This holds true for any traveling series. The Miller Racing Team out of Cove Arkansas is by far the most dedicated team there is in the series when it comes to rolling down America's highways. While some had heads on pillows anywhere from 2-4 hours after the Lawton event, the Miller team was looking at the early outline of the sunrise as they pulled back into camp. This is a feat they tackle regularly. The Ameri-Flex / OCRS series can't be more impressed for the efforts this team puts out. We just hope Joseph gets his naps in on the way to the track before strapping into his sprinter.
New Racer In The Works
Congratulations goes out to Whit & Katie Gastineau on welcoming Charlie Gastineau into the world last week. Daughter Racee is thrilled to have a brother and probably wasn't bothered to much that dad stayed home from the Lawton event to tend to her birthday party and her new brother while mom recuperated. Wonder what age "CG" will be when he starts pounding the throttle pedal? We have set the over/under line at five.
Highbanks facts for this Saturday's event:
What: Ameri-Flex / OCRS Sprint Cars + Modifieds, Pure Stocks & Super Stocks
When: Saturday June 24, 2017
Where: Salina Highbanks Speedway / Salina Oklahoma
Time: Gates open at 5pm (pit gates 3 pm) / Hot laps at 6:30pm / Racing begins at 7pm (OCRS drivers meeting at 6pm)
Tickets: Adult General Admission: $15 / Seniors: $10 / Kids: $5  / Pit Pass: $35
Finishline Restaurant & Bar Seating: $25
Location: Racetrack sits directly on Highway 20 between Pryor and Salina.
Track Phone: (918) 434-RACE (7223)
Track Website: www.salinahighbanksspeedway.com

About the Ameri-Flex / OCRS Series –
Established in 2002, the Tulsa OK based Ameri-Flex / OCRS series sanctions dirt track sprint car racing in the southern region of the central plains. Fan appeal and quality race teams, combined with our solid core of supporting sponsors are the nucleus of the series. Thrilling competition providing the ultimate quality family entertainment is the essence of what the Ameri-Flex / OCRS series is all about.
Website: www.ocrsracing.com
Facebook: www.facebook.com/oil.series